As the designated party planner of my friend group and family, I understand the struggles of organizing a large group gathering. Luckily, whether you're planning a birthday bash, a graduation celebration, holiday outings, corporate events, bachelor/bachelorette parties, or just a fun gathering with friends, the city has everything you need to give your guests an unforgettable experience. From stunning venues to delicious local cuisine, GR offers many options to suit every taste and budget. Get ready to embrace the spirit of the city and throw a party that will leave your guests talking for years to come.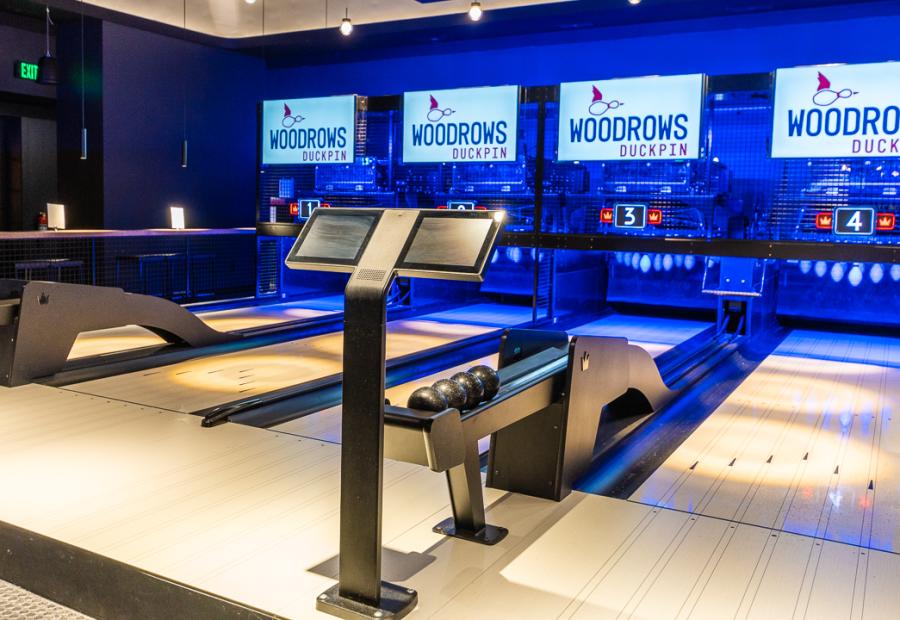 Woodrows Duckpin inside of the Amway Grand Plaza can entertain 20-150 guests.
Photo by Experience Grand Rapids
Woodrows Duckpin
Located inside the Amway Grand Plaza, Woodrows Duckpin takes a new spin on traditional bowling called duckpin bowling. Unlike a conventional bowling alley, these miniature pins are attached to strings and use a much smaller ball.
Each lane fits six players and can be rented out for up to three hours. For larger parties, Woodrows can accommodate 20-150 party guests Monday-Thursday. On the weekends, reserve the Upper Alley for 40 people, which includes four bowling lanes with unlimited duckpin games, cocktail service, and seating. To book a party at Woodrows Duckpin, contact them via phone or through their online contact form.
K-ROK Korean BBQ and Karaoke
Channel your inner popstar inside K-ROK's private karaoke rooms. Sing along to your favorite songs Thursday-Saturday at 5 pm, 7:15 pm, 9:30 pm, or 11:45 pm. Karaoke rooms can accommodate up to 12 guests with a two-hour reservation minimum. Meet the food minimum by ordering All You Can Eat Korean BBQ or choosing a Korean Hot Pot. Amp up your celebration by ordering bottle service to your karaoke room for an additional fee.
To view availability and book your private room, visit K-ROK's reservation page. After singing your heart out and eating tasty Korean BBQ, this will be a night your guests won't forget!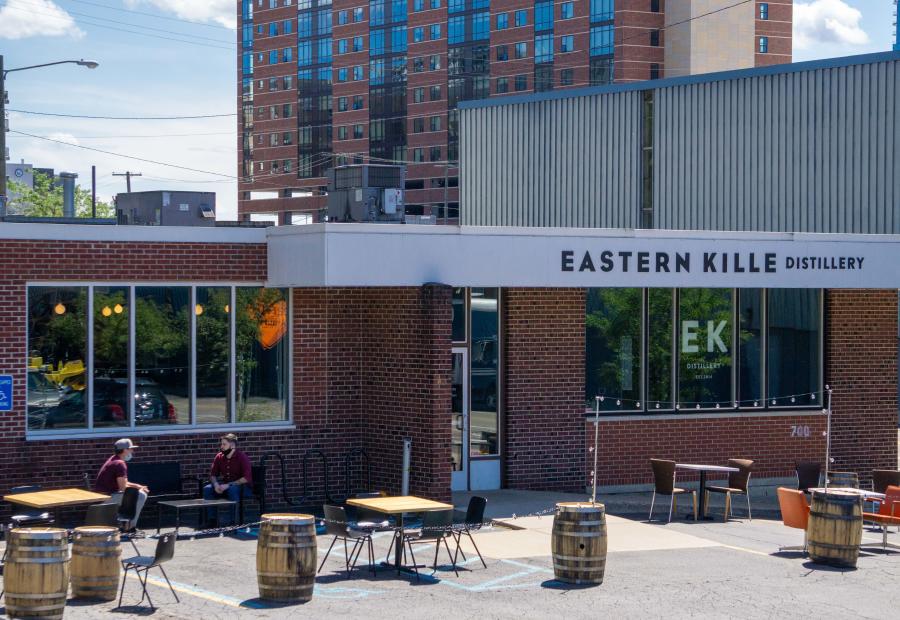 Eastern Kille Distillery creates all of their award-winning spirits in house and can host up to 50 people.
Photo by Experience Grand Rapids
Eastern Kille Distillery
Making all their award-winning spirits in-house, Eastern Kille serves a glamourous revolving cocktail menu. This grain-to-glass distillery on Ottawa offers a flexible space that fits the needs of birthday celebrations, wedding rehearsals, corporate events, and any other event you have in mind.
Eastern Kille Distillery hosts private events Monday-Thursdays and Sundays. Entertain up to 50 guests in the distillery's tasting room and bar area. Bring in your own food or have EK help set up catering options. Start setting up your event at Eastern Kille by contacting info@easternkille.com.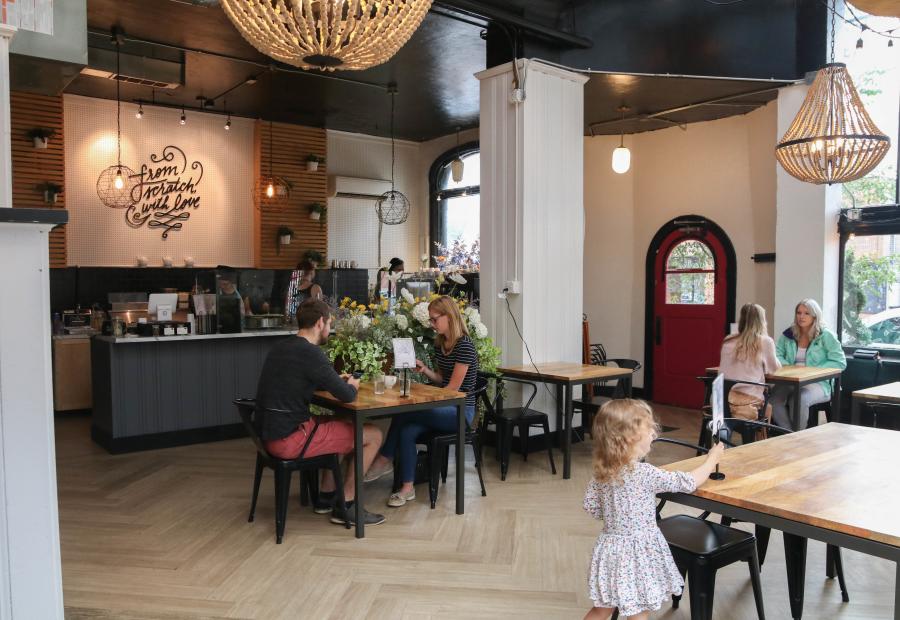 Enjoy a private crepe making class or host a private party at Brown Butter Crêperie and Café.
Photo by Experience Grand Rapids
Brown Butter Crêperie and Café
Gather a group of eight and experience a private crepe-making class at Brown Butter Crêperie and Café. Choose two different kinds of batter and fill your freshly made creation with Nutella, blueberry compote, fresh fruit, toasted pecans, and more decadent options.
For private evening events for up to 40 guests, Brown Butter is the perfect intimate venue with mouth-watering crepes. During warmer weather, the café also offers outside seating for additional space. Learn more about the customizable experience visiting Brown Butter's events page.
Brush Studio
Get creative with your guests and schedule a private painting class at Brush Studio. Choose from a selection of designs from the large database or suggest your own painting idea for the 16x20 canvases. Parties can have up to 52 painters and can be held any time that there is not a pre-scheduled public class at the studio.
The Studio allows you to bring in your own food or catering and will have a bar open for drinks to be purchased in-house. Not only will your attendees enjoy the fun atmosphere, but they will also have their painting as a souvenir from the party! Learn more about hosting a private painting class on Brush Studio's special events page.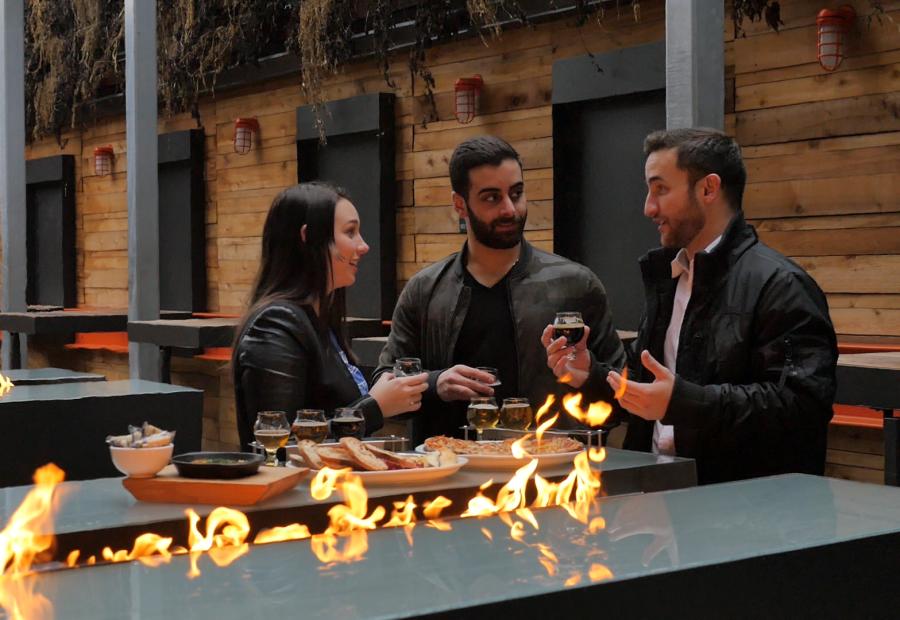 New Holland Brewing - The Knickerbocker has an all-season Beer Garden that can host 70-250 guests.
Photo by Experience Grand Rapids
New Holland Brewing – The Knickerbocker
As Beer City, USA, Grand Rapids has over 60 Breweries, many of which can accommodate private events. Located on Bridge Street, New Holland Brewing – The Knickerbocker is a perfect spot to host a party. The brewery offers seven different spaces to fit groups of 20 up to 250 and provides catering options.
Inside The Knickerbocker is the Zeppelin Cocktail Lounge, which is a dimly lit bar with space for 50-75 attendees and a band or DJ. The all-season Beer Garden can be utilized no matter what the Michigan weather may bring. Seat up to 70 guests in a variety of benches, picnic tables, and four-person tables or create a cocktail space for up to 250 people.
A party at New Holland has the possibility to be laid back or more formal depending on the space you choose. Take a look at the unique spaces on New Holland's private events page.
Plus, hosting an event at The Knickerbocker will get you one step closer to becoming a Beer City Brewsader!
Palio
After hosting my graduation party at Palio, my review was 5/5 stars! The Italian restaurant has authentic cuisine, and each dish is made with fresh ingredients from their in-house herb garden. My go-to entrée is salmon with potato gnocchi smothered in tomato, spinach, and garlic-parmesan cream sauce.
Palio's private back room is very welcoming and seats 25-30 comfortably for lunch or dinner every day of the week for no added charge. Make your reservation up to three months prior to your event date by calling ahead or by filling out Palio's private dining form.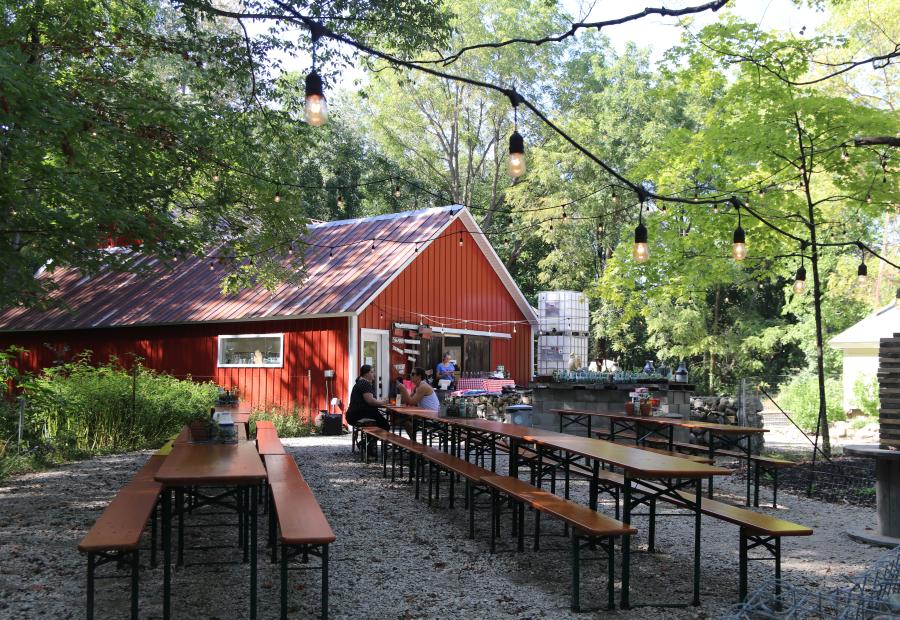 In addition to an event space, Farmhaus Cider Co. offers cider flights and has food trucks daily.
Photo by Experience Grand Rapids
Grand Rapids has a ton of venues that are perfect for groups, here are a few additional options:
Need help planning a big event in the city? Be sure to check out our Groups page to learn more information on hosting a group in GR!