Congratulations to the soon-to-be bride and groom! Whether you're getting married next month or next year, Grand Rapids is a fantastic place to host a Bachelor or Bachelorette party you and your friends will always remember. The following party ideas can stand alone, or you can combine them to craft the perfect day for your and your friends.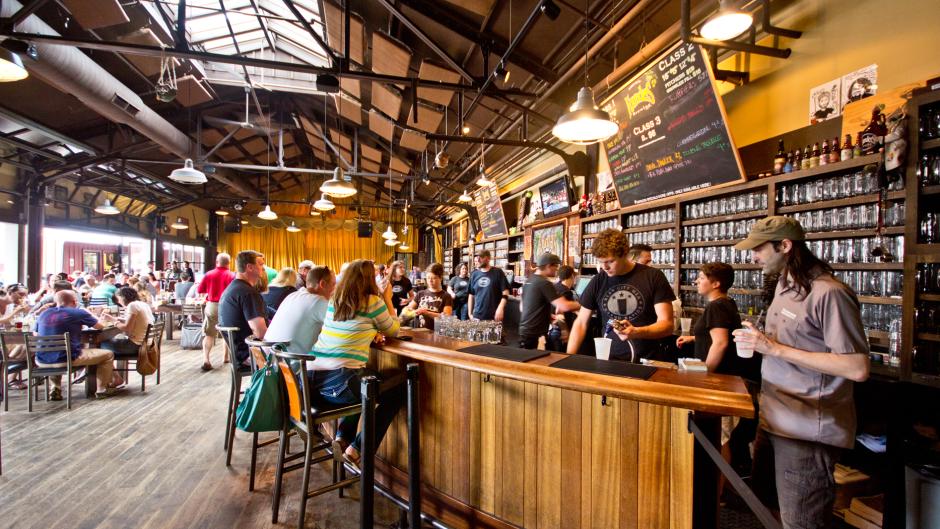 Fact: Founders Brewing Co. opened its second location in November 2017!
Photo Credit: Experience Grand Rapids
---
1. Celebrate Grand Rapids' Craft Beer Scene
Savoring a hot, thin slice of pizza at the Mitten, while downing the perfect accompanying brew, is fun any day of the year. But for your bachelor or bachelorette party, why stop there? Hit the BOB for a seasonal brew, then add crack fries and a pale ale at HopCat before heading to Founders! The Grand Rapids area boasts over 40 craft breweries—making it the perfect town for a celebratory pub crawl. Hire the GR Brew Bus, Dadds, the GRHopper, the GRParty Bus or Affordable Limousine to drive you and your favorite peeps around town safely.
2. West Side Bowling and Bars
Regardless of where you stand in the "West side is the best side" debate, the West side is home to both Wengers Bowling and Clique Lanes, as well as plenty of watering holes, which makes it the perfect destination for fans of throwing a strike. Afterward, hit the Blue Dog Tavern, a 2015 Grandwich Top 10 finalist, in the historic building that formerly housed a grocery store, a bank, and the Kopper Top Bar. While you're there, you might want to pop into the nearby Holiday Bar to play a little pool, then head down the road a bit for stops at the Anchor Bar, O'Tooles Public House, and Kale's Korner. If the doors have opened, be sure to raise a toast at the Harmony Hall, the new brewpub by the crew at Harmony Brewing Co.
3. Pedal Power
You've seen them around, now it's time to try one yourself! Grab your girls or guys (or both) and start pedaling the Great Lakes Pub Cruiser, Grand Rapids only PedalPub. Up to 15 friends can hop aboard (10 actually do the pedaling) and Great Lakes Pub Cruiser offers several routes, all of which include awesome stops downtown. They're even willing to work with you to tweak the route; if you have a favorite place you want to stop that isn't on one of their regular itineraries, call ahead and see if they can work it in. For an extra fun evening, grab dinner and stay at a downtown hotel afterwards (see recommendations below).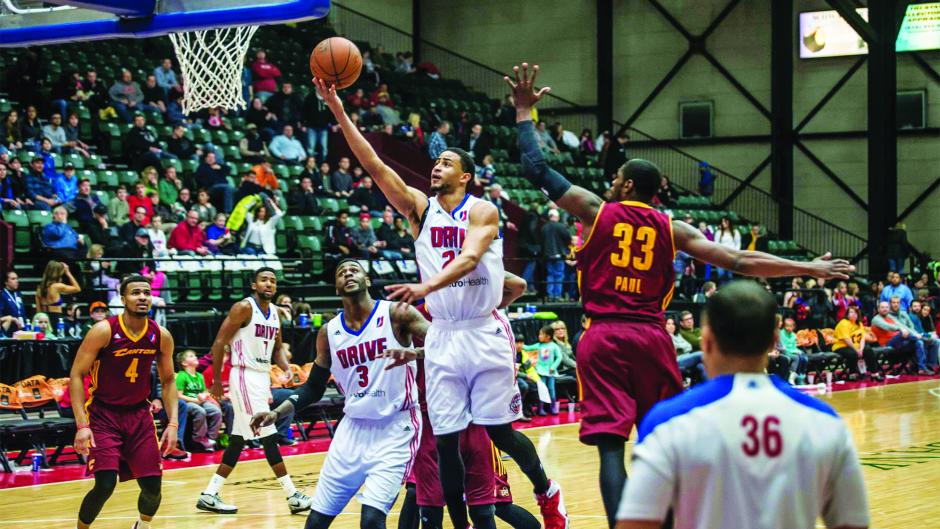 Minor League Basketball Game in Grand Rapids
---
4. Go Sporty.
He shoots, he scores! Sports fans, get ready: Grand Rapids serves up sporty fun year round and there's no shortage of options.  Grab Whitecaps tickets for baseball, Griffins tickets for hockey, and Grand Rapids Drive tickets for hoops. If auto racing is your thing, check out Berlin Raceway, in Marne, or Grattan Raceway, in Belding, for auto or motocross racing. Although the Rampage Arena Football team exists no more, you can watch collegiate athletes sling the pigskin at both Ferris State (Big Rapids) and Grand Valley State University (Allendale). End your night watching sports on TV at the sports bar GP Sports in the Amway Grand Plaza.
5. Golf & Pub-Crawl
Fans of hitting the links will find a plethora of public golf courses in the Grand Rapids area. Built on old gypsum mines, The Mines Golf Course is conveniently located about ten minutes from downtown GR. Another nearby option is the Highlands Golf Club, which also has a bar, restaurant, and event rooms you can rent, some of which allow self-catering. If your crowd isn't into spending hours on the course, try mini-golf instead. AJ's Family Fun Center has an enjoyable putt-putt course and you can race go-karts there, too. After the golf champion (real or mini) is determined, cool down inside with your favorite food & beverages at one of the many great downtown options. (See suggestions below.)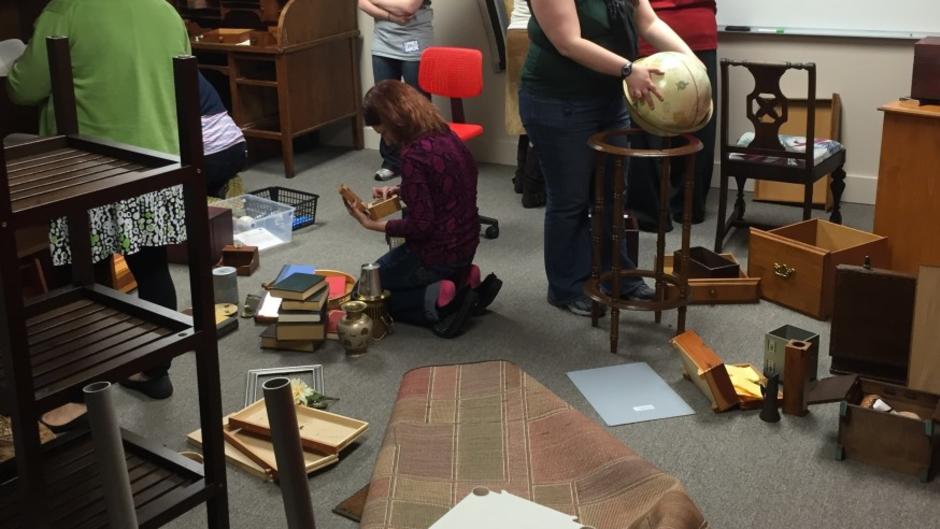 The Great Escape Room
Photo Credit: Experience Grand Rapids
---
6. One-Hour Escape
If you're intrigued by idea of escaping a locked room by solving clues and puzzles, kick the fun off by booking an "escape" at Grand Rapids' The Great Escape Room. "It's a beat-the-clock game," says Paula Norder, Manager of The Great Escape Room in Grand Rapids. "It's part scavenger hunt, part puzzle solution, and a super lot of fun." You and your friends will be locked in the Sherlock-Holmes themed room and have one hour to find the clues and solve the puzzles to escape. BYOB. Catering available, or hit the restaurants and bars downtown afterwards. (See recommendations below.)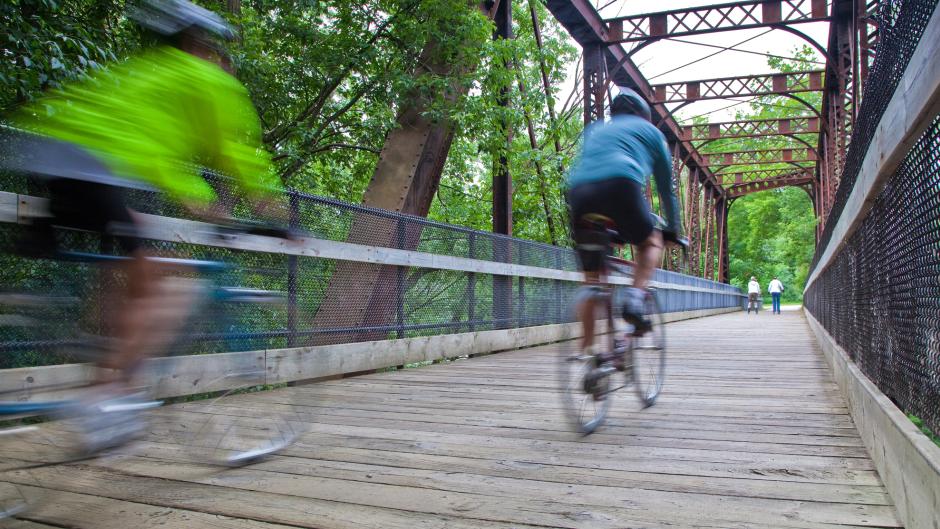 Two People Speeding Across a Bridge on Bikes
Photo Credit: Experience Grand Rapids
---
7. Get Dirty.
If your idea of fun includes shooting your friends with paint or biking wooded trails, get ready to kick off your celebration with some outside action. Play paintball at TC Paintball for a few hours, then clean up and hit downtown GR for food and beverage fun. Rather muck it up on the trails? Grab your mountain bikes and head to Luton, Cannonsburg, or Merrill Trail before heading downtown to cap the night at HopCat, the BOB, or Founders.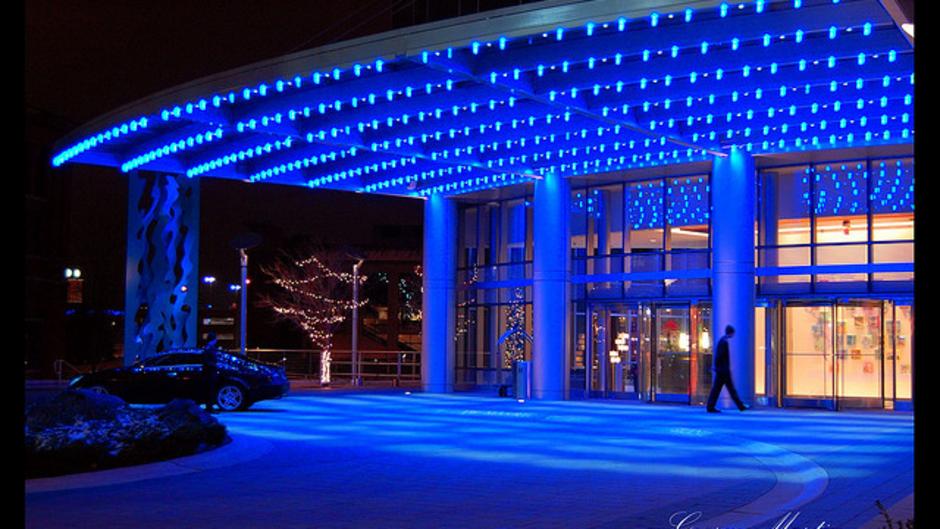 JW Marriott Entrance
Photo Credit: photo courtesy of Blue Diamond, via flickr
---
8. Or Get Really Clean.
If you're up for a hot stone or deep tissue massage, downtown Grand Rapids delivers with luxurious spa treatments at several spas. Indulge with the Bachelorette Party Package at Tanaz Day Spa or pamper your friends at the spas at the JW Marriott and Amway Grand Plaza, both of which offer sumptuous spa. Of course you can stay at the JW or Grand Plaza, too, and make a whole luxurious evening out of it.
9. Eat, Drink, Dance, and Laugh the Night Away…All in One Place
If you prefer to keep things easy—and in one location—the BOB houses so much fun under one roof that you can plan your entire evening there. "It's very easy to get several different experiences in one night without ever leaving the building," says Brian Palm, General Manager of Dr. Grins Comedy Club & Eve Nightclub at the BOB. Groups that prefer a more private setting can make reservations for the Bottle Lodge, an old world wine cellar that caters to intimate gatherings. Diners can order off of menus from either Judson's Steakhouse or Gilly's.  (You can also make reservations for either of those restaurants if you're not looking for a private room.) If your group prefers a more casual route, hit Bobarino's for some excellent wood-fired pizza and burgers or head to the BOB's microbrewery and try whatever seasonal brews are on top (Peanut Butter Porter, if you're lucky). Wrap up the night with live music at H.O.M.E, a comedy show at Dr. Grins, and/or dancing at Eve. Check the BOB's website for dress codes and hours for each of their restaurants and clubs.
It's very easy to get several different experiences in one night without ever leaving the building.
10. Especially for the Girls: Up the Romance Factor
If you want to try something a little more sensual, Grand Rapids has a few noteworthy options. Bellydance bridal offers lessons and bachelorette party packages; Flirt Fitness Studio can teach your group to pole dance; Scotta Intimates brings its lingerie party to your place; and a Pure Romance party will provide you and your friends with lots of info about the bedroom toys and accessories they sell.
Downtown Hotels:
GR boasts plenty of downtown hotels that suit a range of budgets.  These hot spots are within easy walking distance of restaurants and bars.
Restaurants and Bars
Grand Rapids is chock-full of great restaurants and bars. Here are a few fun places to visit as part of your Bachelorette or Bachelor Party. (Click here for a more comprehensive list.)
If you call ahead, several of these places offer drink/appetizer specials and will work with you to make arrangements for your party. It's worth noting that these locations are close to downtown, but that Grand Rapids has several other neighborhoods with fantastic bars and restaurants, like Heartside and Uptown.
Never miss a post!
Subscribe to the Insider Experience blog.