Veganism is continuously growing, and restaurants across Michigan are filling the demand, with Grand Rapids leading the way. Not only is Grand Rapids rising to meet the needs of people with dietary restrictions, but it has also been named "America's Greenest City" by Fast Company Magazine. 
Some green highlights include the Rapid public transit system, featuring hybrid buses and the first "green roof" installed on a transit facility in the country; several certified B-corporation restaurants and breweries; and a strong tie to nature by being voted "America's Best River Town" and the "Best Town for Mountain Biking."
As someone who travels a good portion of the year, I understand how important it is to have a trusted resource for finding vegan food and ethical experiences on the road. If vegan food and sustainable means of travel are a priority for you, then my carefully curated itinerary for a weekend in Grand Rapids is definitely for you.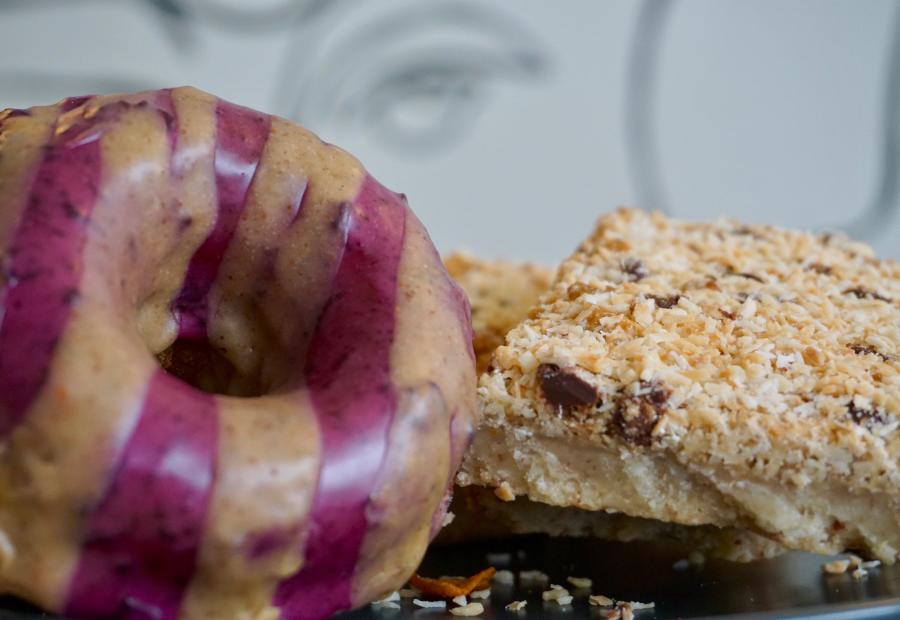 Visit Rise + Squibb for your morning coffee and a vegan donut or other vegan baked goods.
Photo by Brian Craig for Experience Grand Rapids
Friday
Vegan donuts, Museum, and Walk
Time: Morning
What better way to kick off a vegan-based trip to Grand Rapids than by visiting the all-vegan bakery, Rise Authentic Baking Co. For its new storefront, Rise partnered with Squibb Coffee for coffee offerings, but all of the food items are Rise products, which are completely vegan, gluten-free, soy-free, and free of artificial dyes. 
You'll find a large offering of rotating daily donut flavors including carrot cake, earl grey lavender, strawberry rose, and chocolate sprinkle, as well as several seasonal flavors. As a self-proclaimed vegan donut connoisseur, these are some of the best vegan donuts I've tasted. 
If donuts aren't your thing, don't worry. You can also pick up cake, cupcakes, cookies, pies, bread, muffins, scones, cinnamon rolls, cheesecakes, and more.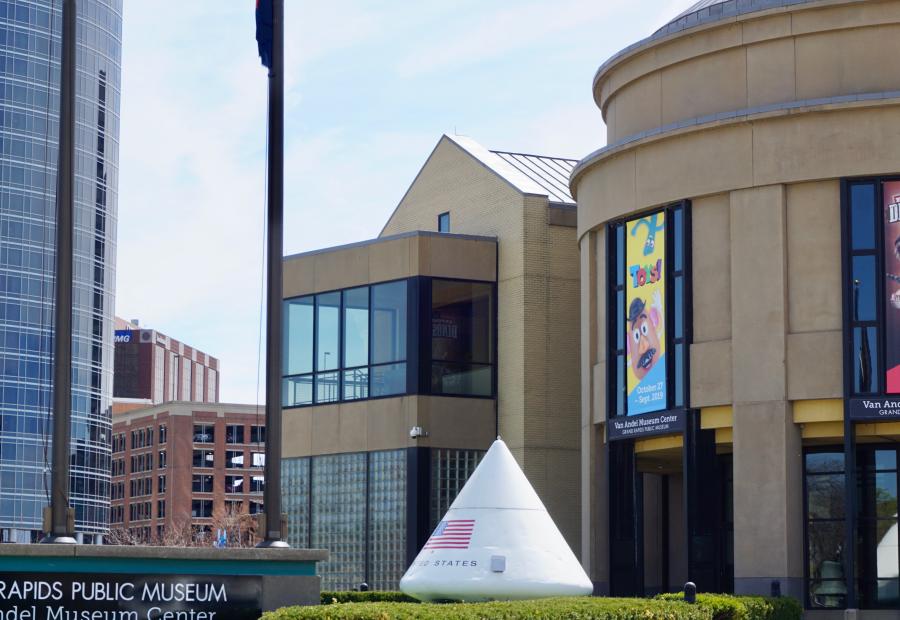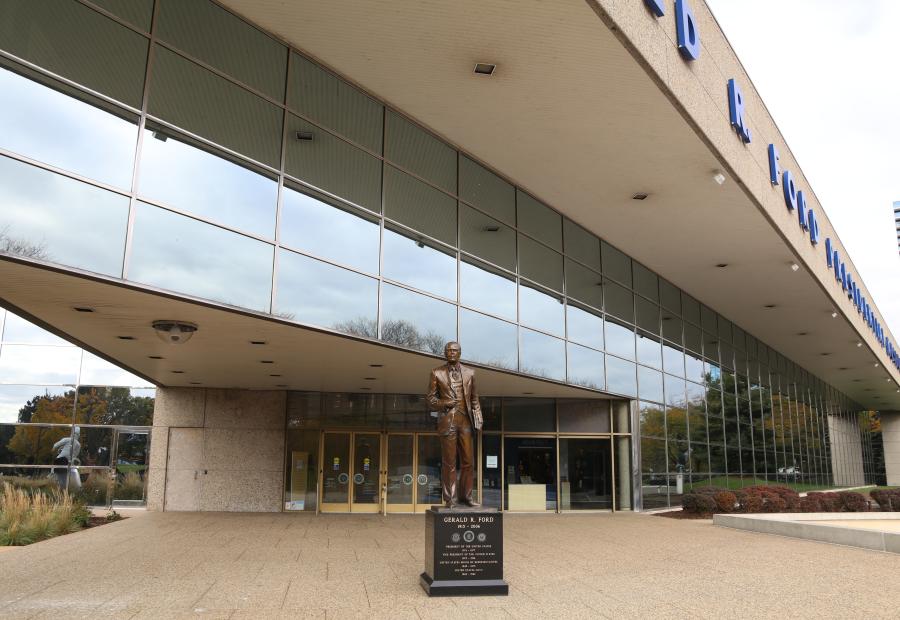 Visit the Grand Rapids Public Museum, and then head across the street to the Gerald R. Ford Presidential Museum to learn some of Grand Rapids' history.
Photo by Brian Craig for Experience Grand Rapids
After filling up on vegan donuts and throwing a few extras in your bag for later, it's time to walk it off by visiting the Grand Rapids Public Museum (note: it is about a 25-minute walk but ride shares and public transportation, including motorized bikes and scooters, are available to rent).
The museum is full of impressive and rather eclectic collections following an A-Z approach: each letter stands for something and includes an in-depth collection (i.e. O is for Oddities). Additionally, you'll find collections such as Anishnabek: The People of This Place, which explores the Native Americans of West Michigan; Furniture City, which explores the city's furniture manufacturing history; Streets of Old Grand Rapids, an extremely detailed and realistic recreation of 1890s Grand Rapids; and Newcomers: The People of This Place, which explores the immigrant groups that have formed Grand Rapids into what it is today. 
On-site, you'll also be able to enjoy the planetarium and, once its renovations are complete, the carousel no matter your age - an animal-friendly way to ride horses, giraffes, camels, tigers, and more.
Once you're done being enamored by this one-of-a-kind museum, stroll over to Ah-Nab-Awen Park. This park, sitting directly between the Gerald R. Ford Museum and the Grand River, was once the site of a Native American village. This park is an opportunity to tie in what you learned at the museum about Native Americans of West Michigan with physical landmarks. 
The name of the park translates to "Resting Place" and was proposed by the Elders of Three Fires Council to honor the three major Indian tribes of Michigan: the Ottawa, Potawatomi, and Chippewa. Part of being a responsible traveler is learning the history of a place, and Grand Rapids definitely has a lot of Native American history.
In order to get back to the city center, take the Blue Bridge. It was originally constructed as a railroad bridge in 1892, but it is now a pedestrian bridge. It's quite an iconic landmark and makes for a great photo op.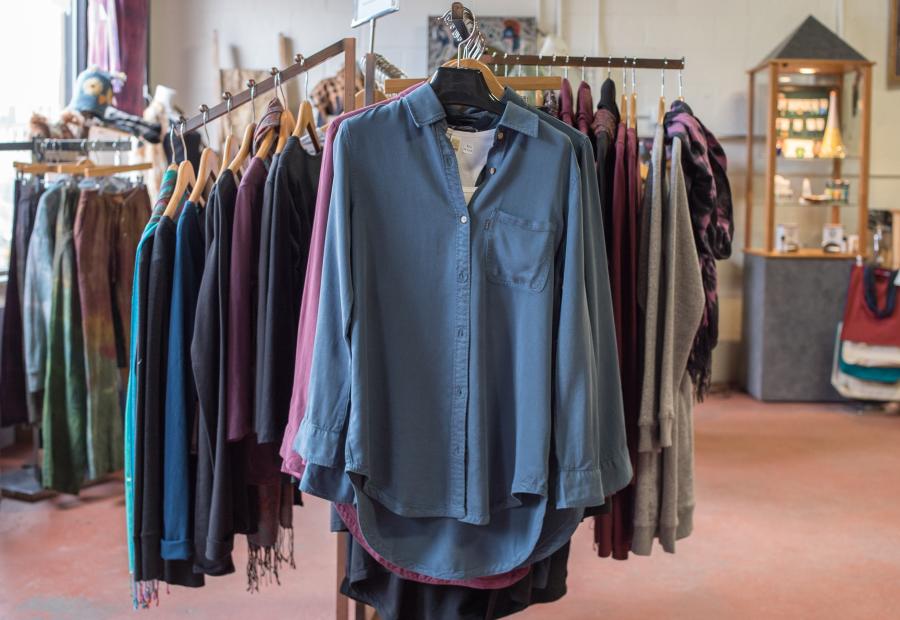 Head to Electric Cheetah for delicious vegan lunch options. Then shop sustainably at the nearby Clothing Matters.
Photo by Experience Grand Rapids
Lunch & Responsible Shopping
Time: Afternoon
Next, it's time to head to Electric Cheetah, a short drive away with your preferred rideshare service. Electric Cheetah is a locally owned and sourced restaurant that offers extensive vegan options and uses top of the line vegan products. 
Once your belly is full again, it's a great time to do some responsible shopping by checking out the local stores, responsibly-made clothing, and consignment shops in the area. 
Head to Clothing Matters, which supports social justice, communities, and ecosystems while reducing toxins and still providing comfortable and quality clothing. Nestology Shop & Studio shares space with Clothing Matters and is a great spot to find sustainable gifts by local artists. 
Next door, you'll find Global Infusion - an eclectic fair-trade marketplace and nearby, you'll find Books & Mortar - a progressive and consciously curated independent bookstore. If you still have shopping fever, there are plenty of consignment shops in the Uptown neighborhood as well. 
You'll find vegan buffalo wings made from potatoes at Stella's, as well as more than 250 whiskey options.
Photo by Ashley Hubbard
Dinner & Whiskey
Time: Evening
Have dinner at Stella's Lounge where you'll be delighted to find graffiti walls, '80s vintage arcade games, rock music, 250+ whiskey options, and a pub-style menu with a large vegan offering. 
This is the first restaurant where I've ever seen buffalo wings made out of potatoes, and I'm here to say that this definitely needs to be a trend. A lot of whiskey is naturally vegan, but if you're unsure, check out Barnivore, a comprehensive online resource for vegan alcohol.
Even better? Stella's Lounge recycles or composts more than 90% of its waste and sends all to-go items in compostable materials.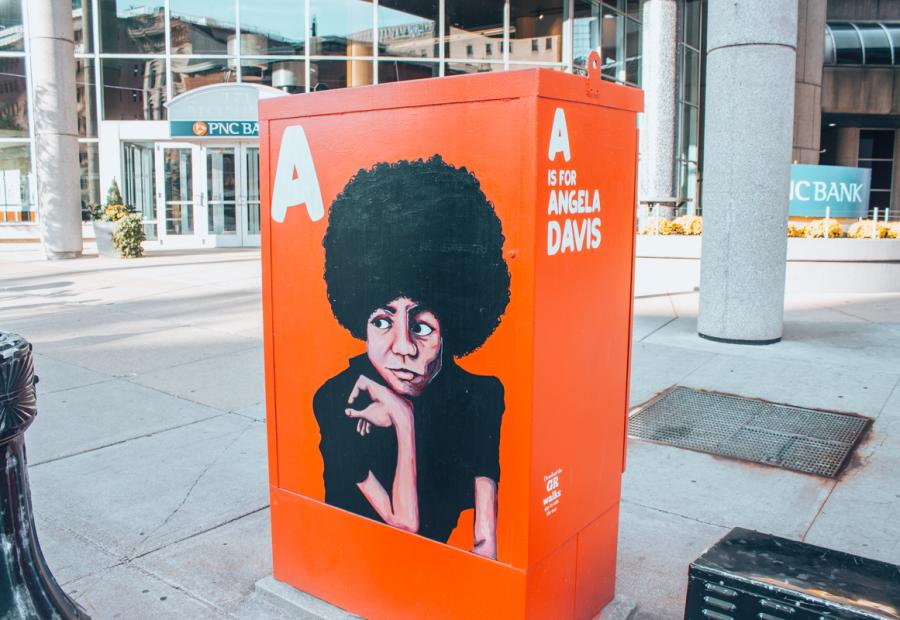 Download the GR Walks app and go on a self-guided walking tour, like the Rad Women A-Z tour.
Photo by Ashley Hubbard
Saturday
Breakfast and Feminism
Time: Morning
We hope you got some rest because day two is going to be jam-packed with fun. First, breakfast at Field & Fire Cafe is a must. With several vegan options, you won't be disappointed. Consider trying the filling vegan "hot mess skillet," made with some of the best-tasting and realistic vegan sausage around.
Walking tours, whether self-guided or guided, are a great way to understand the layout of a city. An inexpensive (free) and unique one is the self-guided Rad Women A-Z walking tour. Just download the GR Walks app and you're set to go. 
From A-Z, each stop on the walking tour will share a painting and information of a rebel, trailblazer, or visionary who shaped history and our future - all women. The tour takes approximately 1.5 - two hours depending on your pace, and all stops are located in the downtown area.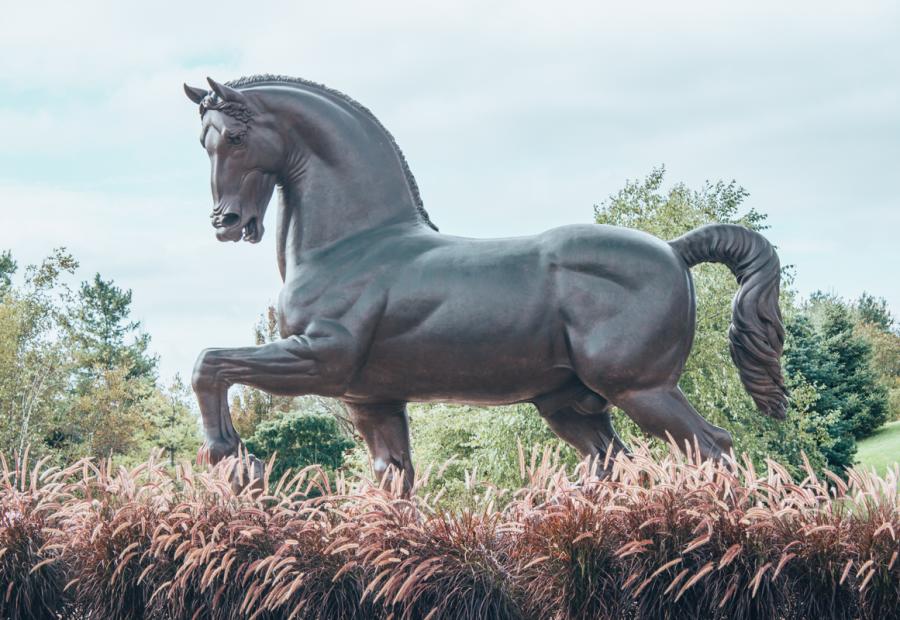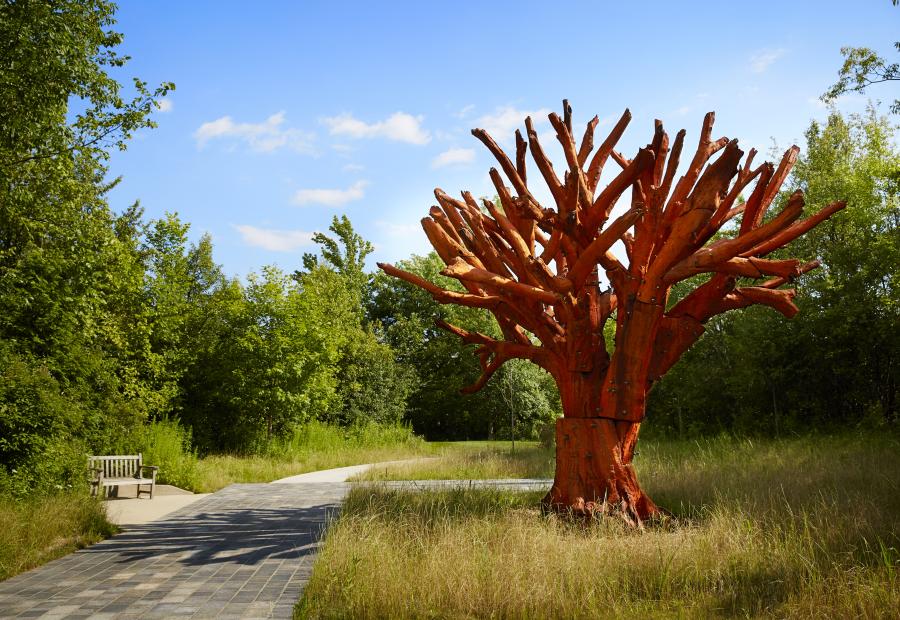 A picnic at the Frederik Meijer Gardens is the perfect way to spend a Saturday afternoon in Grand Rapids.
Photo by Ashley Hubbard
Market, Picnic, and Botany 
Time: Afternoon
Once you've worked up an appetite, walk or catch a ride to the Fulton Street Farmers' Market - Grand Rapids longest-running farmers market - for some picnic provisions. Grab some fruit and veggies from local farmers. Then head over to The Cheese Lady nearby to grab some vegan cheese (courtesy of The Herbivorous Butcher) and crackers. 
A short drive away, Frederik Meijer Gardens & Sculpture Park is a great spot for a picnic. If you have a green thumb, ever wanted to have a green thumb, or just enjoy a beautiful and relaxing location, you'll love these gardens. The grounds are expansive so enjoy your picnic and take your time strolling around the indoor gardens, outdoor gardens, and sculpture park. While you may not be able to picnic outdoors in the winter, the farmers market and the Frederik Meijer Gardens are both open year-round.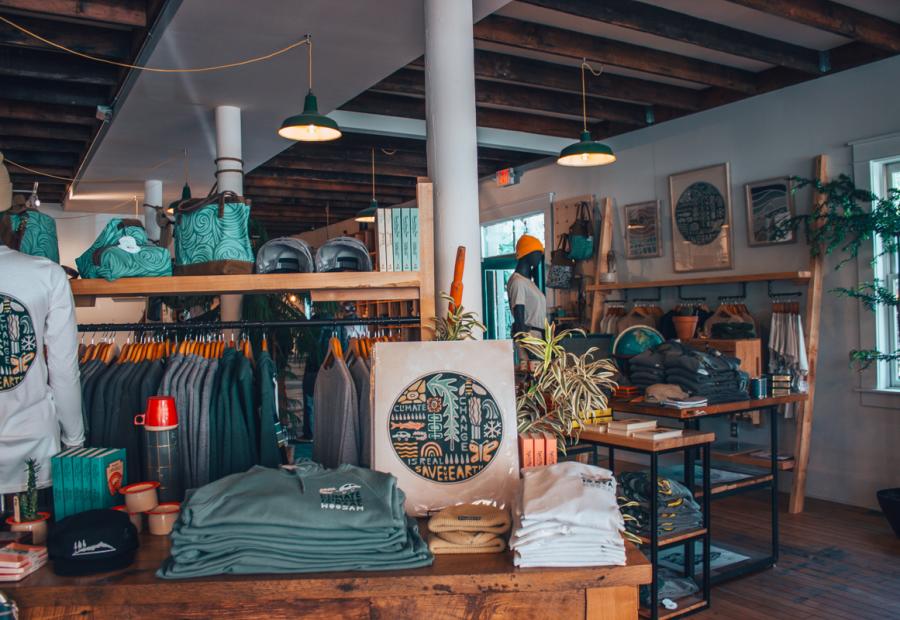 In the Uptown neighborhood, you'll find sustainable shopping and outdoor coffee.
Photo by Ashley Hubbard
Coffee Break + Dinner
Time: Late Afternoon - Evening
A coffee break is long overdue at this point, so head over to Outside Coffee Co. This is a unique coffee shop in Grand Rapids featuring a permanent food truck, fire pits, geo domes for the colder seasons, hammocks, and more. 
On the menu, you'll find several kinds of plant milk, vegan butter for toast, and vegan soft serve (one of the hardest vegan items to find!) on the menu. Outside Coffee is owned by the adjoining Woosah Outfitters - a local, female-owned, and naturally inspired art and apparel brand with a sustainable and environmentally friendly theme. 
For dinner, check out one of the city's specialties - the breweries. Atwater Brewery and The Mitten Brewing Company are two great options. Atwater beers are vegan-friendly, and some, but not all, of Mitten beers are vegan-friendly. Barnivore or your server are great resources for finding out which. Mitten Brewing also offers several vegan food options, with the option to make most of its menu items vegan, gluten-free, or both. Don't forget to check in with your Brewsader® App at both of these breweries!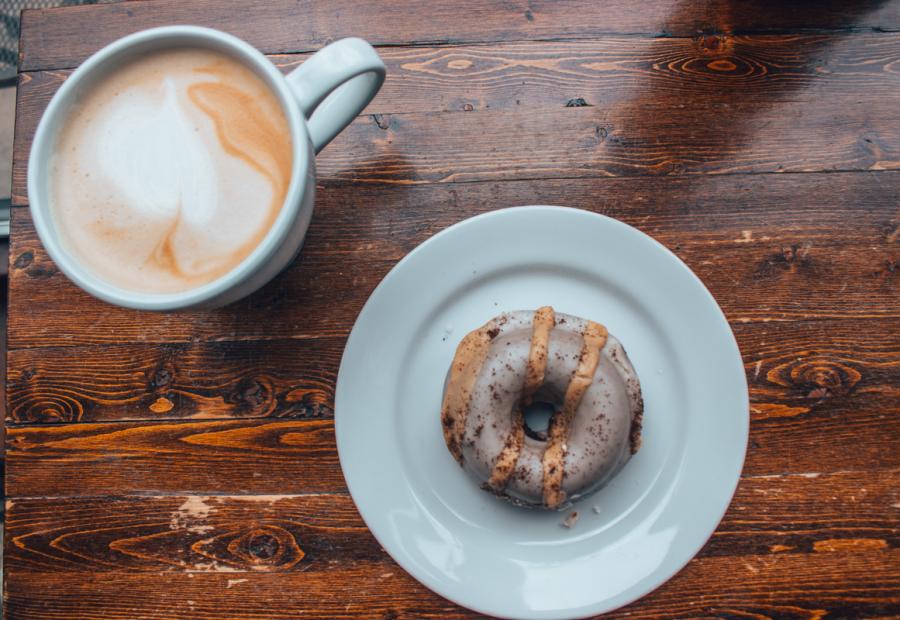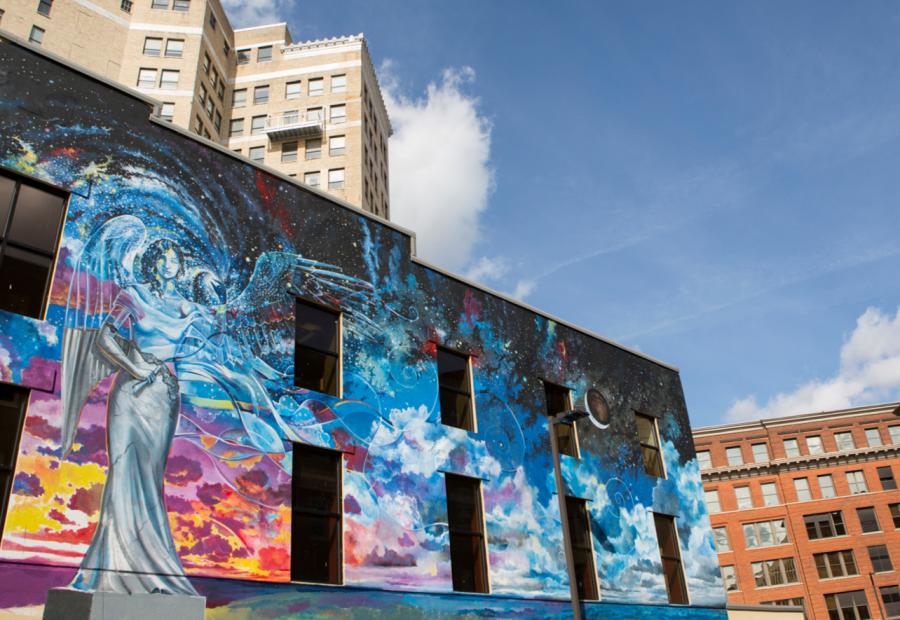 After coffee and a donut at the Lantern, look for murals nearby - you'll find lots of mural and outdoor art downtown!
Photo by Ashley Hubbard
Sunday
Breakfast and Murals
Time: Morning
There's no shortage of great coffee in Grand Rapids so you can't really go wrong, but a fantastic option is breakfast at the Lantern Coffee Bar & Lounge. You can grab a coffee drink with almond milk and Rise's vegan goodies here. Take time to enjoy your breakfast in their industrial-style lounge.
The Lantern is located in an area nearby several murals. The best way to find murals is to just start walking, but for the sake of time, here are some directions: Walk out of The Lantern, turn right and then right on Division Street, and a block down you'll find a cool witchy mural after turning left on Cherry Street. Take the next left on Sheldon Avenue, where you'll find a few more murals before you dead end at Monument Park, which is surrounded by several murals, including a rainbow mural on the street. If you're in Grand Rapids in the fall, you'll be treated to ArtPrize.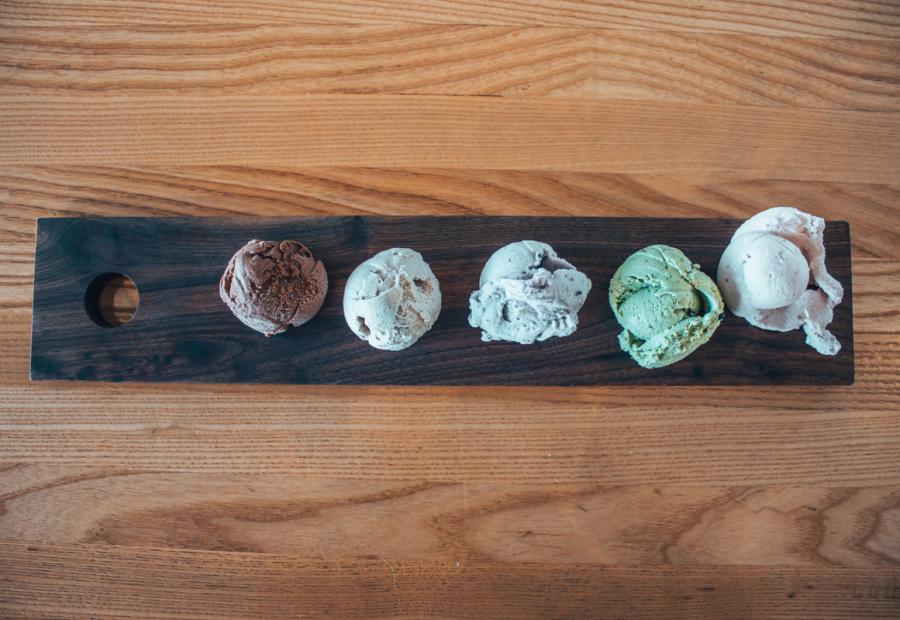 At the Downtown Market, you'll find vegan ice cream at Love's, and plenty more delicious food vendors with vegan options.
Photo by Ashley Hubbard
Lunch, Market, and Art
Time: Afternoon
The Downtown Market is home to a wide variety of restaurants, bakeries, hands-on cooking classes, and community events. The market is the first LEED-certified market in the country, and you'll find several vegan options: Field & Fire Bakery, Rak Thai, Tacos El Cuñado, and Love's Ice Cream & Chocolate. 
After checking out the sustainable and vegan options at the Downtown Market, hop on the free downtown DASH bus and take it to the Grand Rapids Art Museum (GRAM) - the first newly constructed green museum in the country and the world's first LEED Gold certified art museum.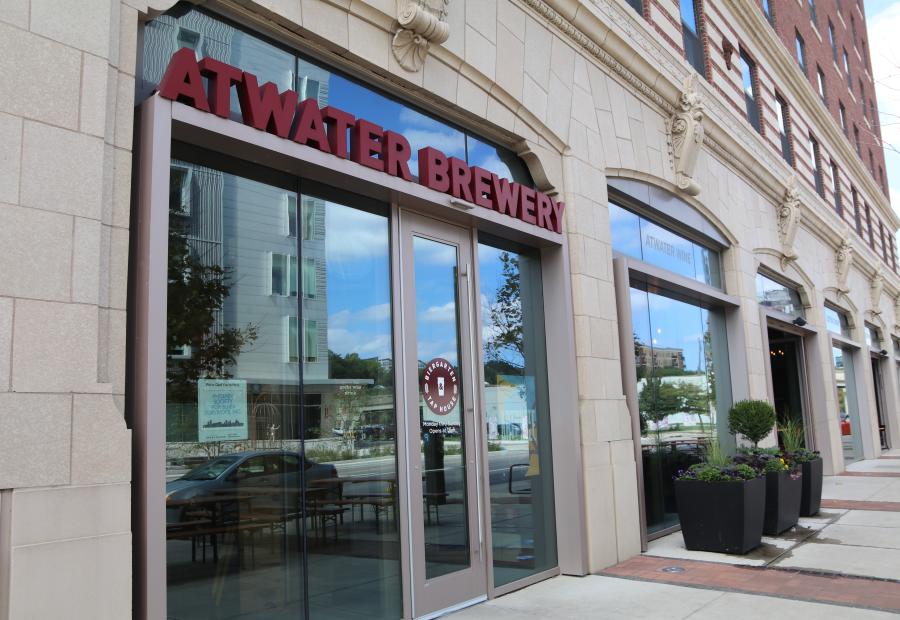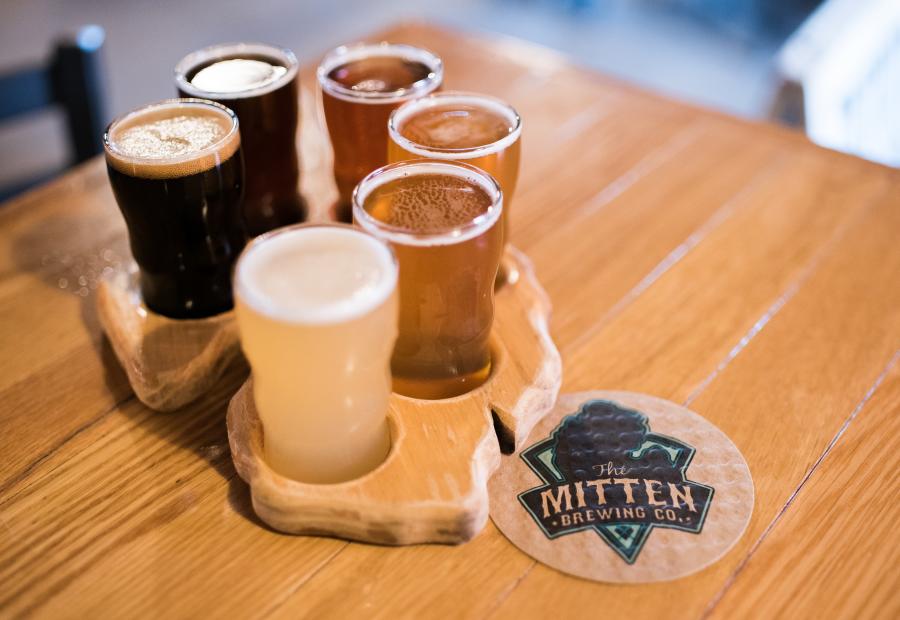 You'll find great beer and vegan food at local breweries like Atwater Brewery and The Mitten Brewing Co.
Photo by Experience Grand Rapids
With this vegan and responsible guide to Grand Rapids, you're sure to keep your belly full, your legs well exercised, and your knowledge and interest piqued. There are many fantastic vegan and sustainable options, so this itinerary is not considered comprehensive, but instead a great way to make the most of a weekend in Grand Rapids while still staying true to your beliefs. 
For more information on choosing overnight accommodations, visit the hotels page.
This story was originally published in 2019 and has been updated by the Experience GR team.