From the heart of downtown to the coast of Lake Michigan, the Grand Rapids area offers all sorts of opportunities for cold-weather play. Some of our favorite winter pastimes require specialized gear in addition to warm coats, hats and gloves. If you don't own gear – or you don't want to lug it with you on your getaway – you can rent what you need from a variety of local sites and providers.
Downhill Skiing
Three area ski resorts rent downhill gear for use on their slopes:
Cannonsburg Ski Area, which features 21 runs and nine lifts just 15 minutes from downtown Grand Rapids, rents skis for $30.
Bittersweet Ski Resort, about 40 minutes from downtown GR, offers 20 runs and a 350-ft. vertical drop. Ski rentals range from $37-$42.
Mulligan's Hollow, a lakeshore resort 40 minutes from downtown, is home to six slopes and rents skis for $12-$18.
You can also rent a complete downhill ski set ($40/day, $90/3 days, $200/week) at Bill & Paul's Sporthaus – and use the skis at whichever resort(s) you please. Prices are lower if you need rental skis only.
Cross-Country Skiing
Bill & Paul's Sporthaus rents a cross-country ski set ($22/day, $50/3 days or $90/week) you can take with you throughout the region. Alternatively, these sites offer rentals for use on their trails:
Palmer Park offers three groomed cross-country trails of roughly two miles each. You can rent skis at the adjacent Kaufman Golf Course – $10 for adults, $8 for kids age 17 and younger, $30 for a family of up to five.
Pigeon Creek Park features three miles of groomed trails for both classic and skate skiing. Ski rental is $8/3 hours and $2 per additional hour.
Muskegon Luge Adventure Sports Park is home to more than nine miles of trails catering to all levels of skiers. Ski rental is $8/day.
Snowboard rentals available at Cannonsburg Ski Area for all ages!
Photo by Experience Grand Rapids
Snowtubing
The expanding tubing lanes at Cannonsburg Ski Area are serviced by a "magic carpet" that brings you back up the hill to ensure you get maximum laps. Tube rentals are included with admission, which is $18 on weekdays and $23 on weekdays and holidays. You must make online reservations here.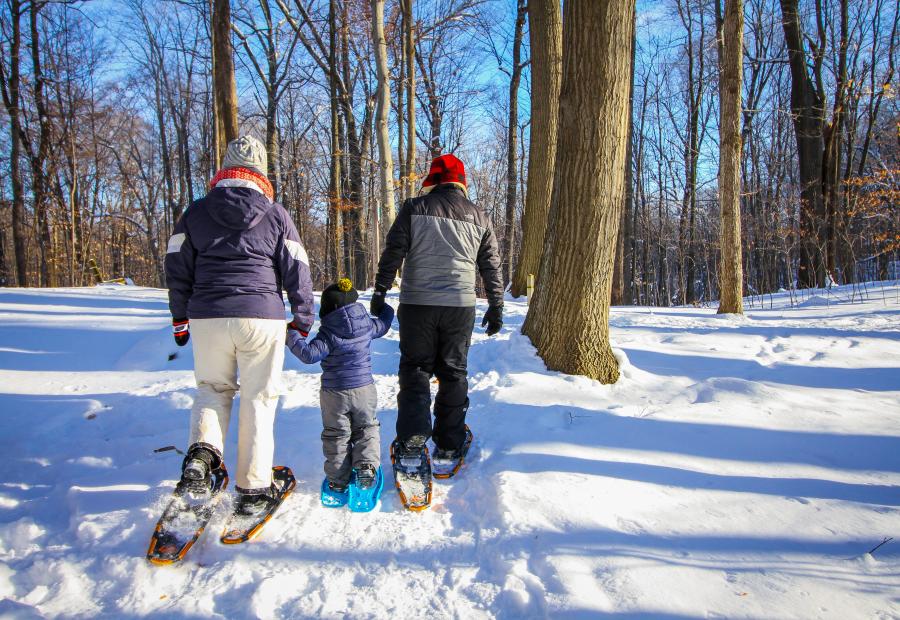 Hitting the trails at Blandford Nature Center with snowshoes.
Photo by Experience Grand Rapids
Snowshoes
Freedom Paddle Company rents snowshoes for use in parks and nature centers across the region. The normal rental fee is $35 for up to eight hours of use, but specials are sometimes available – including a Valentine's Day Snowshoe Rental for two that includes your gear, a sticker pack, a box of baked goods and an itinerary for $65.
You can also rent snowshoes at:
Ice Skating
If you enjoy skating outdoors, Rosa Parks Circle is the perfect spot. Skates are included in the $4 admission fee for adults and $2 for anyone 17 and under. You can rent skates and skate indoors at:
Muskegon Luge Adventure Sports Park rents both figure and hockey skates for $8/day. (Hockey sticks and helmets can be rented for $3 and $1, respectively.) The natural ice rink is big enough to accommodate both family skating and playing hockey, while a ¼-mile figure-eight skating loop traverses through white pine forest.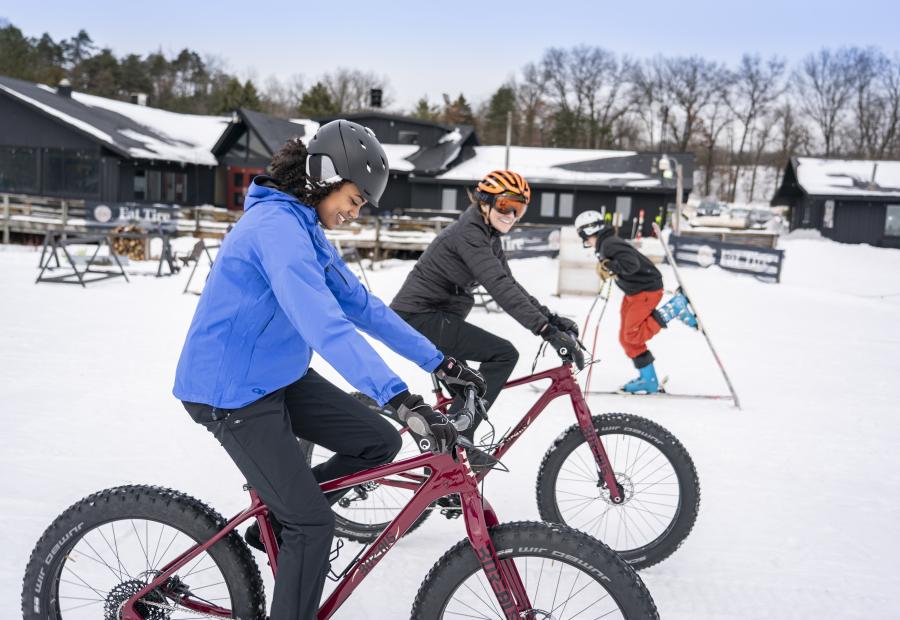 Cannonsburg also rents fat tire bikes (aka fat bikes) for use on certain trails.
Photo by Experience Grand Rapids
Fat Tire Biking
The winter trails at Cannonsburg Ski Area  are also great for fat tire biking – and Cannonsburg rents bikes at $25 for two hours and $45 for four hours.
Indian Trails Golf Course has trails fit for an adventure. During clubhouse hours, visitors can rent fat tire bikes for $20.
Sledding
The Thrive Outside Gear Library offers 7-day sled rentals for $4. Check out the City of Grand Rapids Parks and Recreation Facebook page for additional free sledding opportunities. 
In addition to rental fees, you may have to pay an admission fee to enjoy some (but not all) of the area's best slopes, trails and ice rinks. Get out there and enjoy the snowy side of the Grand Outdoors – maybe even try a winter sport you haven't yet!
Visit our Outdoor Recreation page for even more ways to enjoy nature's playground.
Whether you like to play indoors or outside, there's no shortage of winter fun in the Grand Rapids area.