If your organization is meeting in Grand Rapids, which has been known as Beer City USA since 2012, it would be a shame not to visit one of its many breweries.
Fortunately, seven of them make it easy to mix business with some pleasure by offering meeting space within a short walk of the city's downtown convention campus. Several also offer behind-the-scenes tours or will be happy to arrange tastings for you, too.
If your site visit includes any of these or the 30+ other breweries in the Grand Rapids area, download the Beer City Brewsader® app. Eight check-ins earns you official Brewsader status and a free t-shirt.
Founders Brewing Co.
Founders Brewing offers the Centennial Room, a private, upstairs space with seating for 50-60 and a fully staffed bar featuring eight taps. The space has two walls of windows offering great views of the city and a patio during warm weather. The room also has three large flat-screen TVs and a retractable projector screen.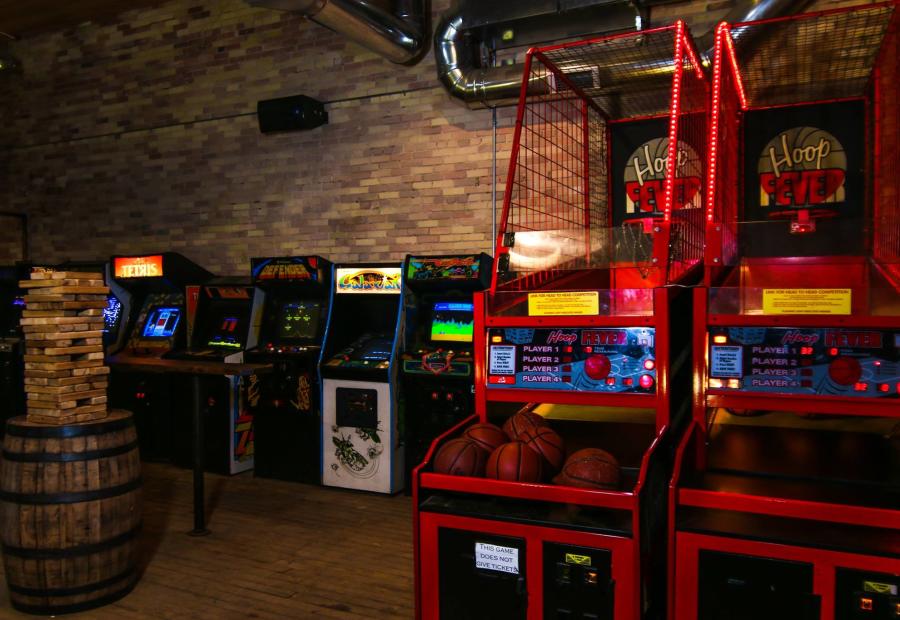 Grand Rapids Brewing Co. has a room dedicated to a variety of games.
Photo by Grand Rapids Brewing Company
Grand Rapids Brewing Company
Capitalizing on the history of the original brewery that opened in 1893, the Grand Rapids Brewing Company offers small-batch beers using local ingredients as well as a full bar. The brewpub also has a private dining room at the back of the restaurant with seating for up to 55, in addition to a game room.
New Holland Brewing – The Knickerbocker
Part of the growing development of the West Side neighborhood, The Knickerbocker is the latest venture of New Holland Brewing and part of its distilling operations. The Knickerbocker features six different areas of event space that can accommodate groups from 24 to 250. 
Harmony Hall
Another great West Side location, Harmony Hall features its Monster Room, which can accommodate up to 50 people depending on the format. It's ideal for a variety of events, including networking events or business meetings. It also features a unique décor and its own bar.
HopCat
This local brewpub has a cozy semi-private loft space with seating for 25 people. The furnishings are "living room" style, complete with couches, coffee tables, and armchairs.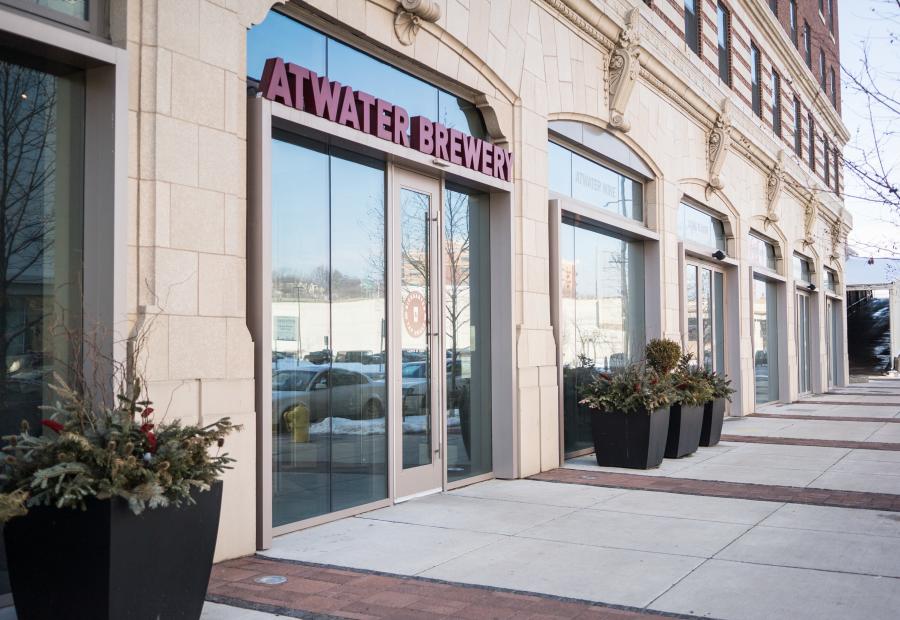 Atwater Brewery offers a large meeting space, right in the heart of downtown.
Photo by Experience Grand Rapids
Atwater Brewery
This Detroit-based brewery offers a semi-private room that can accommodate up to 85 seated. The space also features lots of natural lighting, along with a projector and a big screen.
City Built Brewing
City Built Brewing offers a private space off its main taproom that can serve 36 people seated or 50 standing. It's rent-free when food and drink are purchased. Available during the day or in two-hour blocks in the evenings, it also features a 65-inch smart TV for presentations.
Not sure which brewery would best suit your meeting? Contact our sales team for assistance at sales@experiencegr.com.