Founders Brewing Co.
Founders Brewing offers the Centennial Room, a private, second-floor space with seating for up to 65 and an additional 45 seats on the patio. The fully staffed private bar has eight taps, including one nitro tap, so you can sample Founders products. The room has two walls of windows offering great views of the city and is equipped with three large flat-screen TVs and a retractable projector screen.
BOB's Brewery
BOB's Brewery is located in The B.O.B. (Big Old Building), which also houses a beer garden, pizzeria, live music venue, nightclub, comedy club and multiple banquet spaces that can accommodate from 20 to 2,000 guests. Full catering services are available.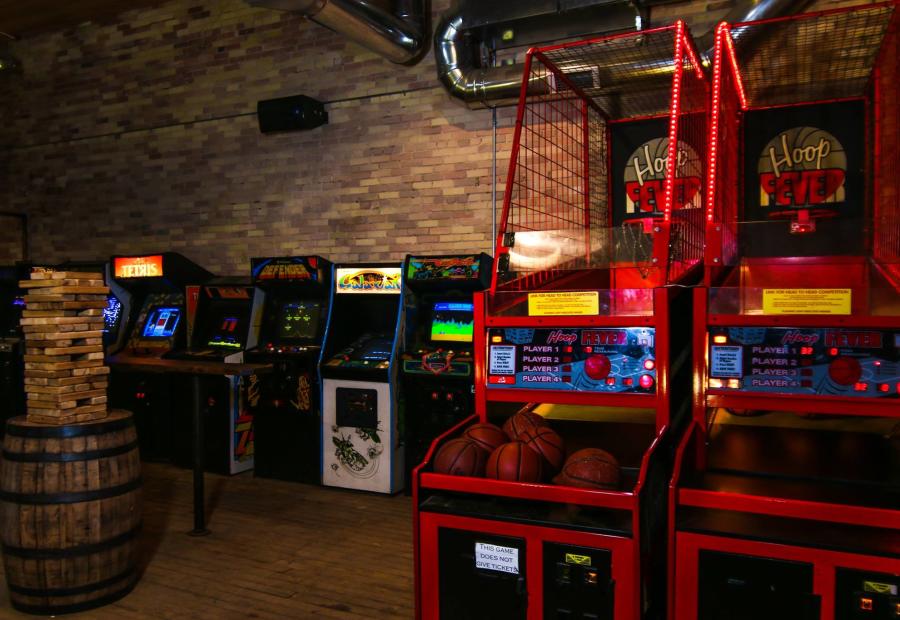 Grand Rapids Brewing Co. has a room dedicated to a variety of games.
Photo by Grand Rapids Brewing Company
Grand Rapids Brewing Company
Capitalizing on the history of the original brewery that opened in 1893, the Grand Rapids Brewing Company offers small-batch beers using local ingredients as well as a full bar. The brewpub also has a private dining room at the back of the restaurant with seating for up to 45, plus a "barn room" with a game room that accommodates up to 70 seated guests and up to 120 mingling guests.
New Holland Brewing – The Knickerbocker
Part of the growing development of the West Side neighborhood, The Knickerbocker is a venture of New Holland Brewing and part of its distilling operations. The Knickerbocker features six different areas of event space, including a loft and an outdoor beer garden, that can accommodate groups from 24 to 250. 
City Built Brewing
City Built Brewing offers a private space off its main taproom that can serve 36 people seated or 50 standing. It also features a 65-inch smart TV for presentations.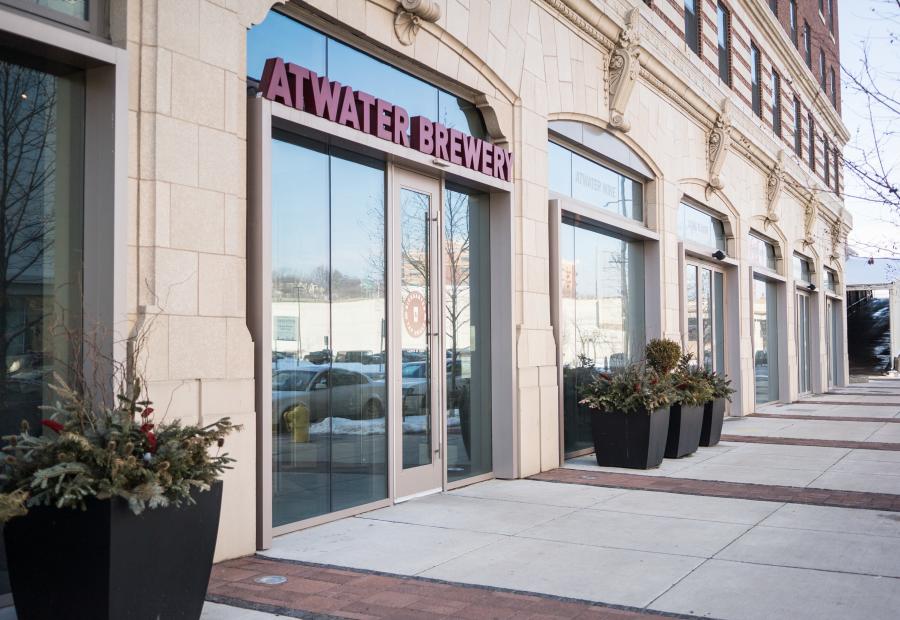 Atwater Brewery offers a large meeting space, right in the heart of downtown.
Photo by Experience Grand Rapids
Atwater Brewery
This Detroit-based brewery offers a semi-private room that can accommodate up to 85 seated. The space also features lots of natural lighting, along with a projector and a big screen.
Jolly Pumpkin Pizzeria & Brewery
Jolly Pumpkin Pizzeria & Brewery is located in the bustling Bridge Street entertainment district. It offers a private event space that can accommodate about 80 people. Banquet options include a pizza station buffet, and many vegan and vegetarian selections are available.
Küsterer Brauhaus
This Bavarian-style beer hall, also on Bridge Street, seats just over 80 guests and will happily accommodate business meetings, luncheons, happy hours, parties and more. Küsterer Brauhaus serves light deli fare but can also cater more substantial meals from its sister location, Cedar Springs Brewing Company. All arrangements are upon request, including private parties.
Not sure which brewery would best suit your meeting? Contact our sales team for assistance at sales@experiencegr.com.