Grand Rapids was first dubbed Beer City USA in 2012. Since then, its reputation, and the reason for it, has only grown. Experts and readers of USA Today voted Grand Rapids number one on a list of 10 cities with the best beer scenes in 2021, 2022 and 2023.
The good news for meeting planners and conference attendees is that many of the features that earned the city its moniker are also within walking distance from the Downtown Convention Neighborhood, including nine breweries.
Many of these breweries feature outdoor spaces that can accommodate guests in all four seasons. Breweries and restaurants winterize their patios, porches and decks to serve guests all winter long. During the warmer weather, these spaces remain excellent options to dine in the fresh air. Find even more outdoor dining options with this list.
Another benefit? Most of these breweries are part of the Refreshment Area Downtown, which means guests can order up a craft beer to sip as they stroll around Downtown in either the Central Business District or Hotel and Arena districts, the West Side's Bridge Street corridor and the Monroe North neighborhood.
Keep in mind that operating hours, tour options, event space availability, menu items and ordering procedures are subject to change. Our services team can assist you in securing the private event space available at some breweries. Attendees exploring the city on their own should always check a restaurant's website or social media before they go. You can also search these outdoor locations on our Restaurants page.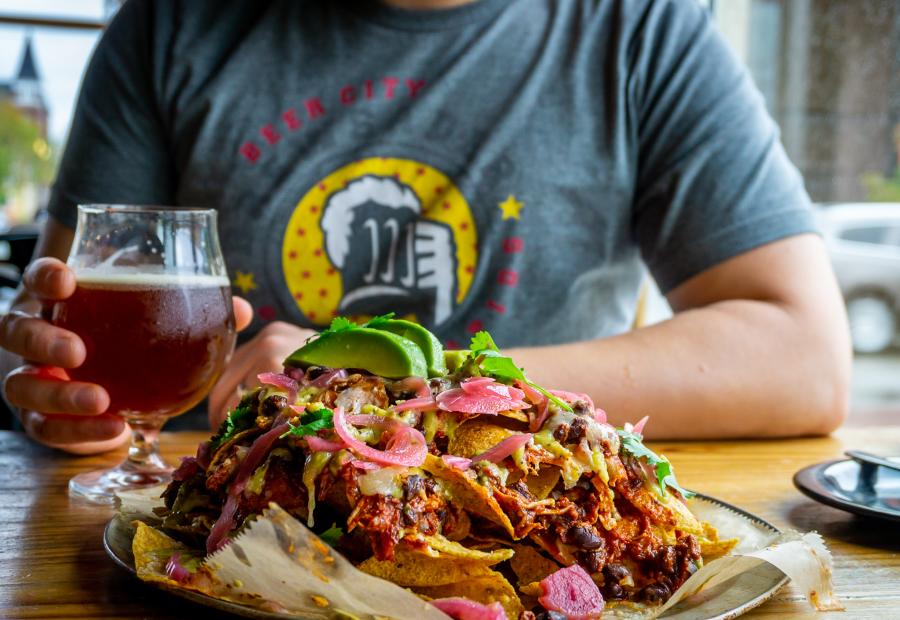 Check in at any eight breweries on the Beer City Brewsader app to earn a free t-shirt.
Photo by Experience Grand Rapids
The Breweries
All of the breweries listed below participate in the Beer City Brewsader® program. Attendees just need to download the Brewsader app (available on Google Play and The App Store) and check in to any eight participating breweries to earn a free t-shirt.
Atwater Brewery is located at the corner of Monroe Ave and Michigan St, right at the base of Medical Mile. The brewery specializes in traditional German style lagers, along with unique ales like their Decadent Dark Chocolate, which won a bronze at the World Beer Cup. Private event space is available.
Broad Leaf Brewery + Spirits - Westside is the second location for Broad Leaf and is located on Bridge Street. The breweries were created by the co-owners of Brewery Vivant to offer other types of beer beyond Brewery Viviant's Belgian and French-style beers. Broad Leaf offers cocktails that feature house-made spirits and elevated pub food.
City Built Brewing Co.'s cross-cultural approach to beer and food has made the brewery a favorite among locals. City Built is less than a mile away from the convention center. If attendees prefer to walk, they will enjoy the flat, sidewalked trek along Monroe Ave. The brewery is also accessible via the free Downtown Area Shuttle on the counterclockwise route. 
Founders Brewing Co. was one of the first craft breweries to open in Grand Rapids. These days, Founders has become not just the city's largest brewery, with a footprint of a full city block, but also one of the largest breweries in the country with national distribution. The brewery also features event space that is available for reservation.
Fountain Hill Brewery is part of Grand Rapids Community College's Secchia Institute for Culinary Education. Students operate the brewery as part of their work toward earning a Craft Brewing certificate. Fountain Hill was the first federally and state licensed college owned and operated brewery and pub. The brewery is typically open one night a week for three hours during the fall and winter semesters (mid September through November, and late January through mid April).
Grand Rapids Brewing Co. takes its name from a pre-prohibition collaborative of six Grand Rapids breweries. The modern GRBC even brews a version of Silver Foam, a classic lager created by the original brewing company. GRBC also features a game room that is available to rent for private events.
Jolly Pumpkin Pizzeria & Brewery specializes in Belgian sour beers, but the brewery also offers spirits and ciders to pair with their pizza. The brewery has a great outdoor seating area in front of the restaurant as part of the Bridge Street Refreshment Area.
Küsterer Brauhaus is a Bavarian-style beer hall ingrained with German tradition. Sample their wide variety of beers that are the result of years of researching brewing methods both near and far.
New Holland Brewing – The Knickerbocker offers several rooms for private parties and events and is located right across the street from Jolly Pumpkin. In addition to crafting their own beer and spirits, the brewery's food menu emphasizes local ingredients.
Check out this map to see just how walkable these breweries are from the convention center and downtown hotels.