Just half a mile North of the city's main convention campus sits another spot that is great for hosting meetings and events. It's ideal for those who want to be close to downtown and have downtown amenities, but without as much hustle and bustle as the city center. 
The North end of downtown Grand Rapids has everything conference goers could need: food, lodging, outdoor recreation, entertainment, and transportation.
A new hotel
The Embassy Suites by Hilton adds 250 suites to the city's hotel inventory and features flexible meeting spaces for up to 225 people. 
Fun fact: Each of the five meeting rooms is named after historic furniture companies that used to thrive in the Furniture City.
Embassy Suites is an upscale Hilton brand: All rooms are suites, there is a complimentary made-to-order breakfast, and free cocktails and snacks every evening. The hotel has a fitness center, but you can also request a Five Feet to Fitness suite, which features a variety of workout equipment right in the room.
And while the newly constructed seven-story hotel offers a Circle Bar with outdoor seating, Big E's Sport Grill, and the Sixth Street Bridge Coffee Shop, it's also just a short walk away from a diverse collection of other restaurants, breweries, a distillery, parks, and cafes, some of which offer meeting space or other attractions.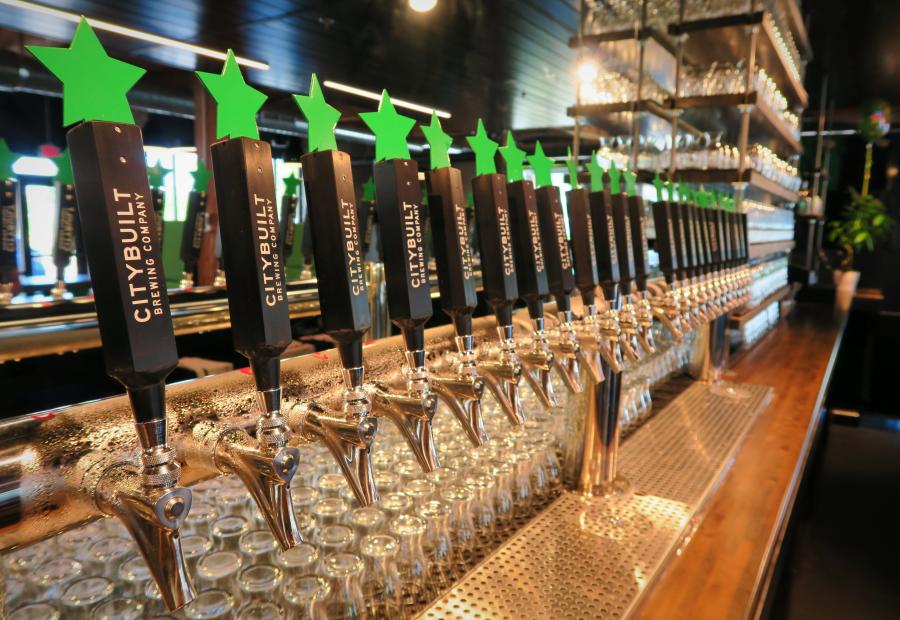 City Built Brewing Co. is only a three-minute walk North of the Embassy Suites hotel.
Photo by Jason Ley
Beer and booze
City Built Brewing Company is a three-minute walk north of the hotel, offers a Puerto Rican-inspired menu, and has a private meeting room that accommodates 36 people seated or up to 50 people standing. 
City Built also features several special events that meeting or conference attendees may be interested in, including board game night, speed euchre, and yoga or barre workouts rewarded with a beer.
Gray Skies Distillery, a three-minute walk to the east, offers tours with samples and craft cocktails as part of its deal for groups of up to 20 people. The distiller walks guests through the entire whiskey-making process—from fermentation to distillation to aging. 
Since Gray Skies doesn't offer food, it allows customers to bring their own food.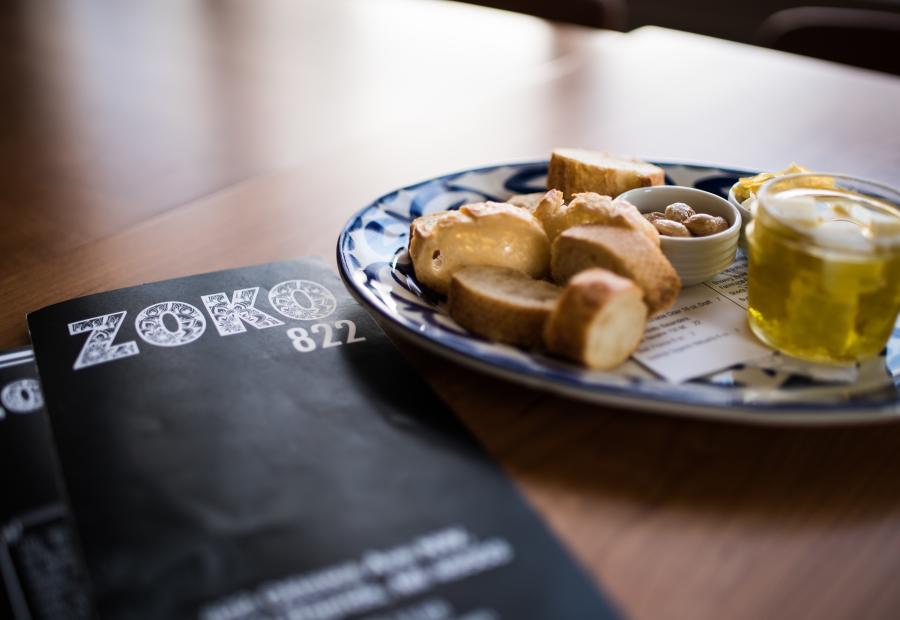 Zoko 822 is one of several great restaurants at the North end of downtown Grand Rapids.
Photo by Experience Grand Rapids
Bar food, tapas, bakeries
Several restaurants are within walking distance of the area, featuring a variety of styles to meet the interests of any meeting or conference attendees. 
The Garage Bar & Grill has a casual atmosphere focused on high-quality traditional bar food and drinks at a reasonable price with DJs and occasional live music on weekends. Every Wednesday, Garage Bar & Grill hosts outdoor block parties. 
Rocky's Bar & Grill offers a similar bar-food-and-music combo.
Linear Restaurant offers river views, outdoor seating, and a seasonal, sustainable menu in a comfortable modern atmosphere. It has space to accommodate large parties or events.
Zoko 822 offers pintxos and tapas (small skewers and plates) inspired by Spain's Basque region. It hosts live music on Thursdays, as well as food trucks in the parking lot for lunch Wednesday through Saturday and all day on Fridays and Saturdays.
The SpeakEZ Lounge is a casual, prohibition-style pub with an eclectic menu that also offers live local music on Wednesdays and jazz on Sundays. It's also one of the best places to catch a soccer game, as it prioritizes that sport over others.
For those looking for an espresso drink or a sweet treat, the Field & Fire Cafe is just north of the hotel and is open for breakfast and lunch. Its menu focuses on organic, local ingredients.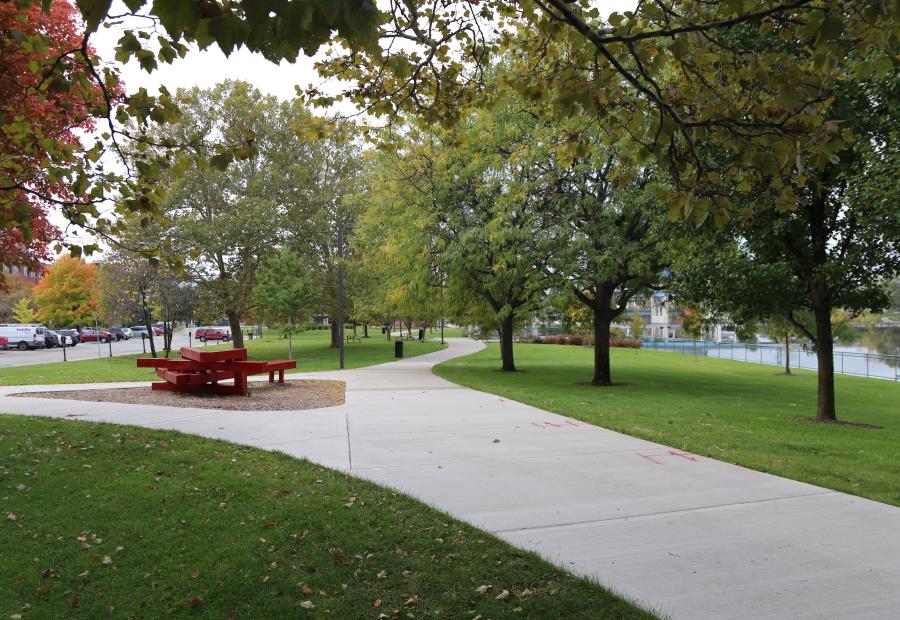 The area boasts plenty of green space and opportunity for meeting attendees to stay active, such as Sixth Street Park.
Photo by Experience Grand Rapids
Green space, get moving
The North end of Grand Rapids is home to two parks bordering the Grand River: Sixth Street Park and Canal Street Park. Both offer easy access to green space for people or pets, playgrounds, or even fishing. A connected walking path along the river offers a bit of nature in an urban setting. 
Just one block from Gray Skies Distillery, people will find Lookout Park, which provides a great view of the city. Visitors will find the newly added fitness stations at parks along Grand River, as well as plenty of other fitness options like barre classes, kickboxing, and more.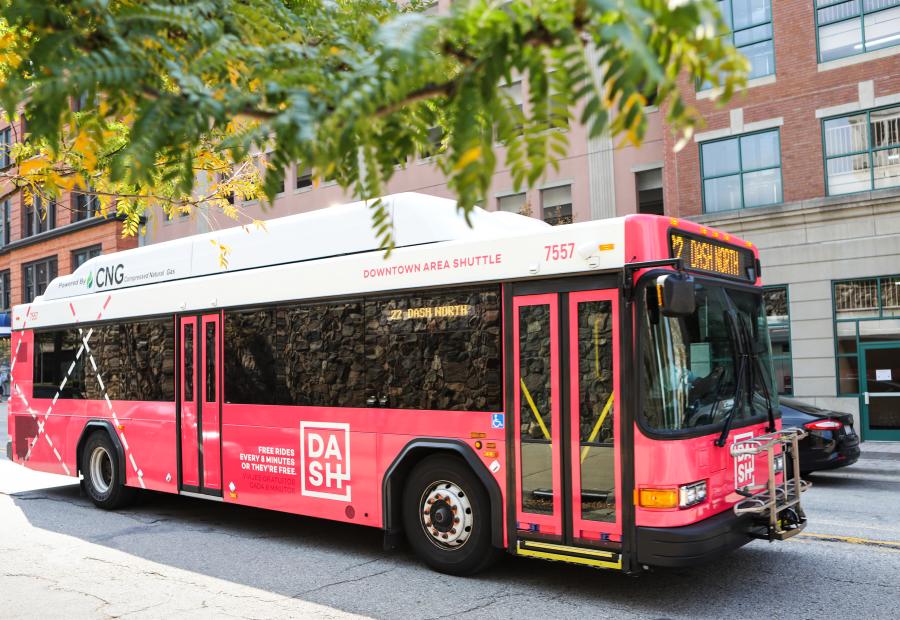 Many destinations North of downtown are on the DASH North route.
Photo by Experience Grand Rapids
Here to there
The area is separated from the hustle and bustle of the city's core, but for those wanting to head downtown, it's only a 10-minute walk along the river, a three-minute bike ride (grab one from Grand Rapids Bike Rental located at the new hotel), or a quick hop on the free shuttle service.
The Downtown Area Shuttle, or DASH, offers four routes that connect with each other, taking you steps away from most of the city's attractions. Many destinations North of downtown are on the DASH North route.
The service runs from 6:30 AM - 10:30 PM Monday to Wednesday, 6:30 AM - 1 AM Thursday to Friday, 10 AM - 1 AM on Saturday, and 10 AM - 8 PM on Sunday.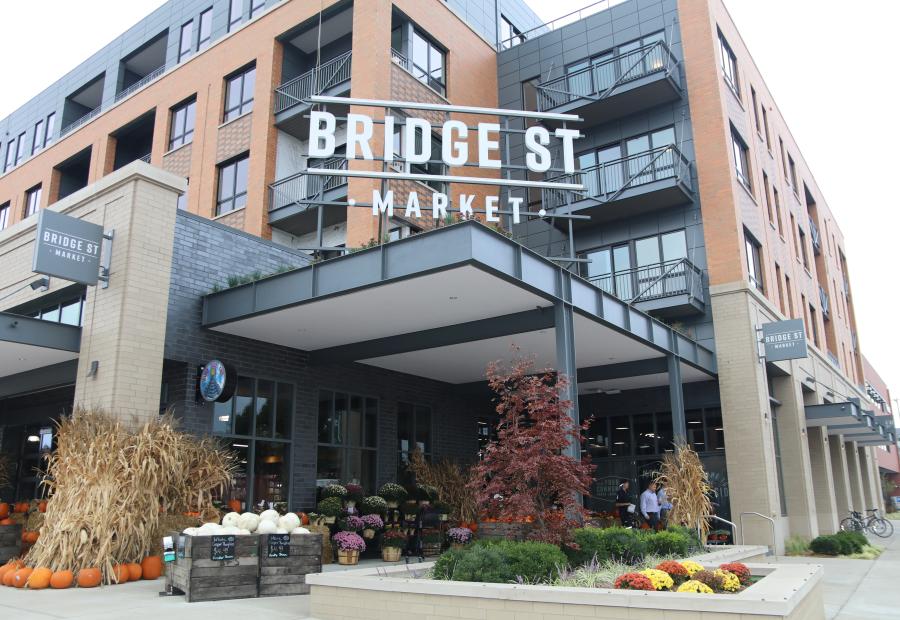 Bridge Street Market Building Exterior
Photo by Experience Grand Rapids
Necessities
The neighborhood does not have its own grocery store, but Bridge Street Market is a 20-minute walk away, or it can be accessed via the DASH service or a quick trip in a cab or rideshare service. 
The reasonably priced, upscale store will meet all your grocery needs, plus it offers an extensive beer and wine selection. 
Fido & Stitch is only one block away from Sixth Street Park, to meet the needs of any pet owners. 
Learn more
Want to hear more about planning an event in the Grand Rapids' North downtown area? Contact the Convention Services team at Experience Grand Rapids.