A great outdoor event can be a spectacular experience that your guests will be talking about for days afterward. Whether the stories they tell are positive or negative will depend a lot on how much planning you put into it.
Unlike indoor events, outdoor venues require a few extra checkboxes on your to-do list, including city requirements for licenses, permits and insurance and what to do in the case of bad weather.
Evette Pittman, supervisor of the Office of Special Events for Grand Rapids, Michigan, said they issue permits for hundreds of events in public spaces each year, including its two pedestrian bridges over the Grand River, Rosa Parks Circle in the heart of downtown, Calder Plaza outside City Hall and any of its dozens of city parks with pavilions and picnic shelters.
And she and her staff are there to guide people through the process every step of the way.
"We've had anything you can imagine, from cultural festivals to concerts to movies in the park to dog washes to parades," Pittman said. "You name it. … We welcome those kinds of activities. We work with them through the permit process and work with other city departments that need to approve things."
They even helped plan a rubber duck race in the Grand River for the Association of Water Technology when it held its meeting in Grand Rapids. They worked with the fire department to gauge the best route and to ensure all ducks were recovered at the end.
"We try to be a one-stop shop," Pittman said.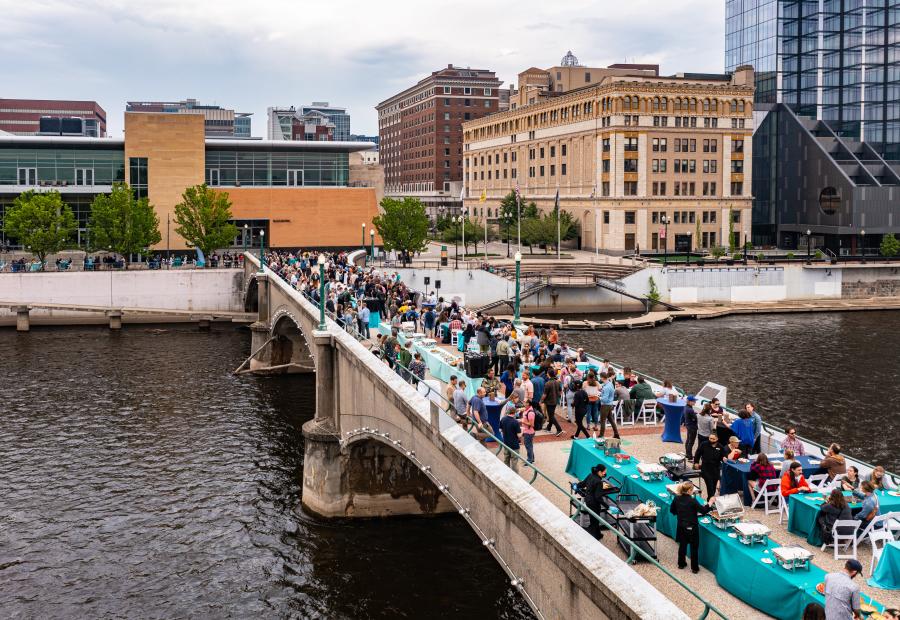 Grand Rapids has many outdoor spaces that are ideal for events.
Photo by Credit: Experience Grand Rapids
Work with your city
So, your first tip is to work with the special events department in your destination city. They are the experts on those extra boxes that need to be checked and will help you consider things you may not think about.
"I think the biggest thing people don't think about is a parking plan. Where are people going to park?" Pittman said. "And emergency action plans – if something happens where EMS or the fire department is needed, have you thought about a plan for your attendees' safety?"
Restrooms, refuse and recycling are also often overlooked as they are rarely an issue for indoor venues. "Where is all your trash going to go?" she said.
Weather
Will your event take place rain or shine? What is your plan if it's the former instead of the latter? It's a good idea to have a plan B at a nearby facility if the sky opens up unexpectedly. And don't forget to check with the city on rules for severe weather. When the National Weather Service issues a warning, you may have no choice but to suspend your event. That's why a plan B is key.
Lighting
If your event will reach into the nighttime hours, make sure there is adequate lighting for all areas, including the path to the parking area. While some people may find it entertaining, not everyone will enjoy an impromptu game of blind man's bluff.
Tables, chairs, tents, etc.
Outdoor venues don't typically come equipped with tables and chairs, so make sure you check with vendors for price and availability on your event date. Many cities, including Grand Rapids, have those items available to rent and city crews are typically familiar with all city sites.
Sound
Want your guests to be able to hear your company leader's speech? Plan for a sound system that meets city approval. There may be rules for amplified noise based on hours of the day or distance from neighbors.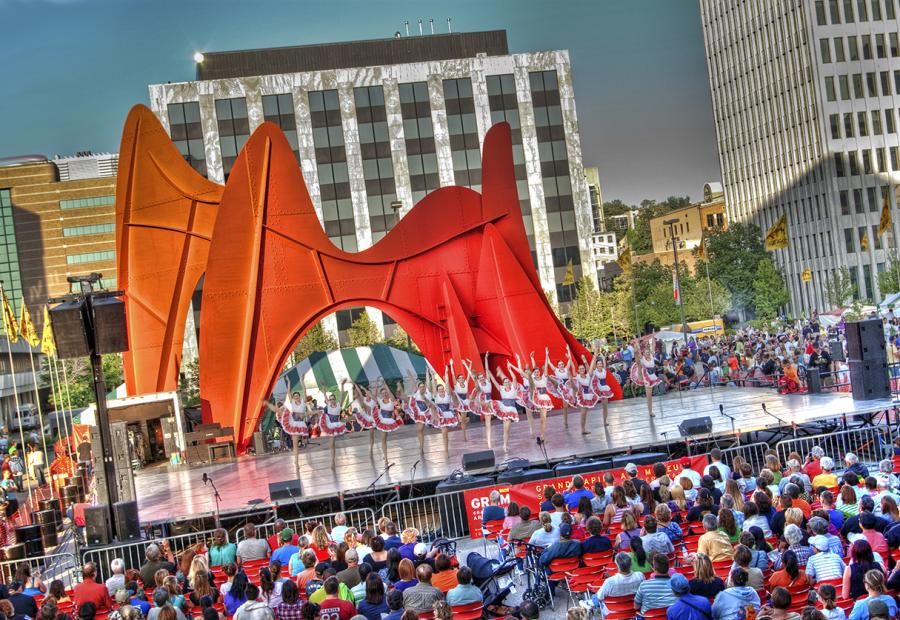 Calder Plaza outside City Hall is a popular space for outdoor events, such as the annual Festival of the Arts.
Photo by Experience Grand Rapids
Electricity and water
While some outdoor venues are equipped with power and water sources, not all are. Your host city will likely have site plans indicating what is available as well as options for filling the gaps. You may have to bring in a generator, so make sure you budget accordingly and work with the city on required inspections.
Pest control
That beautiful pond in the park makes a wonderful backdrop for event photos, but it's also a breeding ground for pesky mosquitos and other pests. Talk to the city about abatement options ahead of your event or plan to include them in your décor, such as citronella candles or lanterns. Also consider large fans to keep the air moving; the mosquitoes will blow right away. Bonus: fans will help with high temperatures.
Speaking of candles
Candles can help with pests, are beautiful and can add perfect lighting to twilight events, but if they are open and unprotected, you may need approval from the fire department. It's not impossible, just make sure you're meeting all requirements for safety.
Pittman said planning outdoor events on public property is a smooth process when event organizers start early – more than a year ahead is ideal and no less than 90 days is required. The City of Grand Rapids also has a thorough online resource guide to walk people through the process.
"Our slogan here is Find your Fun, because we definitely want residents and visitors to find their fun," Pittman said.
"We offer a whole lot of fun here in this town, and it is events plus people that equals community and vibrancy. That's who we are in Grand Rapids."