There's so much to see and experience in Grand Rapids that determining how to travel from point A to point B shouldn't be a roadblock to your enjoyment of the city.
Grand Rapids is filled with options for transportation services, from shuttles and taxis to the award-winning Rapid bus system and rideshare services like Uber and Lyft. But how do you explore the city if you navigate life in a wheelchair, experience vision or hearing impairments, or have other special considerations when traveling?
To answer that question, Experience Grand Rapids continues its series on accessibility in collaboration with Disability Advocates of Kent County (DAKC). And If there's one person who understands the positive value of accessible transportation, it's Cassaundra Wolf, former Community Organizer and Employment Navigator for DAKC. 
Wolf is legally blind and has mild Cerebral Palsy, so she is unable to drive on her own.
In her current role as a Rehabilitation Counselor for Michigan Rehabilitation Services, Wolf helps people with disabilities find employment opportunities. This, in part, involves guiding them on how to navigate resources related to transportation.
Wolf believes that making a purposeful effort to add more accessibility features to transportation, dining, lodging, attractions, and outdoor experiences helps a community be more equitable for everyone, not just a select group.
"When we design to provide access for those who are traditionally left out of the planning process, we expand our creativity and act as a model for other communities to change their ideas," says Wolf. "Maybe one day we will see that all communities have equitable and accessible transportation so that everyone may flourish."
In this first part of our exploration of accessible transportation, we're looking at The Rapid bus system and how its many services can help both locals and visitors with disabilities enjoy Grand Rapids to the fullest.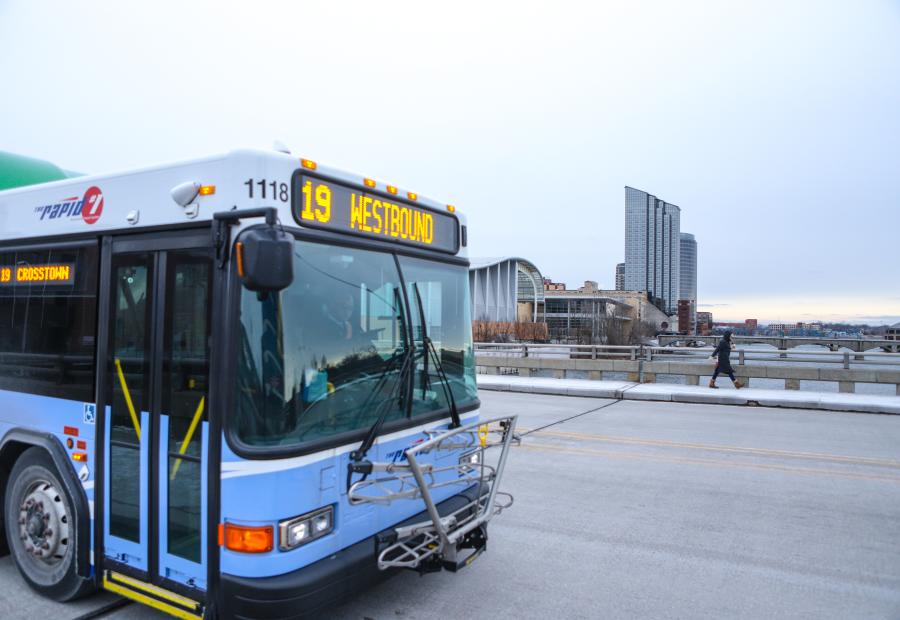 All buses in The Rapid's fleet have accessibility features to help make traveling easier for everyone.
Photo by Experience Grand Rapids
Ride The Rapid
The biggest name in Kent County's public transportation game is The Rapid bus system. 
The Rapid serves six cities and a handful of townships in the county via 20+ routes. According to Brittany Schlacter, a Communications Specialist at The Rapid, the busing system provided about 10.5 million rides across all its services in 2019 alone.
Schlacter says providing transportation to riders from all walks of life is at the heart of The Rapid's mission.
"We believe in mobility for all," says Schlacter. "For those with disabilities, access to transportation means independence in getting to and from work, school, medical appointments, or even simply going to see a movie."
All buses in The Rapid's fleet have accessibility features to help make traveling easier for everyone, including:
Low floors and a "kneeling" feature that lowers the vehicle to simplify boarding and exiting.
Ramps to help riders with mobility aids, like wheelchairs, electric scooters, walkers, and crutches. 
ADA-compliant priority seating at the front of each bus.
Access for service animals. 
Audio and visual announcements when stops are approaching.
Bus operators who are trained to assist riders with disabilities as they board or exit the vehicle as well as secure mobility devices.
Bus and Silver Line stations that feature audio announcements and ticket vending machines with audio and braille.
No matter where you plan to travel using The Rapid, Wolf recommends calling in advance to speak with a transportation trainer who can guide individuals on how to best use the bus system safely and efficiently.
"In that call, I would also encourage the person to state what their specific needs are and ask if someone would be able to assist them at Central Station with knowing where to safely access their particular route," says Wolf. "I also always make a point of identifying myself [to the bus driver] as a person who may need accessibility assistance the moment I step on a bus. I've found that these drivers are very friendly and accommodating with any concerns I may have."
GO!Bus
The Rapid's GO!Bus is a shared ride, ADA paratransit service designed to provide a comparable transportation experience for individuals whose disabilities prevent them from accessing a fixed-route bus. 
Providing about 340,000 rides annually, the GO!Bus service is also available to seniors aged 65 and older, companions of qualified riders, personal care attendants, and service animals. 
Each GO!Bus is equipped with a lift located at the rear of the bus and operators also provide extra assistance to riders who may need help getting to the bus from a residence.
To be able to access the GO!Bus service, riders must first complete an ADA Paratransit Application as well as a Professional Verification Form. Both forms are available on The Rapid website. 
Conveniently, any visitors to the city will also be able to utilize the GO!Bus after completing the forms in their own respective states to become ADA paratransit eligible. Visitors will need to mail or email The Rapid proof of eligibility prior to visiting and they are able to utilize the GO!Bus for any combination of 21 days during any 365-day period. Schlacter says advance notice of at least one week prior to visiting is appreciated so eligibility can be confirmed and rides can be scheduled.
For riders who have been approved, GO!Bus provides service in the same areas and during the same days and times as The Rapid's fixed routes.
It's important to note that an advanced reservation for a GO!Bus ride is required. To book a ride, call the GO!Bus office at 616-456-6141 at least one day in advance. 
GO!Bus fares are $3.50 for ADA-eligible individuals with disabilities and companions and $8 for individuals over age 65 and companions. Personal care attendants and service animals can travel with an ADA-eligible passenger at no charge.
Here are a few additional tips from The Rapid for using the GO!Bus:
Write down the day and time of your trip when making your reservation.
Arrive at the pick-up location at least 10 minutes before the scheduled pick-up time.
To ensure there is a seat for companions, be sure to notify GO!Bus that you will have someone accompanying you when you make your reservation.
If you are departing from a group residence, doctor's office, or any public place, give the operator your name and destination to ensure that you're boarding the correct GO!Bus.
Allow the operator to assist you when boarding the vehicle; ask for special assistance if needed.
Either you or your companion must be able to load and unload your own belongings (two grocery-sized bag limit).
If your ride is more than 15 minutes overdue, you can call the GO!Bus office at 616-456-6141 for more information.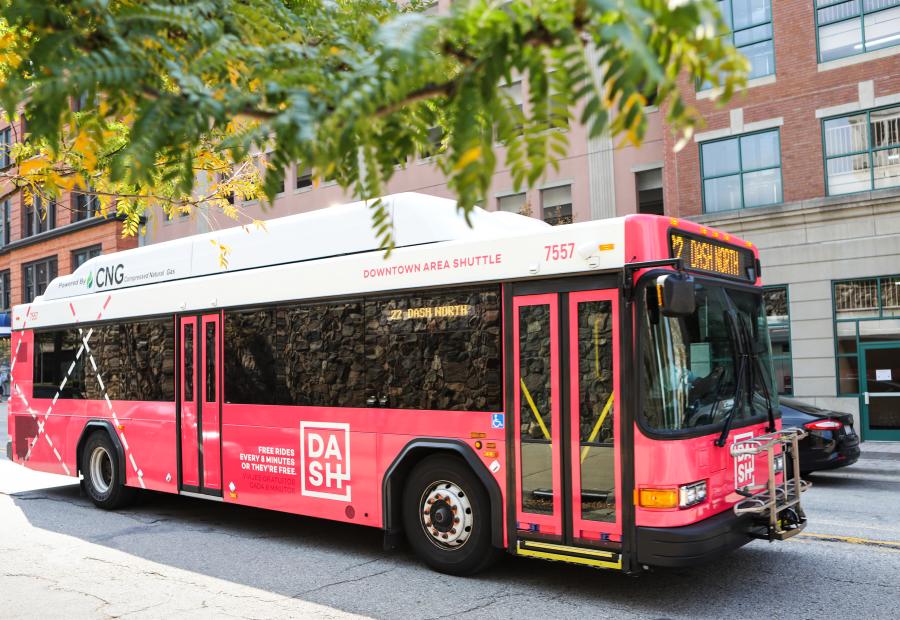 DASH buses and stops include the same accessibility features as The Rapid buses, and the DASH is free!
Photo by Experience Grand Rapids
The DASH
The DASH (Downtown Area Shuttle) system enlists bright pink buses to connect key downtown Grand Rapids locations and parking lots. 
DASH, provided by the City of Grand Rapids and operated by The Rapid, is completely free for locals and visitors, and DASH buses and stops include the same accessibility features as The Rapid buses. 
DASH buses travel a loop throughout the center city to provide convenient connections to most of what downtown Grand Rapids has to offer. The route includes Monroe Avenue, allowing easy access to the JW Marriott Grand Rapids, Rosa Parks Circle, Amway Grand Plaza, Curio Collection Hotel, DeVos Performance Hall, DeVos Place Convention Center, Atwater Brewery Grand Rapids, SpeakEZ Lounge, Embassy Suites by Hilton Grand Rapids Downtown, City Built Brewing Co., Linear Restaurant and more.
Buses travel north on Monroe to Leonard Street, across the Grand River and past such attractions as The Mitten Brewing Company, Long Road Distillers, The People's Cider Co. and The Comedy Project. From Leonard, it's south on Seward and step-off access to Ferris Coffee & Nut. Co., Roots Brew Shop, the Bridge Street Market and the many restaurants, breweries and bars of the Bridge Street Entertainment District.
On the way back east, buses pass the Gerald R. Ford Presidential Museum and Grand Rapids Public Museum before once again heading across the river and then south to provide access to The B.O.B., GLC Live at 20 Monroe, Bistro Bella Vita, Founders Brewing Co., Grand Rapids Downtown Market, the Ionia Avenue Entertainment District, Grand Rapids Children's Museum and Grand Rapids Civic Theatre, among other popular spots.
DASH buses run every 15 minutes from Wednesday through Sunday:
Wednesday - Friday, 7am-midnight
Saturday, 11am-1am
Sunday, 11am-5pm
Conveniently, there are two parking lots specifically for DASH passengers that only costs $4 to park in for a full day. Both lots are located just north of the David C. Hunting YMCA at 301 Mt. Vernon Avenue NW and 250 Seward Avenue NW.
For real-time upcoming departure times for all Rapid buses, you can use the Android & iOS-friendly Transit App and myStop mobile app.
These tools can help you find the shortest route, least amount of walking, and fewer transfers to get to your destination.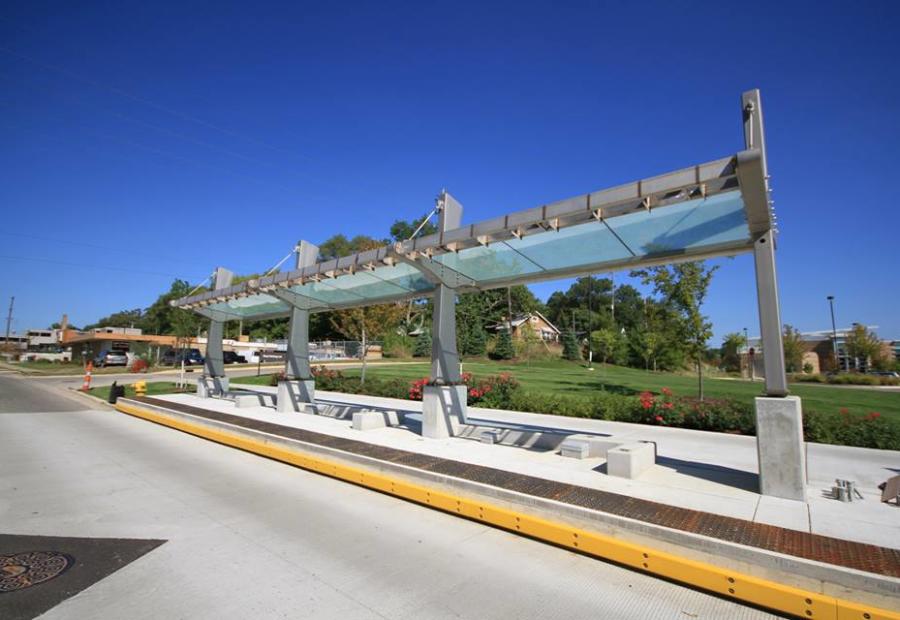 The Rapid strives to provide accessible bus stops to make boarding and exiting buses smooth and safe for all passengers.
Accessible Bus Stops
In addition to accessible vehicles, The Rapid strives to provide accessible bus stops to make boarding and exiting buses smooth and safe for passengers. 
Many of the nearly 1,700 bus stops in The Rapid system include a concrete pad for safer boarding, as well as shelters, benches, and easily identifiable signs (like the bright pink signs at DASH stops). 
Stops also include curb cuts marked with tactile bumps that can help guide those with visual and mobility concerns, as well as ample space for riders with carts, strollers, or other mobility devices to board.
Schlacter says some examples of accessible stops include those located in the downtown area near dining and shopping destinations, like the stop at Downtown Market Grand Rapids that includes a shelter covering. 
There are also several stops outside of downtown Grand Rapids that are accessible to popular destinations, such as Gaslight Village (Route 6), downtown Grandville (Routes 8, 24, and 28), and the Michigan and Bridge Street corridor (Route 19). Several routes also service the two major local malls: Woodland Mall (Routes 5, 6, 17, 24, 28, 44) and RiverTown Crossings (Routes 8 and 44).
What's your go-to route to ride on The Rapid? Let us know in the comments below, and then check out the Experience Grand Rapids Accessibility Guide to learn about the accessibility initiatives around Grand Rapids and why the city was previously ranked the #2 best city for people with disabilities in 2017 and #8 in 2019.