Summer in Grand Rapids is a great time of the year to grab some good food and head outdoors to enjoy it. With so many beautiful parks and outdoor spaces in Grand Rapids to have a picnic, Experience Grand Rapids asked social media followers to share their favorite spots. 
We've also included local places to shop before you head out in order to pack the best basket. Pick a spot for a special event, or make a summer picnic to-do list and try them all:
Lookout Park
Lookout Park is an acre or so of greenspace perched atop a 160-foot hill in the Belknap neighborhood of downtown Grand Rapids. It offers incredible views of the city and the Grand River, which is the primary reason it's a popular picnic spot.
The park faces west, so the vistas are especially magical as the sun sets over the horizon. Seating, picnic tables and a paved path make it easy to find just the right spot. Food trucks roll in on select summer evenings to make picnicking even more convenient.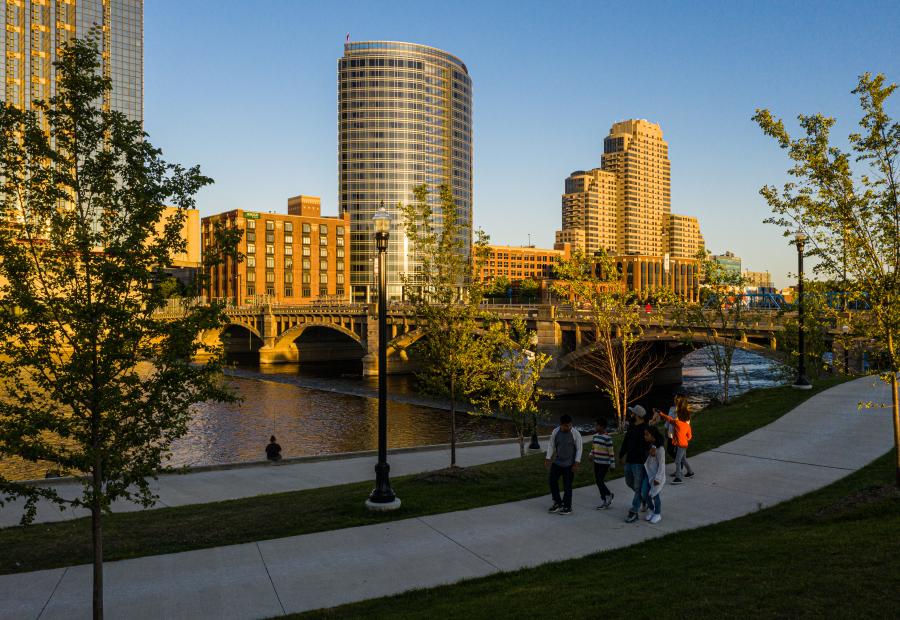 The city views at Ah-Nab-Awen Park make it a favorite place for a picnic.
Photo by Experience Grand Rapids
Ah-Nab-Awen Park
Located on the Grand River in downtown Grand Rapids, just in front of the Gerald R. Ford Presidential Museum, Ah-Nab-Awen Park is meant to commemorate the original Native American Mounds that were leveled and destroyed in the 1800s by settlers. 
This park offers plenty of lawn space to spread out a blanket, along with outdoor artwork and free public Wi-Fi.
Grab takeout from a downtown restaurant – there are more than 140 to choose from – and settle in to watch people stroll the Riverwalk and admire the city skyline across the river.
Palmer Park
Palmer Park is located in Wyoming, 10-15 minutes from downtown GR. It offers more than 300 acres of greenspace, including a wooded recreation area featuring five distinct picnic areas, each with 14 eight-foot picnic tables, and two open (covered) shelters that can accommodate up to 144 guests each. Charcoal grills are available for use.
Paved and natural surface trails, two playgrounds, a ball field and a golf course give you plenty of activity options before or after your picnic. It's all just minutes away from numerous 44th Street restaurants if you want to grab takeout.
Huff Park
Located in the Creston neighborhood 10 minutes northeast of downtown GR, Huff Park is a hidden picnic gem prized for its easy, accessible boardwalk that snakes through a scenic wetland area. There is a picnic shelter with tables and grills for fueling up before or after exploring the mile-or-so trail. There is also a playground and ball diamond.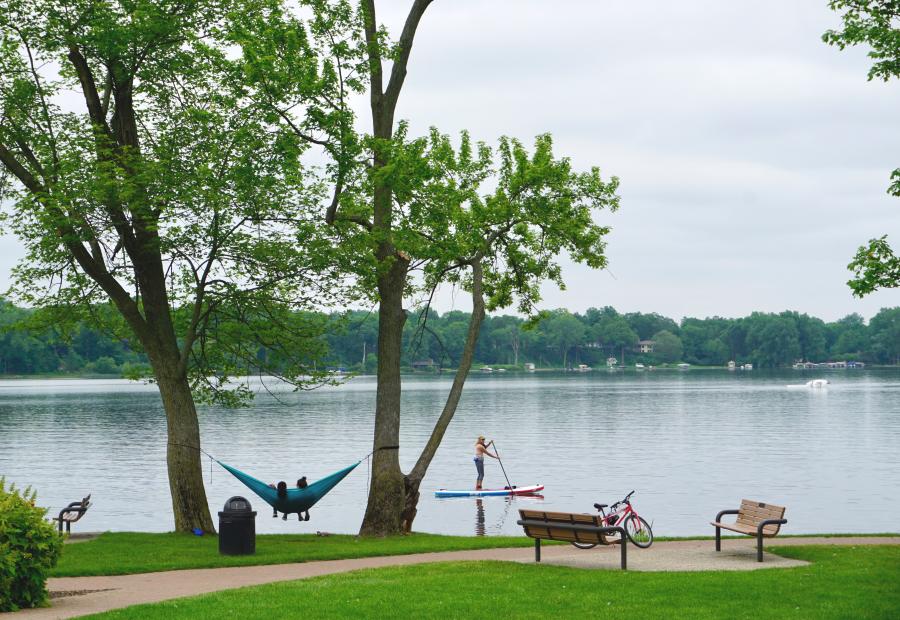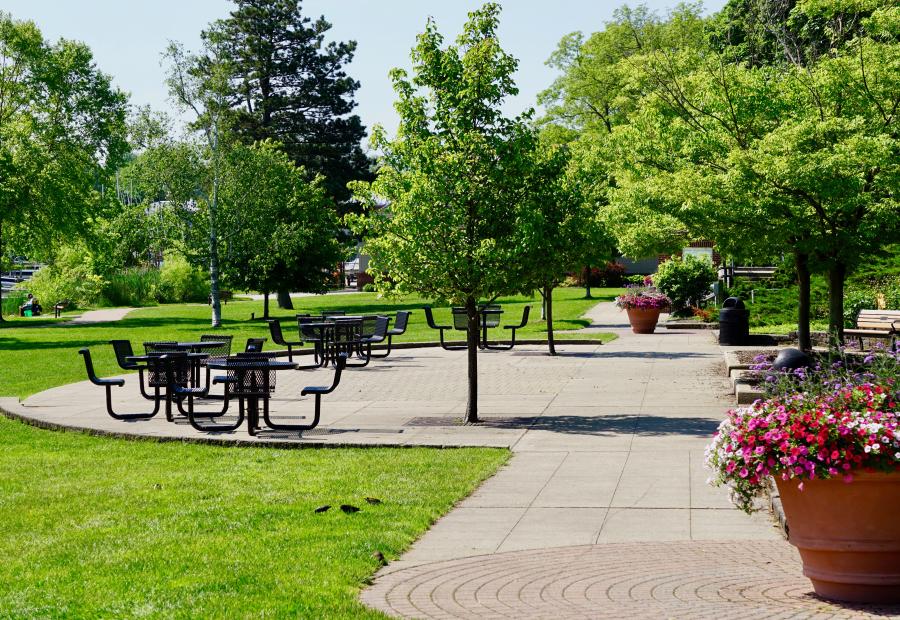 Bring your picnic to John Collins Park to hammock, watch boats and paddlers, and enjoy the large, grassy park.
Photo by Brian Craig for Experience Grand Rapids
John Collins Park
Located in the heart of East Grand Rapids along the shore of Reeds Lake, John Collins Park is a picture-perfect picnic spot a short walk from the city's Gaslight Village business district. There is a picnic area with tables, but you can spread out a blanket anywhere and watch boats glide by as you enjoy your nosh.
Less than 15 minutes from downtown GR, John Collins Park also offers benches, a boat launch, fishing dock and walking path.
Townsend Park
With six picnic areas, an enclosed shelter and a historic stone open shelter, Townsend Park is a popular destination for group picnics, graduation parties, family reunions and weddings. The picnic areas and shelters are spread among wooded hills along Bear Creek, so the scenery is delightful.
The park include three separate playground structures, each near a different picnic area, and both a paved multi-use trail and natural-surfaced trail. Townsend Park is about 25 minutes from downtown GR.
Enjoy a memorable picnic experience watching planes take off and land at the Airport Viewing Park
Photo by Brian Craig for Experience Grand Rapids
Viewing Park at Gerald R. Ford International Airport
With more than 100 planes taking off and landing every day, you're guaranteed a picnic to remember at the Gerald R. Ford International Airport. The airport viewing park boasts picnic tables, filtered water fountains, more than 100 parking spots and a pavilion with restrooms.
Enjoy your meal and the outdoors while you watch the planes and discuss where they might be heading. The park hosts food trucks on the 1st and 3rd Wednesdays of summer months.
City Central Park
Walker, another GR suburb, is the site of City Central Park, a popular picnic spot for active families. In addition to a pavilion with six picnic tables, the park offers four ball diamonds, eight soccer fields, two basketball courts, two playgrounds, two sand volleyball courts, three tennis courts, an in-line hockey rink, fishing pond and walking trails.
City Central Park is 15 minutes from downtown GR.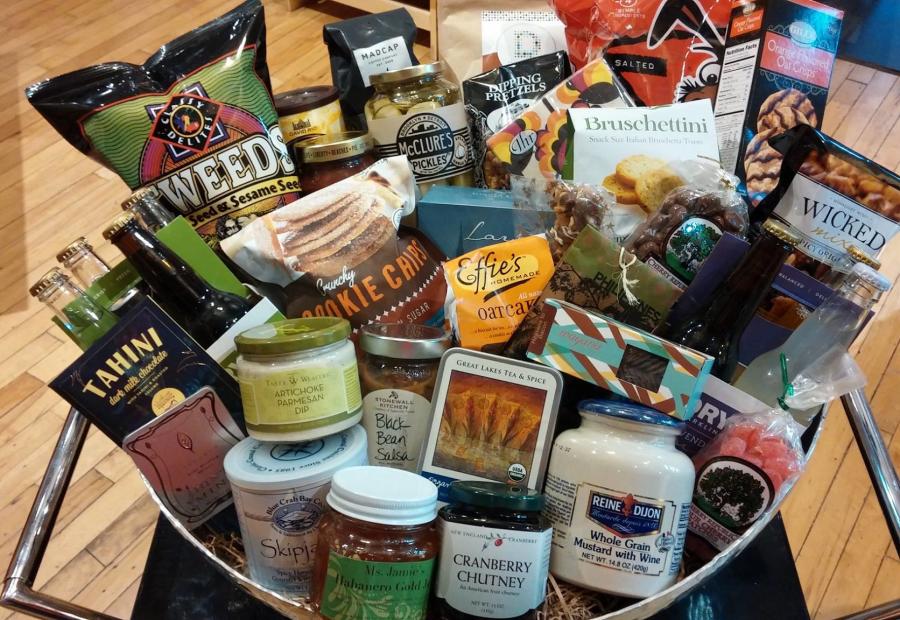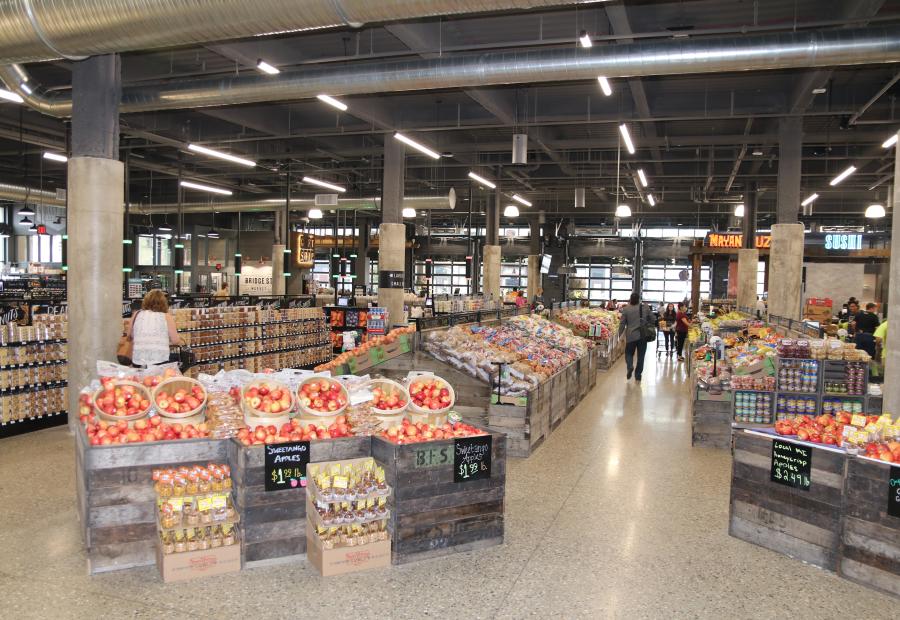 Fill up your picnic basket with provisions from local businesses, like Art of the Table or Bridge Street Market.
Photo by Art of the Table
Packing the Perfect Picnic Provisions
Before you head out to one of these scenic picnic spots, stop by a local business to fill your picnic basket with supplies and food that won't disappoint.
Pop into Bridge Street Market to grab some new supplies or spruce up the ones you have. You'll find everything for your basket, including a great selection of outdoor blankets, coolers, stemless wine glasses, koozies, and of course, food. Its food selection includes everything from ready-to-go deli sandwiches, to fresh meat and seafood for you to grill. Bridge Street Market also focuses on providing local, and Michigan-made products, making it a great way to add some local flavor to your picnic. 
The Grand Rapids Downtown Market is another great stop for bamboo cutlery, insulated mugs, and tumblers. Every hungry person will find something to eat, whether they're in the mood for tacos, barbeque, or charcuterie.
Art of the Table can outfit your basket with plastic glassware you would never think is plastic, cloth napkins, and more. Ask the friendly staff for a cheese recommendation or peruse the shelves to find unique, small batch goodies perfect for eating outside. 
The Local Epicurean is great stop for gourmet cheeses and other delights. 
With more than 100 vendor booths, Fulton Street Farmers Market is home to anything one might want for a picnic. From fruits and vegetables to meats and hand-crafted foods, this year-round farmers market will take your picnic to the next level. During the market's main season, it's open Wednesday, Friday, and Saturday from May until October.
The South East Market prides itself in its commitment to agricultural equity and its celebration of diversity. The market strives to provide healthy, affordable food while prioritizing sustainability; this mission is evident in the fact that they offer local, sustainably raised meat and poultry, as well as produce from local, black farms. Stop by to choose from the market's carefully curated selection of delicious local food to craft a memorable picnic lunch.
Whether these places are new to you or are already one of your favorites, you can also check out the Experience Grand Rapids Parks page for even more picnic-worthy locations. Why pick just one? Mix and match food and dining locations, find your favorites, and let us know what they are in the comments. 
Happy picnicking!