Summer in Grand Rapids is a great time of the year to grab some good food and head outdoors to enjoy it. With so many beautiful parks and outdoor spaces in Grand Rapids to have a picnic, Experience Grand Rapids asked social media followers to share their favorite spots. 
We've also included local places to shop before you head out in order to pack the best basket. Pick a spot for a special event, or make a summer picnic to-do list and try them all:
Enjoy a memorable picnic experience watching planes take off and land at the Airport Viewing Park
Photo by Brian Craig for Experience Grand Rapids
Viewing Park at Gerald R. Ford International Airport
With over 300 planes taking off and landing every day, you're guaranteed a picnic to remember at the Gerald R. Ford International Airport.  The newly renovated airport viewing area boasts picnic tables, filtered water fountains, more than 100 parking spots, and a pavilion with restrooms. 
Enjoy your meal and the outdoors while you watch the planes and discuss where they might be heading.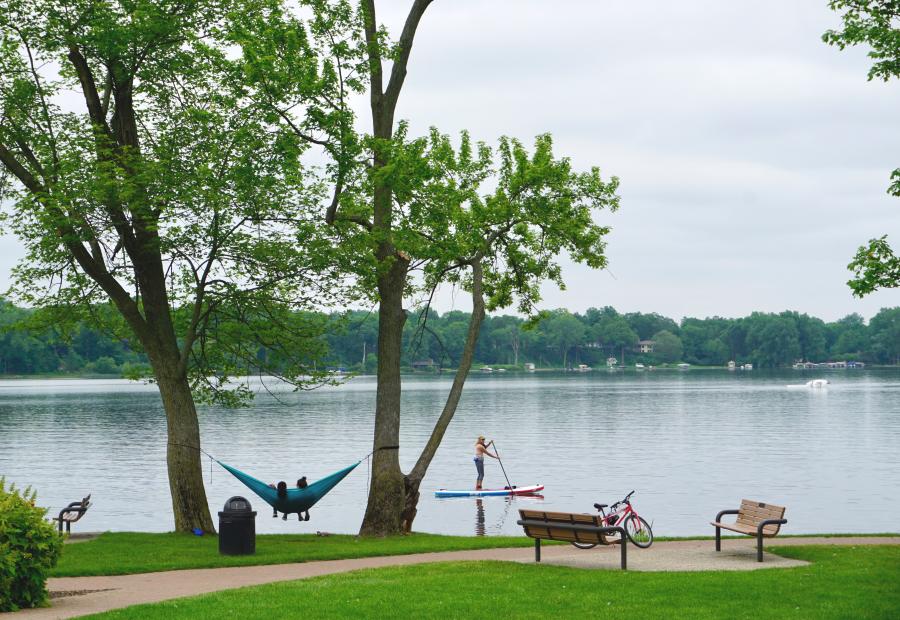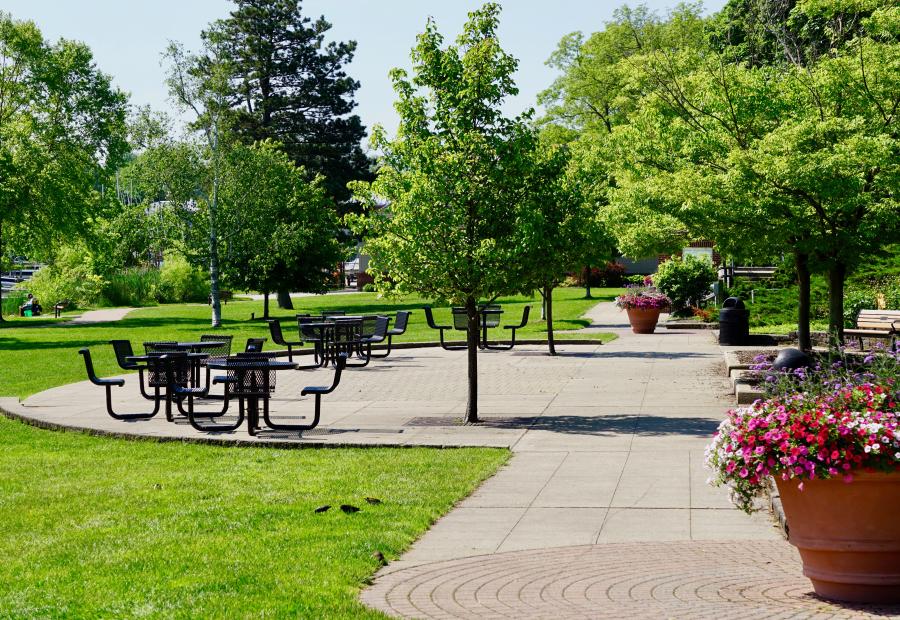 Bring your picnic to John Collins Park to hammock, watch boats and paddlers, and enjoy the large, grassy park.
Photo by Brian Craig for Experience Grand Rapids
John Collins Park
Located in the heart of East Grand Rapids along the shore of Reeds Lake, John Collins Park was a favorite picnic spot of many. @jilli_anne recommends the free, family-friendly summer concerts on Mondays in July. 
Experience Grand Rapids followers also recommend relaxing on a blanket to look out at the sailboats on Reeds Lake, along with hammocking. Followers also suggest a short walk to Jersey Junction for an ice cream cone.
Lookout Park
Lookout Park was also a highly suggested picnic spot. Located on a hill, this park offers spectacular views of downtown Grand Rapids and the Grand River.
@ajlepnick shared that she and her husband stole a moment together on their wedding day between their ceremony and reception to enjoy the sunset. @gardenpartypicnicco urges all to enjoy a sunset picnic at Lookout Park. 
Enjoy a picnic at one of Millennium Park's designated picnic tables, or bring a blanket and explore a different part of the park.
Photo by Experience Grand Rapids
Millennium Park
Who knew a spot tucked away in the city could be so serene? While many are familiar with Millennium Park for its excellent beach and splash pad area, there is much more to explore within its 1,400 acres. 
Choose to enjoy one of two designated picnic areas, or bring a blanket and find somewhere new. Offering bike-friendly paved trails, off-road paths perfect for exploring, and peaceful ponds, it's easy to see why @bananangranatda calls Millennium Park "otherworldly."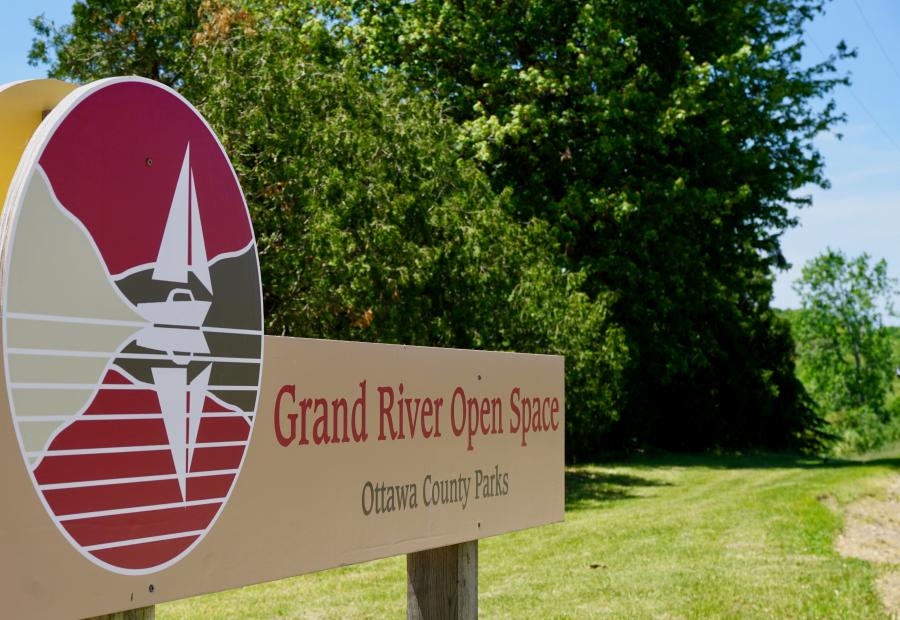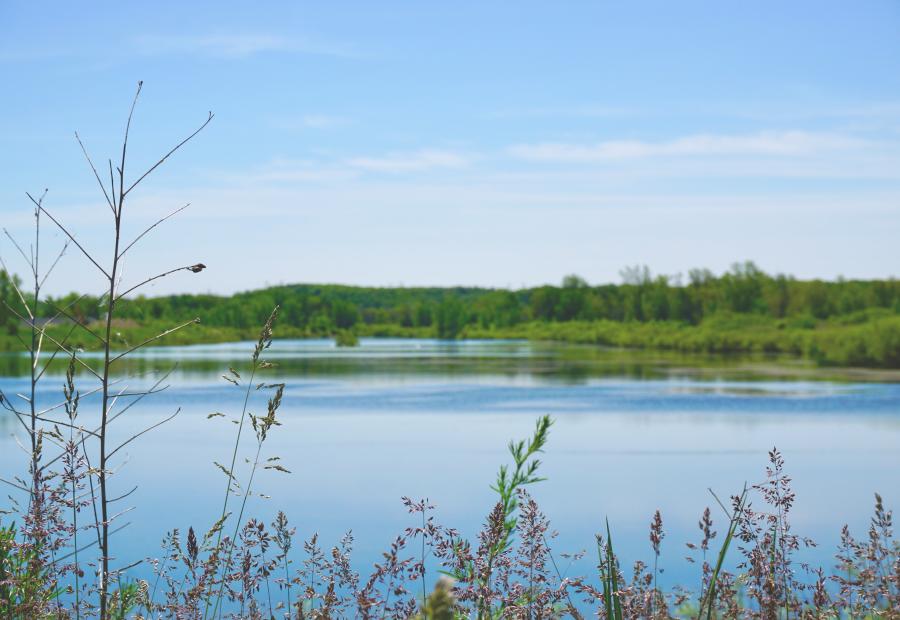 Open Space Park offers pristine views of the Grand River to enjoy with your meal.
Photo by Brian Craig for Experience Grand Rapids
Open Space Park
Many Experience Grand Rapids followers suggested Open Space Park for your next picnic adventure. 
Only 20 minutes from downtown Grand Rapids, locals love the walking paths, as well as the soft meadow grass that goes right to the edge of the former gravel pits, which are perfect for swimming and bluegill fishing. Remember to bring a treat for your furry friend as well, since this picnic spot is dog-friendly.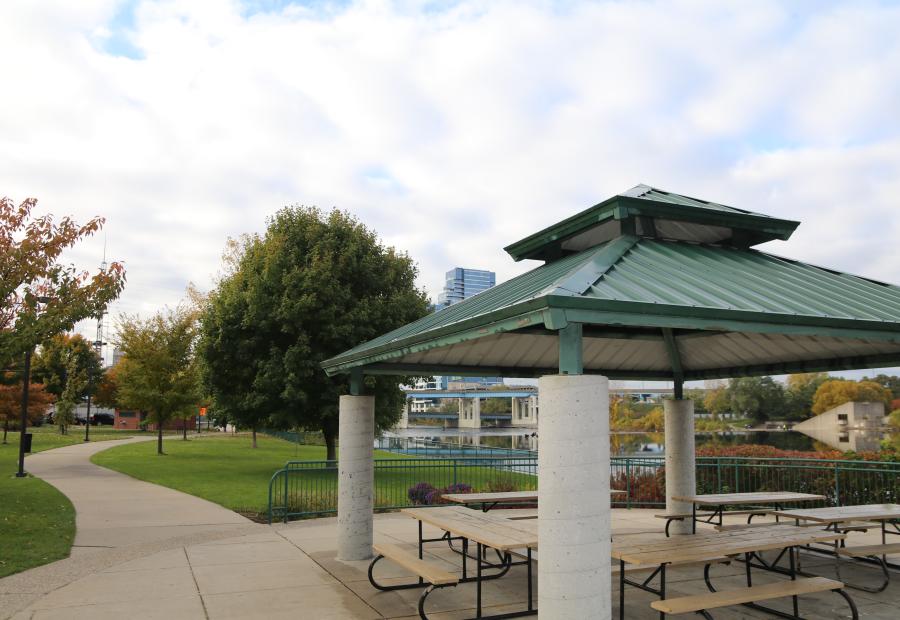 Located in downtown Grand Rapids, Sixth Street Bridge Park is a great spot to eat and take in views of the river and the city.
Photo by Experience Grand Rapids
Sixth Street Bridge Park
Built more than 125 years ago, the historic Sixth Street Bridge Park is a popular fishing spot and site to dine al fresco. Here, visitors can enjoy views of the Grand River right in downtown Grand Rapids. 
Experience Grand Rapids follower @jenniekingphotography enjoys walking through the park when all the trees are in bloom. She recommends to bring a book along with your provisions to take in the skyline during the day, or at sunset. 
With picnic tables, restrooms, walking trails, and easy access to the bridge, Sixth Street Bridge Park is a wonderful spot to sit, relax, and eat.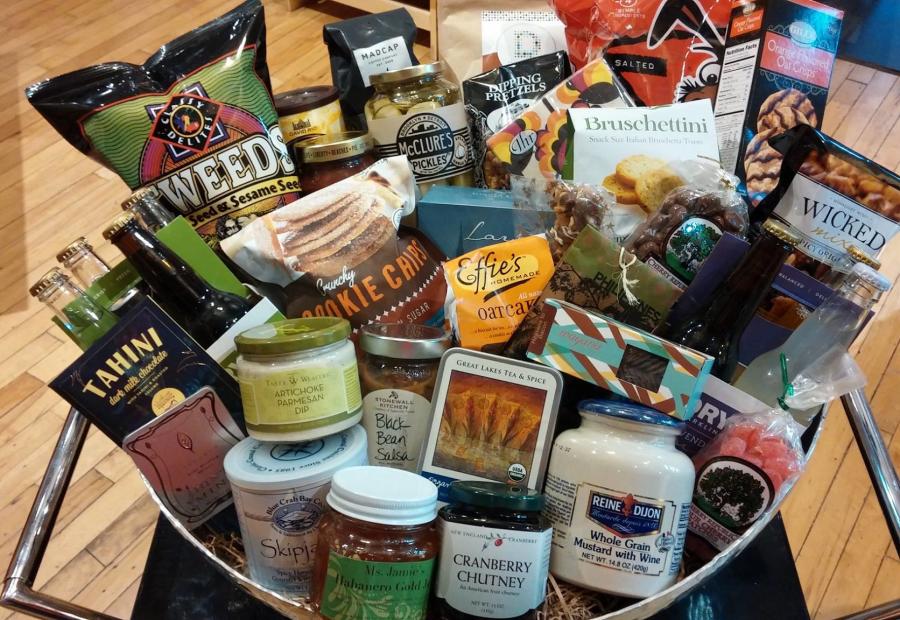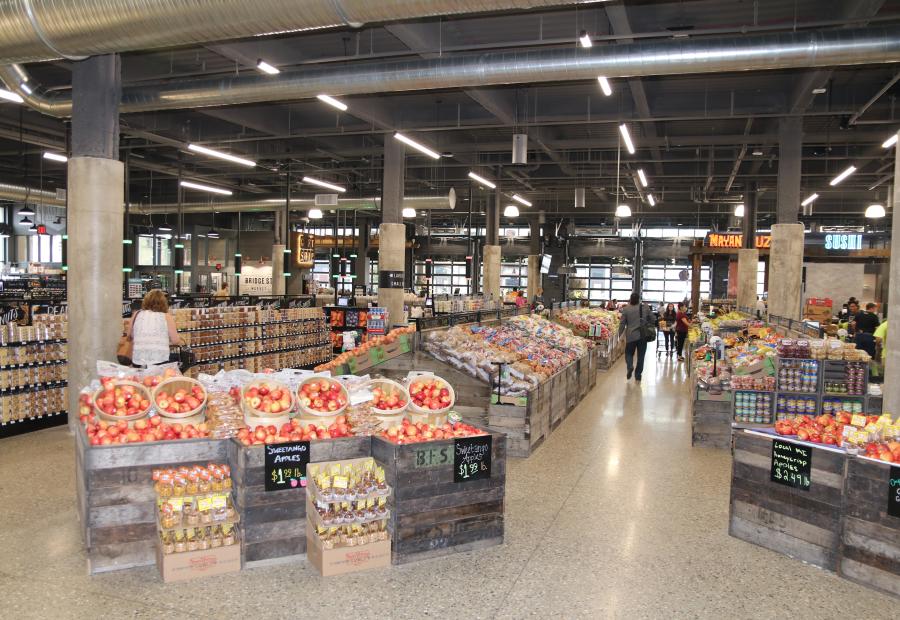 Fill up your picnic basket with provisions from local businesses, like Art of the Table or Bridge Street Market.
Photo by Art of the Table
Packing the Perfect Picnic Provisions
Before you head out to one of these scenic picnic spots, stop by a local business to fill your picnic basket with supplies and food that won't disappoint.
Pop into Bridge Street Market to grab some new supplies or spruce up the ones you have. You'll find everything for your basket, including a great selection of outdoor blankets, coolers, stemless wine glasses, koozies, and of course, food. Its food selection includes everything from ready-to-go deli sandwiches, to fresh meat and seafood for you to grill. Bridge Street Market also focuses on providing local, and Michigan-made products, making it a great way to add some local flavor to your picnic. 
The Downtown Market Grand Rapids is another great stop for bamboo cutlery, insulated mugs, and tumblers. Every hungry person will find something to eat, whether they're in the mood for tacos, barbeque, or charcuterie.
 Art of the Table can outfit your basket with plastic glassware you would never think is plastic, cloth napkins, and more. Ask the friendly staff for a cheese recommendation or peruse the shelves to find unique, small batch goodies perfect for eating outside. 
The Local Epicurean is great stop for gourmet cheeses and other delights. 
With more than 100 vendor booths,  Fulton Street Farmers Market is home to anything one might want for a picnic. From fruits and vegetables to meats and hand-crafted foods, this year-round farmers market will take your picnic to the next level. During the market's main season, it's open Wednesday, Friday, and Saturday from May until October.
The South East Market prides itself in its commitment to agricultural equity and its celebration of diversity. The market strives to provide healthy, affordable food while prioritizing sustainability; this mission is evident in the fact that they offer local, sustainably raised meat and poultry, as well as produce from local, black farms. Stop by to choose from the market's carefully curated selection of delicious local food to craft a memorable picnic lunch.
Whether these places are new to you or are already one of your favorites, you can also check out the Experience Grand Rapids Parks page for even more picnic-worthy locations. Why pick just one? Mix and match food and dining locations, find your favorites, and let us know what they are in the comments. 
Happy picnicking!