Grand Rapids is a great place to browse one-of-a-kind stores overflowing with items you won't find anywhere else. Whether you're shopping for family, friends, or yourself, you won't walk away empty handed if you set out for these shops.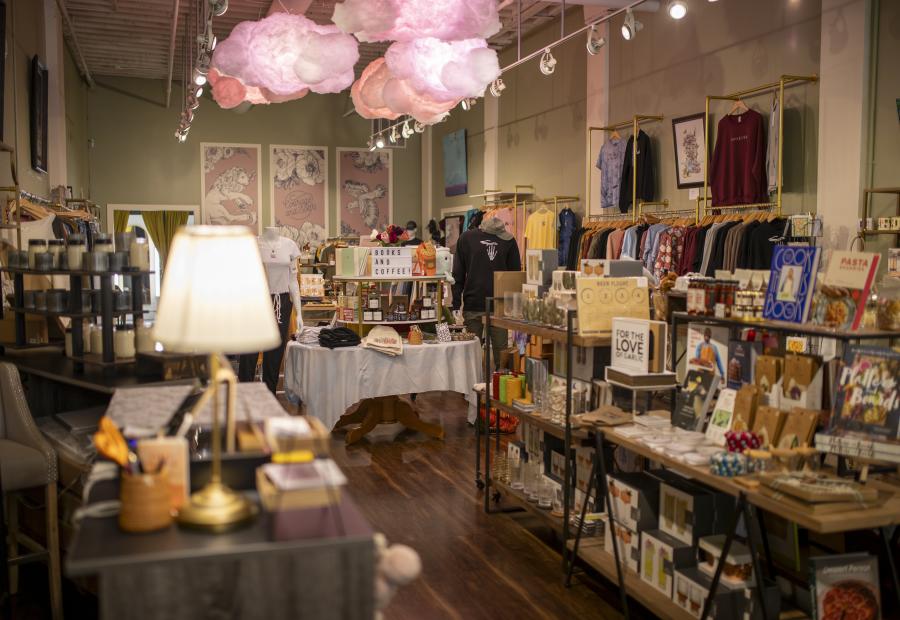 Courage & Soar prides themselves in an ever-rotating inventory of locally sourced goods to keep their space interesting and fresh.
Photo by Addison Causley for Experience GR.
Downtown
You'll find a number of distinctive stores just steps from downtown hotels, including Boutique Emmanuel. Conveniently located in the Amway Grand Plaza Hotel for over 35 years, this shop boasts a large selection of women's clothing, handbags, and accessories.
Cross Monroe Avenue from the Amway and head toward Rosa Parks Circle and Monroe Center, where you can visit seven specialty shops over the span of a five-minute walk:
• Old World Olive Co., stocked with dozens of flavored oils and vinegars
• Vault of Midnight, your ultimate destination for all things comics-related
• We are LIT! Multicultural Bookshop, inside the Grand Rapids African American Museum and Archives
• The Aroma Labs, to customize your own scent that can be turned into everything from beard oil to perfume to car ornaments
• Oh, Hello Co. Paper & Gifts, featuring an array of stationery, home and lifestyle goods
• Courage & Soar, which showcases the work of local artists and crafters
• Show Salon, offering clothing, jewelry and salon services
Just steps from Monroe Center is Periwinkle Fog, where you'll find children's toys, books, home décor, pottery and artwork. Also nearby is The 12th House, an LBGTQ-friendly shop with locally made pride merchandise and home items plus astrology, reiki and tarot readings.
Be sure to visit the gift shops at downtown museums for out-of-the-ordinary items. The Grand Rapids Art Museum, Grand Rapids Children's Museum, Grand Rapids Public Museum and Gerald R. Ford Museum all offer unique treasures to commemorate your cultural experience.
If you're a dog lover, you'll want to walk, or ride the free DASH a mile north on the counterclockwise route, to Fido & Stitch to shop for unique products your dog will love. If furniture is on your shopping list, cross the Grand River and head another mile north to FURN on Leonard, which offers excellent prices on liquidated furniture from major name brands.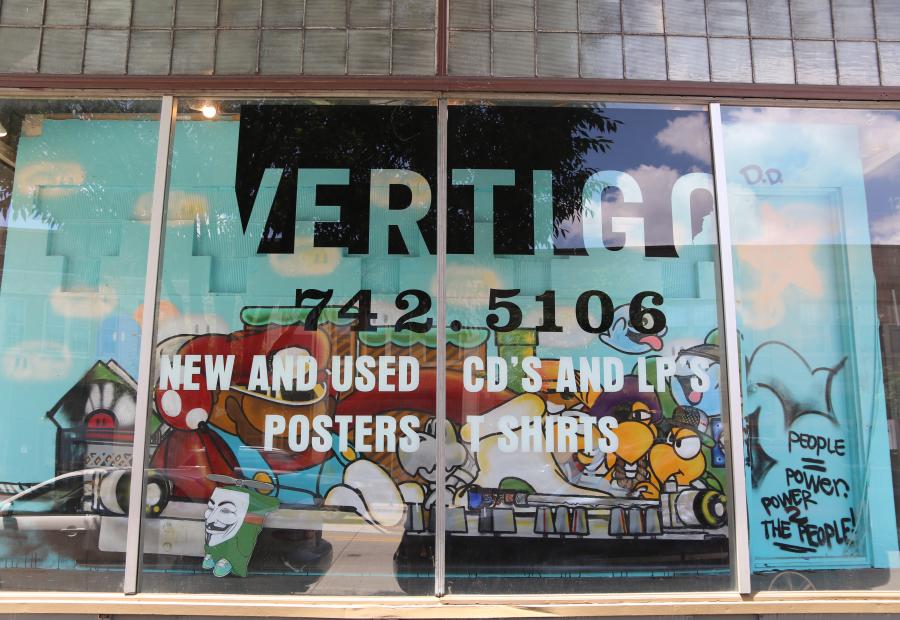 Stop by Vertigo Music downtown if you're in the market for a new undiscovered artist.
Photo by Experience Grand Rapids
Heartside
Just around the corner from downtown's Monroe Center is Division Avenue – also known as the Avenue of the Arts – which is the main artery of the Heartside neighborhood. A 10-minute walk down Division will bring you past a number of art galleries as well as: 
• Second Vibess, which "reimagines" vintage clothing into cool new fashions
• Decaydence Vintage, stocked with vintage clothing, housewares, toys and more
• Vertigo Music, featuring a vast selection of new and used LPs, CDs and cassettes
• Otono, offering a curated collection of secondhand clothing, accessories and home goods
Also located in Heartside is Premier, a specialty skate shop and clothing store with an awesome sneaker collection, and Hëmd, offering its own amazing collection of street-inspired footwear and clothing. Don't leave Heartside without visiting the Grand Rapids Downtown Market, where you can shop more than 15 artisan food vendors and have a bite to eat before you embark on the next leg of your shopping journey. The Market is a seven-minute walk from Otono and is also accessible via the DASH.
Elevated Grand Rapids is less than a 10-minute drive from the Downtown Market, and it's well worth the trip. The shop is a collaborative marketplace hosting a variety of vendors, artisans and artists under one roof – making it easy to browse a wide range of antiques, vintage pieces and one-of-a-kind repurposed items.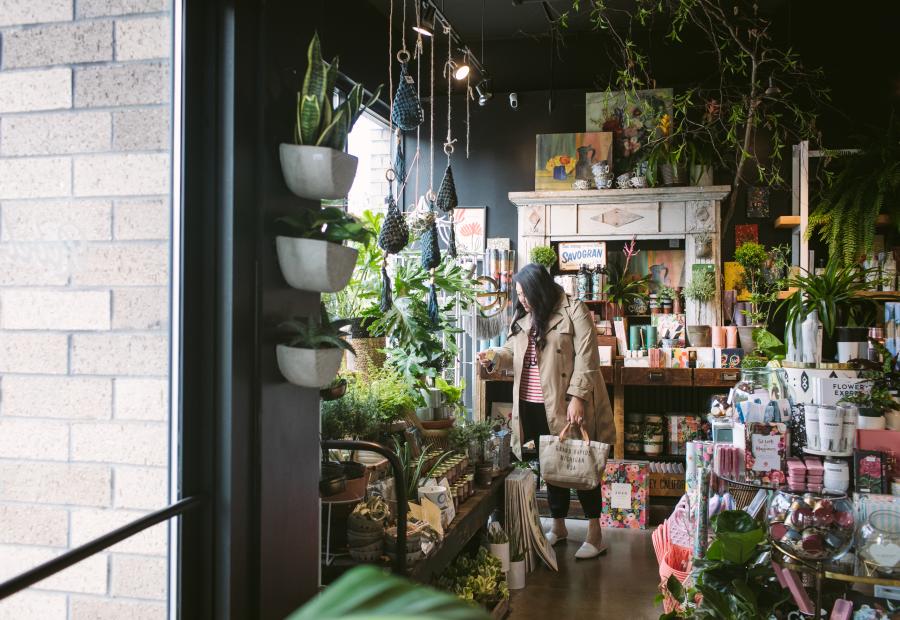 Whoever you're shopping for, you can find the perfect unique gift at Rebel in Grand Rapids.
Photo by Experience Grand Rapids
Uptown
Head about a mile east of downtown to the Uptown neighborhood and you'll be greeted with a bevy of shops clustered around several main streets. Start your shopping journey on Wealthy Street with a stop at Art of the Table, a beloved gourmet food, beverage and table accessory shop. Then it's off to:
• Fox Naturals for a wide variety of plant-powered skin and hair care products
• Dime & Regal for quality fashion jewelry and custom-designed pieces
• Woosah Outfitters for nature-inspired woodcut prints, apparel and gifts
• Lee & Birch for high-quality women's clothing and accessories
• Basic Bee Boutique, a great source of trendy and contemporary women's fashion
• Paddle North for paddle boards, kayaks, utility docks, gear and apparel
• Rebel for unique and creative gifts of all kinds
Just north of Wealthy Street is Cherry Street, where over a one-block stretch you can visit Covet Leisure, offering a line of women's clothing for leisure, living and lazing; Commune, a store with a California vibe that's packed to the brim with unique gifts, home décor, jewelry and much more; Gemini Handmade, featuring handcrafted leather goods and gifts; Books and Mortar, a "fiercely independent" bookstore; and Adored Boutique, stocked with women's clothing, accessories and home items that are "fairly made." Close by is Global Infusion, where you can browse a wide assortment of loose leaf teas and handcrafted goods.
Follow Cherry Street to Lake Drive and spend some time at Argos Books, a favorite local source for used books and comics since 1975. Wax Poetic Candle Bar, just down the street, is the place to go for custom-made candles, lotions, soaps, and more. You can also book a reservation to make your very own candle, or purchase a candle making kit to dive into at home. Another three-minute walk will take you to Sticky Fingers, the candy store of your dreams.
Finally, head north to Fulton Street for a visit to Always Betti, featuring a carefully curated estate and costume jewelry collection, fine furs and sterling silver pieces; and MercuryHead Gallery, home to the work of various local artists.
Gaslight Village
Less than two miles further east is Gaslight Village, a beautifully maintained stretch of specialty shops and restaurants that leads directly to Reeds Lake, a popular all-sports destination.
With tons of clothing, accessories and home decor, you'll be sure to find something you love in Pink Lemonade.
Nestled in the heart of Gaslight Village is Agate & Herb, another can't-miss boutique offering curated and handmade goods that friends and family are sure to love. Check out Fromage for delicious, specialty food products, many of which are locally sourced and make a perfect gift or can elevate your next meal.
Southeast Grand Rapids
From there, you're only four miles away from Woodland Mall and the 28th Street Shopping Corridor. It's dominated by big brand-name stores, but there are a number of independent retailers sprinkled in — including A.K. Rikk's, a luxury clothing store armed with a team of expert stylists. Bill & Paul's Sporthaus is also close by, and is well-equipped to supply you for any and all summer adventures, from hiking to beach days.
If you're looking to cross another independent bookstore off your list, stop by Schuler Books and Music, which has stood proudly in Grand Rapids for 40 years. Flowerland on 28th street has everything you need to create a beautiful space in your home and garden, including patio furniture, gardening essentials and bird feeders.
Cap off your adventures with a visit to the Frederik Meijer Gardens, whose gift shop features a broad assortment of glass, jewelry, pottery and much more.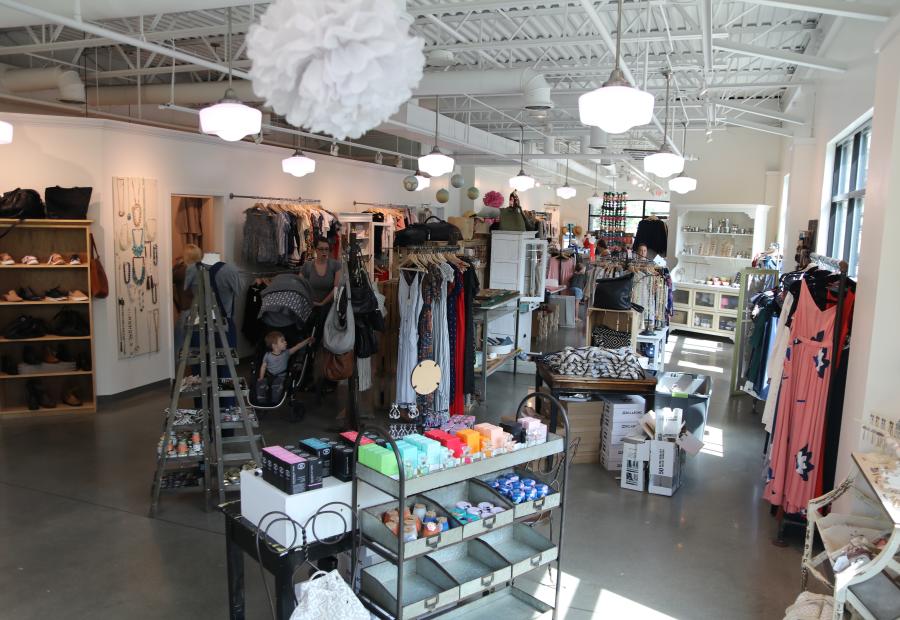 Paperdoll Boutique is packed with clothing, jewelry and accessories.
Photo by Experience Grand Rapids
Short Drive
Downtown Rockford
Downtown Rockford, just 20 minutes north of Grand Rapids, is a quaint shopping village with wonderful shops and riverfront restaurants. Find beautiful clothing pieces and accessories at Jade, Lee & Birch, Paperdoll Boutique, and LBD Exchange Consignment Boutique, or browse among the knickknacks and decor at Era. The city is also home to Rockford Footwear Depot. Owned and operated by Wolverine Worldwide, this huge store is your one-stop shop for any shoes you need, as it includes popular brands like Chaco, Merrell and Sperry for a discounted price.
Round out your trip to Rockford with a visit to Epilogue Books, a charming independent bookstore filled to the brim with every genre you can think of. If you need inspiration, check out the staff picks or chat to one of them for a great recommendation. You can browse the shelves for an old favorite or a new find, shop for souvenirs, and grab a drink from their mini coffee bar. While you're shopping, you might even see Tommy, the store owner's laid-back dog who can sometimes be seen dozing in a patch of sunlight in the back.
Lake Michigan Beach Towns
Lake Michigan beach towns, 30-40 minutes from downtown GR, are unique finds in and of themselves. They also offer some excellent shopping if you're out on a day trip.
Downtown Grand Haven is lined with specialty shops on the way to the channel into Lake Michigan, so you can pair your beach day with some shopping. Downtown Holland features over 100 locally-owned retailers and restaurants, and has been named a Great American Main Street. Saugatuck/Douglas is dubbed the Art Coast of Michigan for its profusion of art galleries and art-based activities and events.
Whatever you're in the market for, you can be sure to find a unique treasure in one of the many local shops in Grand Rapids!