Have a little bit too much fun last night? Couldn't roll out of bed this morning early enough for breakfast? Need a little hair of the dog? Don't worry, we won't judge. Here are 6 Funday-worthy options for a standout brunch and a cold one for that slow recovery or the beginning of an afternoon that deserves to be savored with friends.
Terra GR
To achieve their farm-to-table mission for "inspired, handcrafted foods that nurture both body and community," which they execute with precision, Terra GR sources their ingredients from 25 local vendors. The ambiance is clean, calm, and illuminated by natural light that feels good on the soul. Watching their exposed kitchen create adds an element of soothing entertainment — Chef Abby and her team are a live art form.
Brunch availability
Saturday, Sunday: 10 a.m.-2:30 p.m.
Cuisine
Specialties range from egg dishes and omelets, wood oven pizzas, salads, and sandwiches. Some dishes rotate throughout the weekend, including a featured omelet, so visit both days to get the full experience. Since so much of their menu is locally sourced, expect it to evolve in tandem with the season. Their Breakfast Pizza is tasty enough for breakfast, lunch or dinner. The Pork Belly Hash balances rich, tender pork in harmony with sweet Michigan-made maple syrup. The Mushroom and Goat Cheese Omelette is soft and savory, fresh and flavorful.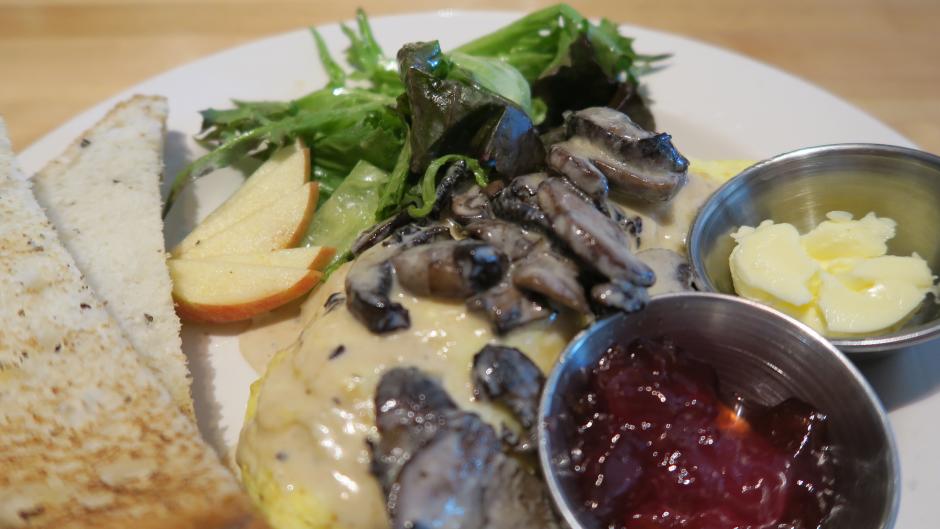 Terra GR mushroom omelette
---
Hair of the dog
On average, Terra GR shakes up eight different brunch cocktails, including a Biermosa with a seasonal style crafted especially for them by Unruly Brewing Co., Tito's vodka, and fresh OJ.
Craft beverage selection: 9 beers on draft, all proudly from MI, and nearly 10 hard ciders, too. Craft beer and MI cider flights available, each with four healthy 5-oz. pours.
Kid friendly
Kids' menu includes orange-ginger pancakes, bread pudding french toast, cheesy eggs, and cheese pizza — all served on colorful plates to entice the little ones.
Al fresco
A dozen tables on their cute corner patio vibed with music hidden in plain sight is perfect for Eastown people-watching.
Dietary considerations
Vegan, vegetarian, dairy-free, and gluten-free friendly
Before you go
Reservations welcomed, for parties ranging from 2-20. Don't be surprised if there's a line already started outside before they open. The food is that good. If you happen to visit between lunch and dinner, when their kitchen closes for an hour to prep everything fresh, post up at the bar for their Happy Hour specials, 4-6 p.m. daily. Yes, Happy Hour even on Saturdays.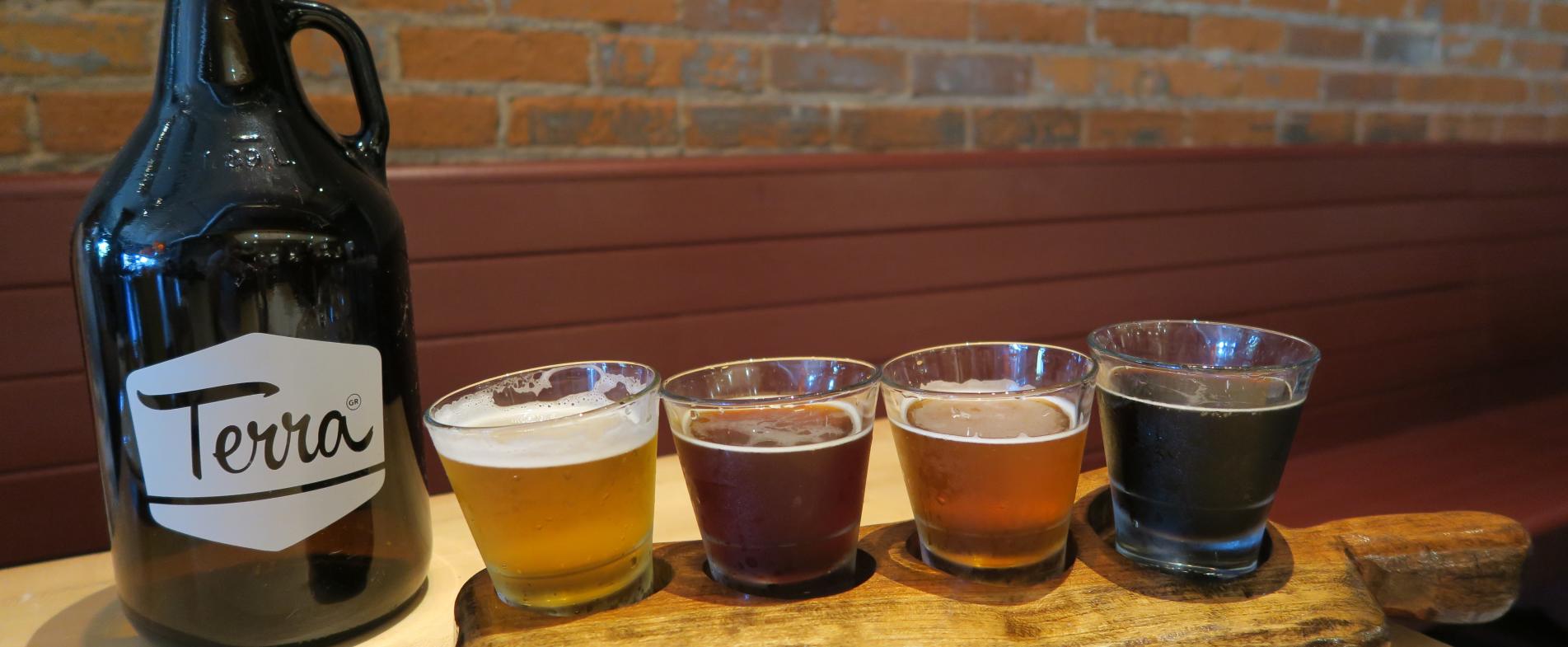 Graydon's Crossing
Branding themselves as having a "global pub" atmosphere, they're spot on. As the original gastropub in GR, Graydon's Crossing is equal parts traditional and cozy — and adventurous in both their cuisine and beer lineup.
Brunch availability
Saturday, Sunday: 10 a.m.-3 p.m.
Cuisine
Eclectic gastropub, adding English and Indian flair to their menu, which confidently sets them apart. Up to six rotating daily features based on the availability of local ingredients, and surprise rotating brunch features every weekend.
Check out their menu.
Hair of the dog
47 local and international craft beers on tap. Always rotating — try to keep up, we dare ya'. If that doesn't quench your thirst, seek out their sister properties, Logan's Alley and Derby Station. Graydon's also offers Bloody Mary specials and $2 off rotating drafts.
Kid friendly
Yes. Service pets welcomed, too, of course.
Al fresco
Graydon's patio may be one of the coolest kept (and slightly hidden) secrets in GR. As its ambiance continues to mature, it resembles a quaint English tea garden.
Before you go
Reservations encouraged, here. Parties of 8+, please call. For parties of up to 40, you can reserve their famed upstairs.
Grand Rapids Brewing Co.
With a history dating back to 1893, Grand Rapids Brewing Co. is a city staple and anchor destination downtown in Beer City USA. With pride in sustainability and taking care of our planet, GRBC is designed with reclaimed wood throughout the brewery. Their ambiance exudes a company culture that cares as much about providing an authentic experience as serving bold brewery fare and clean, classic craft beer with a modern spin and playful attitude.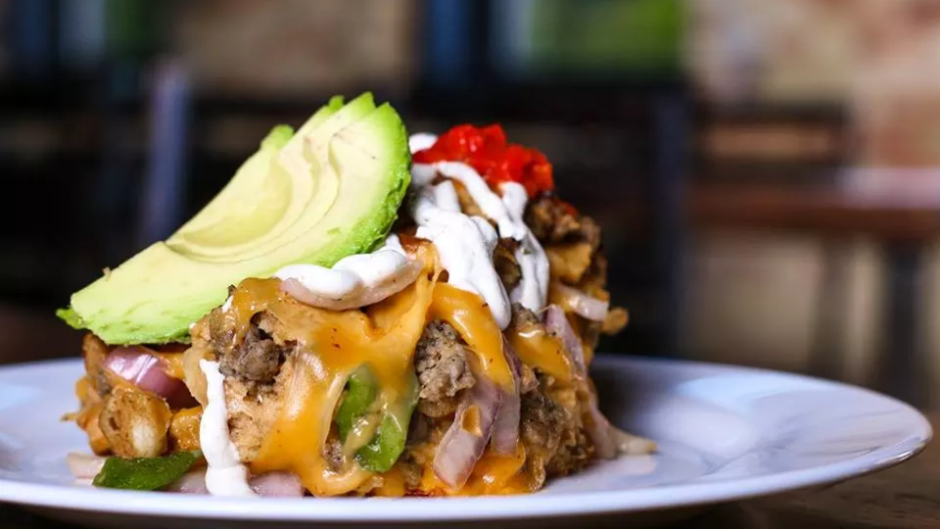 Breakfast casserole
Photo Credit: Alex Paolella
---
Brunch availability
Saturday, Sunday: 10 a.m.-3 p.m.
Cuisine
This brewery takes brunch seriously. Their brunch menu is a constant experiment in sourcing local, and blending the unexpected into hearty, hangover-absorbing creative dishes. Brunch composer, Justin "LJ" Back, works to craft the menu into a combination of homestyle familiarity and international enticement. "We want people to reminisce about something their grandma made for them as a kid or be tempted by something they're curious about," says Back. His Brewer's Brunch, and perhaps an otherwise common brunch item — his biscuits and gravy, are not to be overlooked. Features are usually posted on their Facebook page and change weekly. Don't blink — you'll miss the dish you wish you tried.
Hair of the dog
GRBC has up to 18 house-brewed beers on draft and every dish on the brunch menu is appropriately paired with one of them.  Their mainstays include Silver Foam (a pre-prohibition lager), Rosalynn Bliss Blonde (a blonde ale infused with mango tea), and Fish Ladder (an American IPA that creates Mug Club members out of haters). And, when you're not looking, GRBC has already tapped any number of surprise beers you weren't expecting — whether it's a staff collaboration nitro stout with vanilla beans and cherries, a vintage barrel-aged barleywine, or an imperial IPA with all Michigan ingredients. Oh, yeah. They also have a full bar, and one of the gnarliest Bloody Mary bars in the city.
Kid friendly
Yes.
Before you go
Their brunch tends to sell out, so arrive early if you want to cherry pick the favorites. Reservations accepted for 10+. For larger parties, special occasions and business functions, you can rent out GRBC's back bar Barn Room, or their private dining room.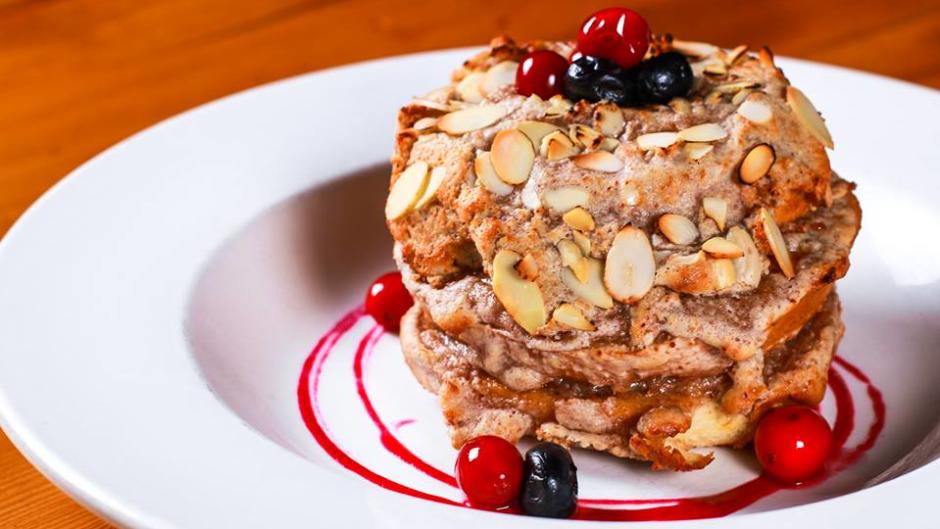 GRBC fruit french toast
Photo Credit: Alex Paolella
---
Social Kitchen & Bar
Located at the Grand Rapids Downtown Market, and not even one-year-old yet, Social Kitchen & Bar is hip and inviting but not pretentious. Set in an upscale casual space, they offer traditional and new American comfort food from scratch with a Southern flair and French-inspired techniques.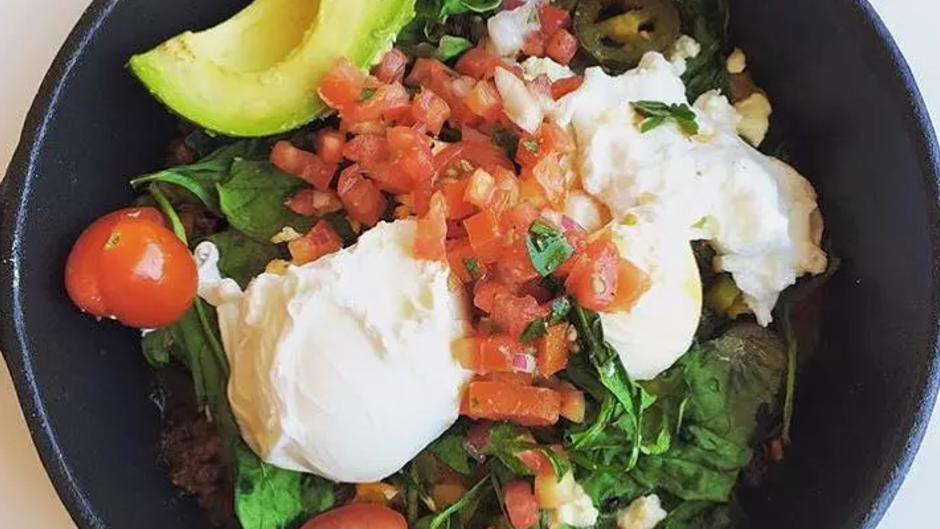 Social Kitchen and Bar breakfast skillet
Photo Credit: Social Kitchen and Bar
---
Brunch availability
Saturday, Sunday: 10 a.m.-3 p.m.
Because of its prime location (and the food, of course), Social's brunch is generally their busiest time during the week. The ambiance is full of fun energy and familiar smiles — a vibe that is uniquely Social.
Cuisine
Be creative with their most popular brunch option, Build Your Own Skillet. Guests choose their favorite meats, veggies, cheese, etc., and Social constructs it in a cast iron skillet. Otherwise, their Steak and Eggs (medium-rare, and over-easy, please) with bacon hashbrowns is worth seeking out, and returning for. And, their Egg Sandwich is more impressive (and bigger) than its name implies.
Check out their menu.
Hair of the dog
Social proudly serves six rotating MI craft beers on tap, and a well thought out bottle/can selection of more than two dozen local and international craft options, including West MI favorites Founders, Brewery Vivant, Perrin, Bell's, and Saugatuck Brewing Company. For the enthusiast, inquire about their cellar list for rare and unique bottles.
Complement their Build Your Own Skillet and continue the creativity with their build your own Bloody Mary bar. If you're not afraid of a little heat, check out their cocktail list, and take a chance on the perfectly sweet and spicy Ghostbuster Margarita — blended with their housemade ghostpepper jam. Want more heat? Ask for extra jam. Do it.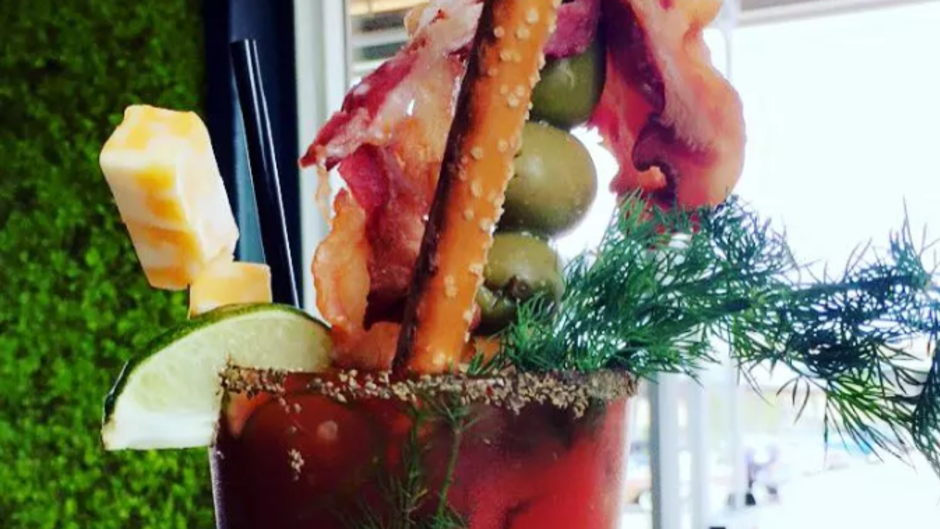 Social Kitchen and Bar Bloody Mary
Photo Credit: Social Kitchen and Bar
---
Al fresco
Social's space opens with ease to a relaxed covered patio with gorgeous views of downtown. Try to snag a table outside during any of the Market's outdoor pop-up events or on the second Sunday of the month, May-September, when the Market is bustling with their Vintage Street Market.
Kid and pet friendly
Most definitely. Pets are allowed on their patio.
Before you go
Reservations are not required, but available — and recommended for larger parties to ensure prompt seating. Social has also partnered with the Downtown Market to provide catering for special events on-site in the Market's private spaces.
SpeakEZ Lounge
"Our brunch experience grew entirely out of our early-morning European soccer fan base," says Calin Skidmore, SpeakEZ's General Manager. From at least August-May, live soccer games are a key part of the atmosphere during brunch hours. "Sure, it can be a bit raucous during matches from time-to-time, but we still like to think we provide a pretty laid back, casual environment," Skidmore says. It can and they do.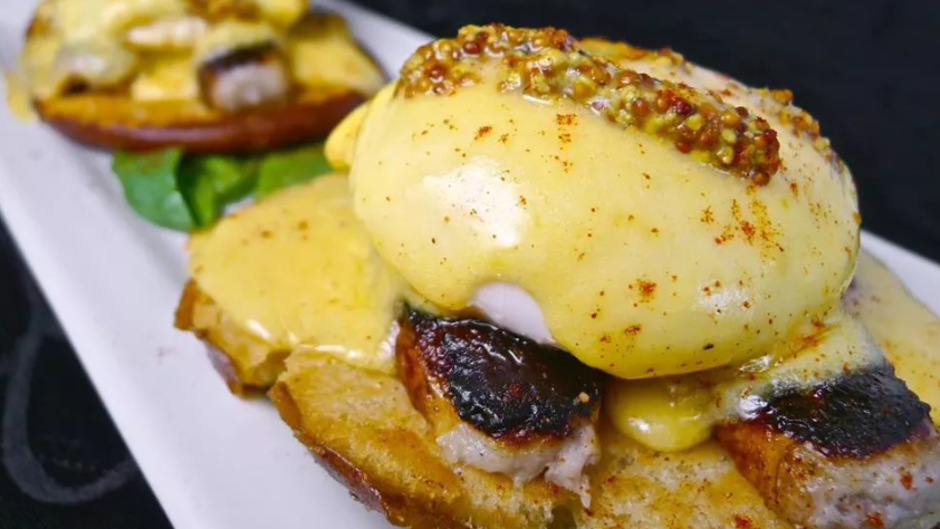 SpeakEZ Lounge eggs benedict
Photo Credit: SpeakEZ Lounge
---
Brunch availability
Saturday, Sunday: 10 a.m.-2 p.m.
SpeakEZ opens their doors as early as 7:00 a.m. for all Premier League Soccer matches, depending on match schedule. Kitchen opens by 10:00 a.m.
Check out their menu.
Cuisine
Tapping into a variety of modern and classic influences, their menu rarely fits into a definitive box. Skimmer says SpeakEZ decorates plates with "modern American/continental fusion." They offer a variety of specially-created items, house-made sauces, fresh ingredients, and a full selection of vegan or gluten-free specialty diets.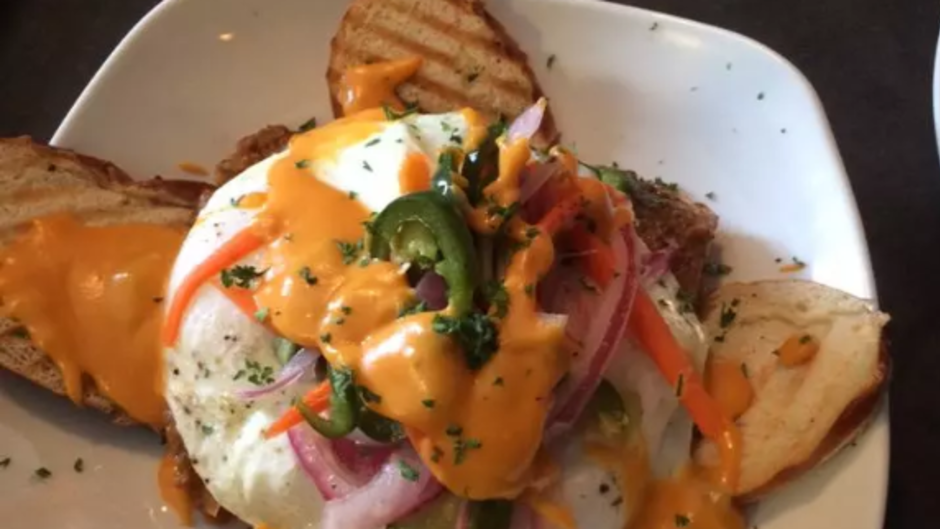 SpeakEZ Lounge The Filibuster
Photo Credit: SpeakEZ Lounge
---
Hair of the dog
SpeakEZ has 12 rotating craft beers on tap, and a satisfying array of specialty bottles and cans — with as many MI breweries as they can hold. If you're a soccer fan, you can drink alongside your favorite club with Chang or Fuller's London Pride. Spice up your Saturday and Sunday with their special house recipe Bloody Mary for $5. Or, If you've ever asked yourself, "What do I drink the morning after, if I don't like Bloody Marys?", relieve last night's pain with their signature brunch cocktail, Suffering Bastards.
Kid friendly
As a bar and lounge, their atmosphere can, at times, get a bit rowdy, especially during major soccer matches. Kids are welcome, but will have to sit up on their own and be big boys and girls because high chairs and booster seats are not provided.
Before you go
Limited reservations accepted per day, generally accepted for parties of 8-20 people. All other seating is first-come, first-served. Follow SpeakEZ across social to be tipped off to their Chef's weekly feature, The Filibuster, announced Saturday mornings. "It's so good you won't stop talking about it," says Skidmore.
Ada Pour House
Shake off Saturday night's funk, and make the short drive 10 miles east of downtown GR to recuperate. Ada Pour House's hospitality, lead by nice guy owner Rob Aldridge, will make you feel at home.
Brunch availability
Sunday: 9:30 a.m.-3 p.m.
Cuisine
Ada Pour House is rich in comfort food with a hip, southern feel, with inspired chef specials every day. Stay connected to them on social for invitations to monthly beer dinners.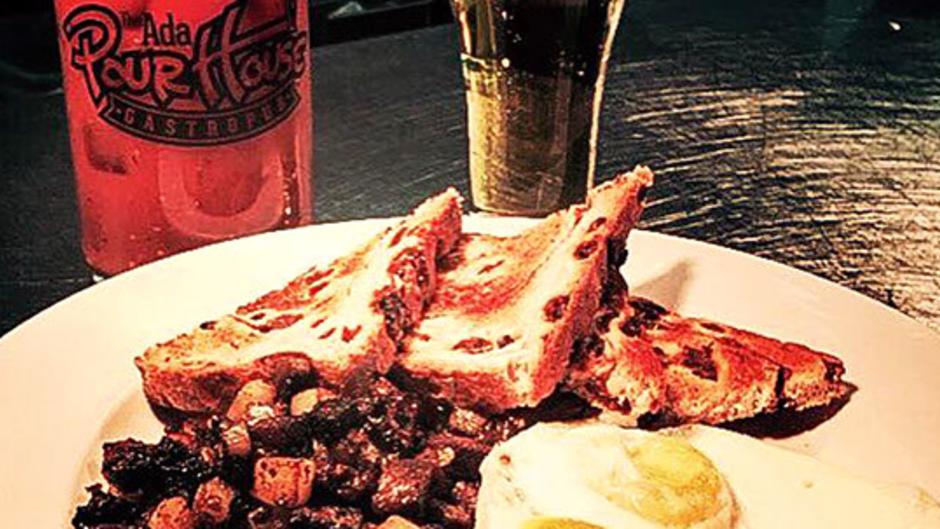 ---
Hair of the dog
Michigan is heavily represented in their craft beer selection of 16 rotating drafts. Otherwise, tap into their list of 70 bottles. Visit for daily specials on both. Beer cocktails, too? Yep, they have them!
Kid friendly
They love kids! Their menu quiets the rambunctious with plenty of kid-friendly options.
Al fresco
Their patio, beautifully tucked in a nondescript commercial corner along Highway 21 (i.e. Fulton St SE), is available for larger parties or special events. It's surrounded by trees and a pallet wall crawling with hops, attractively lit overhead, and covered with sails for shade. Ambient music and the natural background add to the reasons their patio deserves your attention next Sunday.
Before you go
Brunch is easy-going and relaxed. Ada Pour House is an open door, come-as-you-are spot whether you're in your Sunday's best or shorts and a T-shirt from just mowing the lawn. Call-ahead seating is encouraged, especially for parties of 8+.
Don't miss a post!
Sign-up for the Insider Experience blog