Downtown Grand Rapids welcomes its newest addition to the beer scene, Craft Beer Cellar (CBC), an independently owned and operated craft beer retail store. In March, this nationwide franchise opened its 31st location at 404 Ionia Avenue SW.
Franchisees Jessica Beeby and Brian Beaucher moved from Massachusetts to Grand Rapids to bring the CBC's mission of amazing beer, education, and hospitality to Beer City, USA.
Craft Beer Cellar isn't your ordinary liquor store – it's half taproom, half retail bottle shop. In addition to its 20 beers on draft, everything from its extensive selection is fair game to drink on premise. Can't wait to get home to crack open that fresh IPA? No problem. CBC will do it for you. Shop, have a beer, shop some more, have another beer. Stay a while.
On Draft
Of the 20 beers on draft, two will always be on nitro, and two will be cider. Beaucher curates the list based on style, which will represent a spectrum from very light to dark, so that "you should be able to visit and find a beer that matches what you're in the mood for that day." Growlers are available for purchase, and most beers on draft are available for growler fills.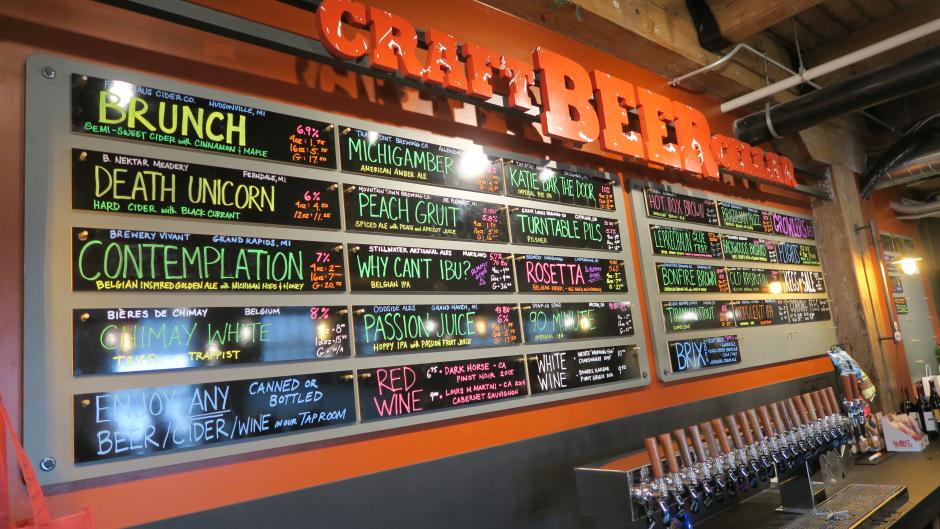 Craft Beer Cellar draft list
Photo Credit: Jason Ley
---
In Bottles and Cans
Craft Beer Cellar stocks approximately 500+ varieties of beverages including cider, mead, wine, saki, and non-alcoholic craft soda from Grand Rapids-based Brix Soda Co.
Most four- or six-packs of cans or bottles can be broken up and purchased as an individual item.
CBC charges a modest "corking fee" to open any bottles or cans to be enjoyed in the taproom. Please, let them open it for you. Upon request, they'll provide a bucket of ice and glasses for table-side service.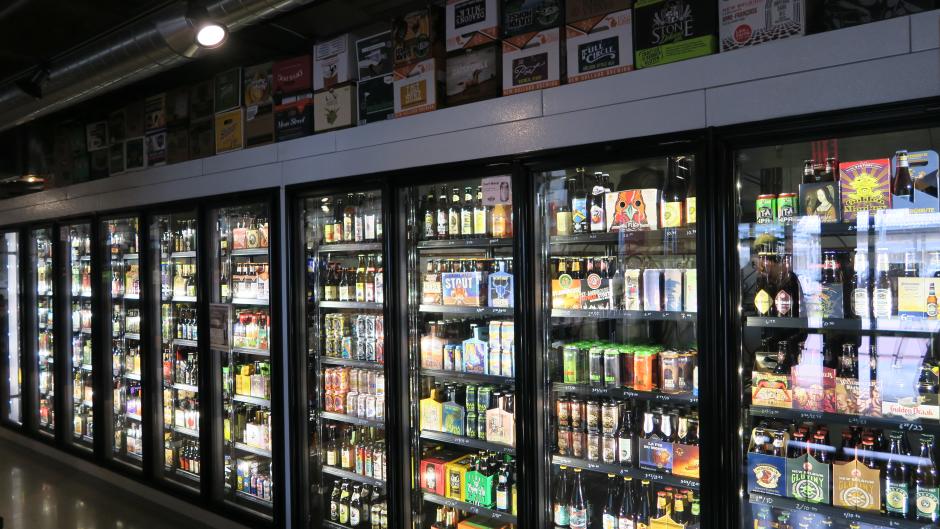 Craft Beer Cellar refrigerated section
Photo Credit: Jason Ley
---
Kegs
Currently, kegs are available for purchase by order only. Contact CBC to place an order, and they will procure it within a week. Eventually, CBC expects to have an on-hand inventory of kegs available for immediate purchase and carry-out.
Online Store
As Craft Beer Cellar continues to build out its website to reflect its inventory in real time, customers may pre-purchase any products from its secure online store to have them waiting for pick-up.
By the end of 2017, thanks to new Michigan law, CBC expects to have the ability to ship online and in-store purchases to anywhere within the state. The beer selection online is searchable by name, region or style, based on Beer Judge Certification Program (BJCP) guidelines.
In addition, they stock an array of educational books about beer, glassware, beer-infused sauces and snacks, and other craft-inspired merchandise available in-store and online.
Craft Beer Cellar beer selection
Photo Credit: Jason Ley
---
Service and Hospitality
CBC embraces and requires a certain level of expertise in the craft. Its staff, known lovingly as Beer Geeks, must have, at minimum, achieved Cicerone Certified Beer Server certification. They know their stuff. Novices new to the beer game need not worry about being intimidated by beer snobs behind the bar. The Geeks will help you find something you'll love without rolling their eyes. And, they'll even carry your beer out to your car for you.
Beer Education
Superstar Beer Geek on staff, Allison Hoekstra, is a Certified Cicerone®. She leads CBC's education program and has launched a series of Tasting Classes on Tuesday nights. Enthusiasts seeking to sharpen their palate and enhance their craft knowledge can reserve their seat via CBC's Facebook Events page. Currently, each class costs $20 and includes a $10 gift certificate to CBC.
CBC also hosts complimentary samplings twice a week, each hosted by a different brewery.
Food
CBC is very bring-your-own friendly. If its modest selection of locally-sourced, ready-to-eat snacks aren't enough to hold you over, there are plenty of choices within convenient walking distance.
Grand Rapids Downtown Market is conveniently located across the street, which has over a dozen dining options for nearly every type of discerning foodie. After you've conquered everything inside the Downtown Market, there are also nearly a dozen restaurants within a half-mile walk, including Grand Rapids Brewing Co., HopCat, Luna, and Peppino's Sports Grille.
Guests may bring food in or have it delivered. According to Michigan law, the only thing that guests may not bring in is outside alcohol.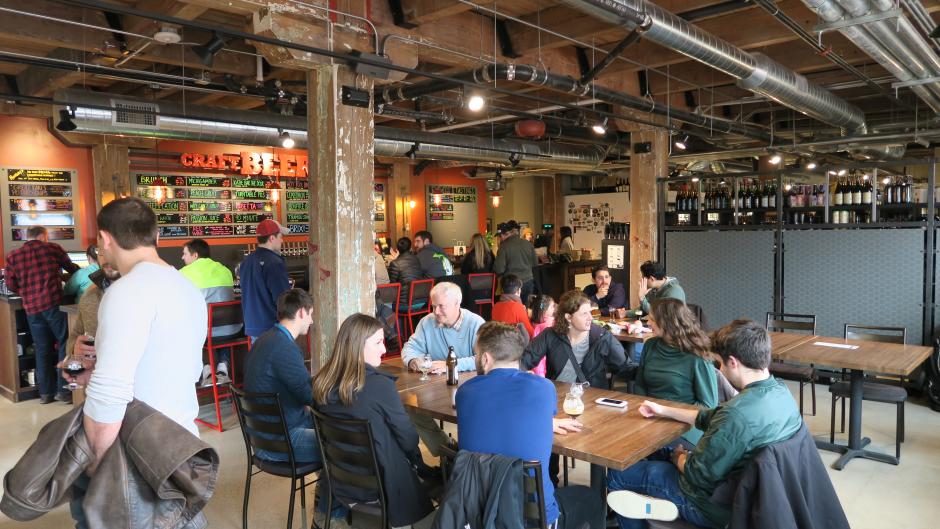 Craft Beer Cellar taproom
Photo Credit: Jason Ley
---
Highlights
Relaxed, casual, and refreshingly unpretentious

Help yourself to its selection of board games, or bring your own. CBC hosts weekly game nights every Monday, 5PM – 10PM, with $1 off drafts for any gamers.

Free Wi-Fi

Kid-friendly: Yes, with adult supervision

Pet-friendly: Yes, assuming well-behaved

Bike-friendly: CBC is currently coordinating installation with the City, otherwise the Downtown Market has them available

Parking: Free for the first 30 minutes at the Downtown Market, otherwise there are plenty of nearby surface lots, parking garages, street parking, and meters (meters are generally free after 6PM and on the weekends)
Hours
Monday – Thursday: 10AM – 10PM
Friday – Saturday: 10AM – 11PM
Sunday: 12PM – 10PM
Craft Beer Cellar is a great way to savor the craft of West Michigan's breweries. For more of Grand Rapids' beer scene, check out the Beer City Ale Trail.
Don't miss a post!
Sign-up for the Insider Experience blog