Did somebody say "olive burger?" ExperienceGR did a few weeks back, when we asked readers for their favorite Grand Rapids location to grab one. With so many great restaurants in West Michigan, it was tough to narrow them down. However, the restaurants featured here kept rising to the top.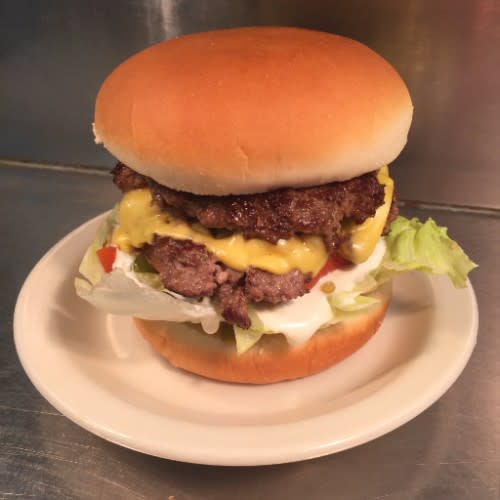 The Filling Station Olive Burger
"The olive burger has been a long time West Michigan favorite and is a perfect fit for our menu which is inspired by many Grand Rapids classics," said Andrew Christopoulos of The Filling Station. "People love olive burgers because of the way the bold flavors combine to create that unique taste you don't get with other burgers."
A member of the Mr. Burger restaurant family, The Filling Station has served olive burgers since they opened in 2007. And since they honor Grand Rapid classics, The Filling Station even offers a "fables style" burger directly inspired by the historic Mr. Fables, a West Michigan staple from 1963 to the late 1990's that to many people epitomized the Olive Burger experience. But while the chain has closed, the legacy lives on with The Filling Station's  "Mr. Fab" burger featuring chopped olives and special sauce.
Christopoulos said The Filling Station also sells a lot of regular olive burgers with sliced olives and mayo.
"Even though the flavors are similar, some people have their preferences and we're happy to serve both," he said.
Another restaurant on the tip of any olive burger-loving tongues is The Cottage Bar and Restaurant. Their top-selling Cottage Burger, served on a signature dark rye bun and smothered with green olives, lettuce, tomato, bacon, two types of cheese and smoky mayonnaise, was recently voted Best Burger in Michigan by USA Today.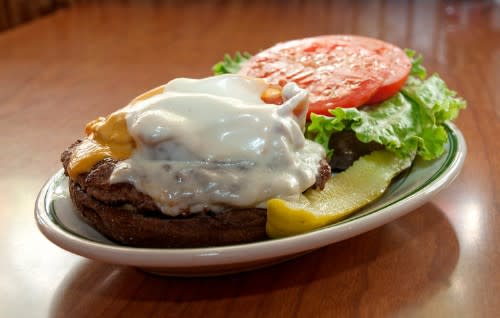 The Cottage Burger Served at The Cottage Bar and Restaurant
"What makes olive burgers so special is how all the flavors come together," Dan Verhil, owner of the Cottage Bar and Restaurant, said. "It's the flavor, the zing, the saltiness of the olives that all work together to give it a tang."
Peter Christopoulos, founder and owner of Mr. Burger Restaurants, said that with a stronger taste than most other foods, the olive burger triggers a lot of cravings. And as the largest and longest purveyor of olive burgers in West Michigan, he should know.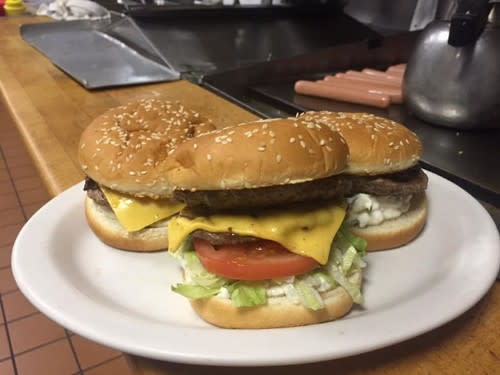 Mr. Burger Olive Burger
"We've spent years at Mr. Burger perfecting the right balance between the olives, the olive brine, and the rest of the special sauce", said Christopoulos. "Based on all of the Olive Burgers we have sold over the years, we obviously hit a sweet spot."
Another reader favorite, The Winchester Olive Burger, starts with hormone-free, grass-fed and grain-finished chuck that is ground in-house daily. Paul Lee, owner of The Winchester, described the burger as a 1/2 lb. total weight double patty burger with a generous amount of olive spread, made in-house, served with two slices of American cheese, red onion, and iceberg lettuce on a toasted Nantucket Bakery brioche bun.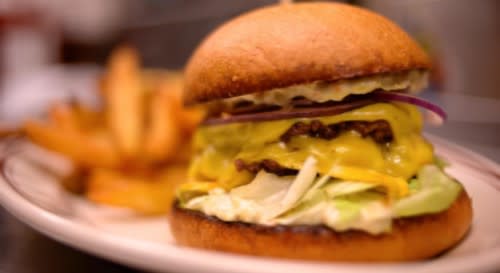 ​
The Winchester Olive Burger
"Another key feature of our Olive Burger is that it's grilled on a flat-top vs. an open flame," said Lee. "We feel it makes for a juicier burger."
Whether you continue to support your favorite olive burger or try a new experience, trying our readers' favorites can only guarantee a win-win situation!