This ten-block downtown walking tour covers less than three-quarters of a mile - but it takes you all the way from Berlin to Vietnam!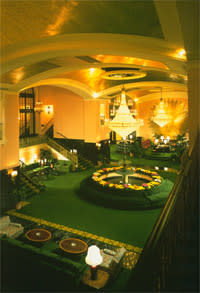 Start at the Grand Rapids Public Museum to experience history made real - through fossilized dinosaur remains, American Indian artifacts, a recreation of Grand Rapids in the 1890s, and much more.
Cross the street to Gerald R. Ford Presidential Museum to review the life and times of our native son, the 38th President of the U.S. You can pay respect to the President and Mrs. Ford, who are interred on the grounds.
Walk directly east through Ah-Nab-Awen Park, once the site of a Native American Village, to the historic Gillett Pedestrian Bridge that crosses the Grand River.
Cross the bridge to the Amway Grand Plaza and stop at the concierge desk for a self-guided tour brochure. You'll be dazzled by the history and luxury of the original 1913 structure and its soaring glass tower addition.
Ready for a break? Ask a passerby to point you in the direction of the Starbucks coffee shop inside the hotel.
Walk one block east to the Waters Center on the northwest corner of Pearl and Ottawa. Note the Chicago-style construction of an exterior steel frame with masonry cladding. Go inside to admire the building's century-old woodwork and chandeliers.