Grand Rapids is a wonderful place to be year round, but summer is when the city really shines. There are a number of ways to discover Grand Rapids' beauty, such as by foot, by bike, by trolley and by canoe.
Brace yourself for an unforgettable adventure by canoeing through the beautiful bodies of water around Grand Rapids.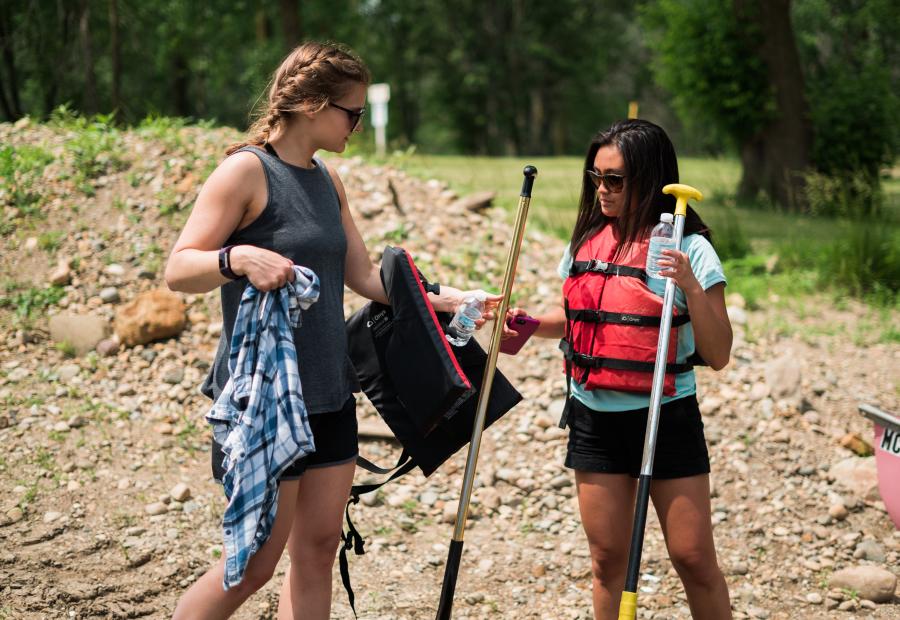 Proper safety gear and clothing is imperative for a safe canoeing trip.
Photo by Experience Grand Rapids
Safety
To help protect you, there are a few guidelines to follow when canoeing.
First and foremost, always wear bright colored clothing to ensure that people will see you for safety purposes.
Also, it is Michigan law that children under six years old wear a life jacket. But be sure to have enough life jackets available for every person in your canoe no matter their age. More safety information can be found at the Michigan Department of Natural Resources (DNR) website.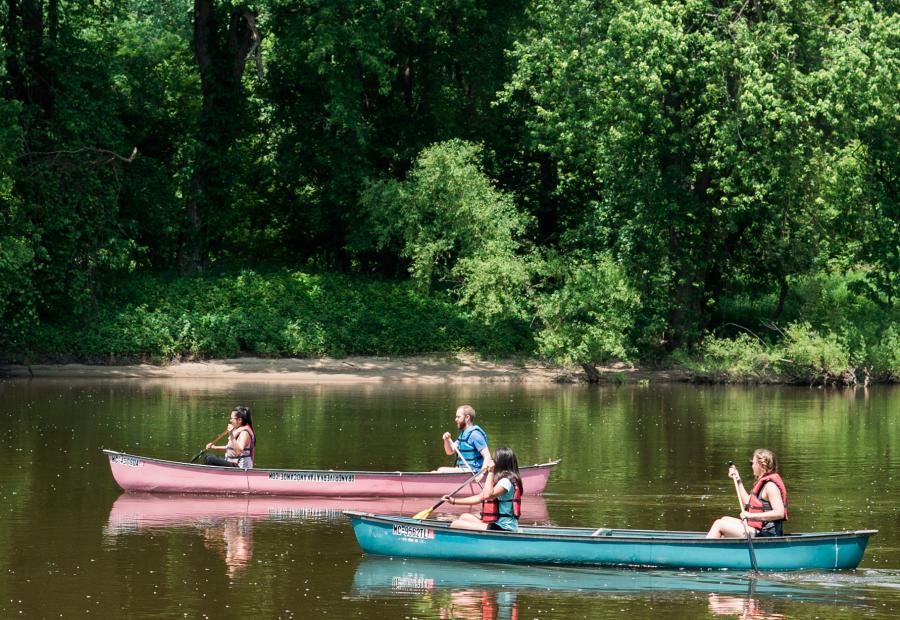 There are plenty of canoe rental companies in Kent County and West Michigan.
Photo by Experience Grand Rapids
Need a Canoe?
DeVos Family Boathouse
Millennium Park is the largest urban park in Grand Rapids and has plenty of area to explore, both on land and on water. The park has 18 miles of trails and nearly four miles of shoreline!
From May 26 to Labor Day, the DeVos Family Boathouse in Millennium Park offers kayaks, paddle boats, canoes, and stand-up paddle boards for rent. With your canoe, you can paddle around the nearby beach and recreation areas and visit Lake Leota. Combined, these two waterways cover close to 100 acres.
Canoe rentals are $8 for the first hour and $6 for each additional hour. Free life jackets are provided to customers over 30 pounds. It's mandatory that customers provide their own life jackets for children under 30 pounds.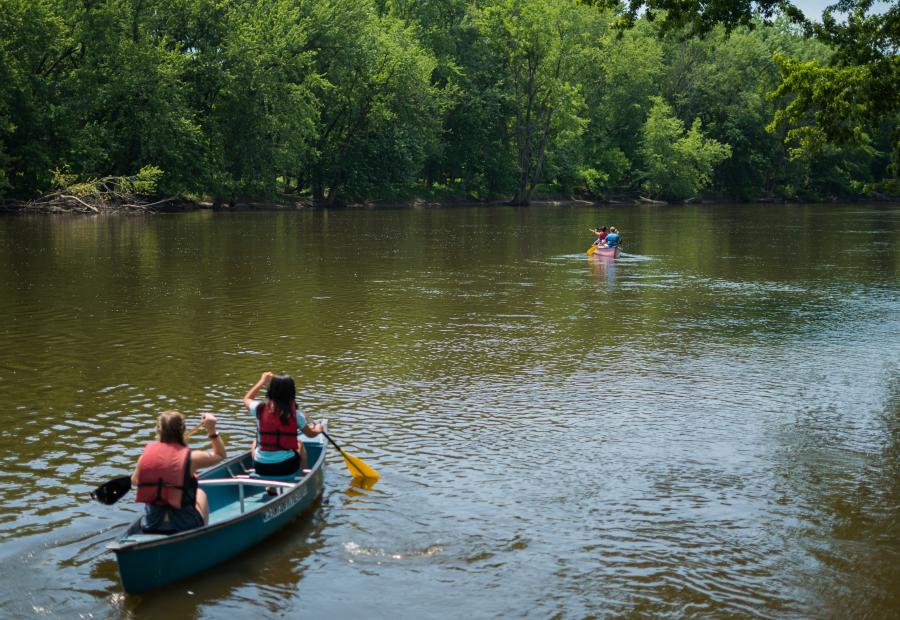 Canoe rental companies provide all materials necessary for a successful canoeing excursion.
Photo by Experience Grand Rapids
AAA Canoe Rental
Located near Downtown Rockford, AAA Canoe Rental offers two-hour and four-hour canoe trips.
Both trips begin at AAA Canoe Rental's office. From there, AAA will shuttle you to your starting point, which depends on the length of the trip you choose. As you float down the Rouge River, you can witness the sights of the shoreline and the White Pine Trail.
All trips end at the Rockford Dam where you can explore the nearby shops and restaurants, like Dam Dogs or Custard by the Dam. Once you're done exploring Downtown Rockford, AAA Canoe Rental will take you back to your car.
A two hour canoeing trip for two people is $45. A four hour canoeing trip for two people is $55. All trips include a canoe, paddles, transportation, and life jackets.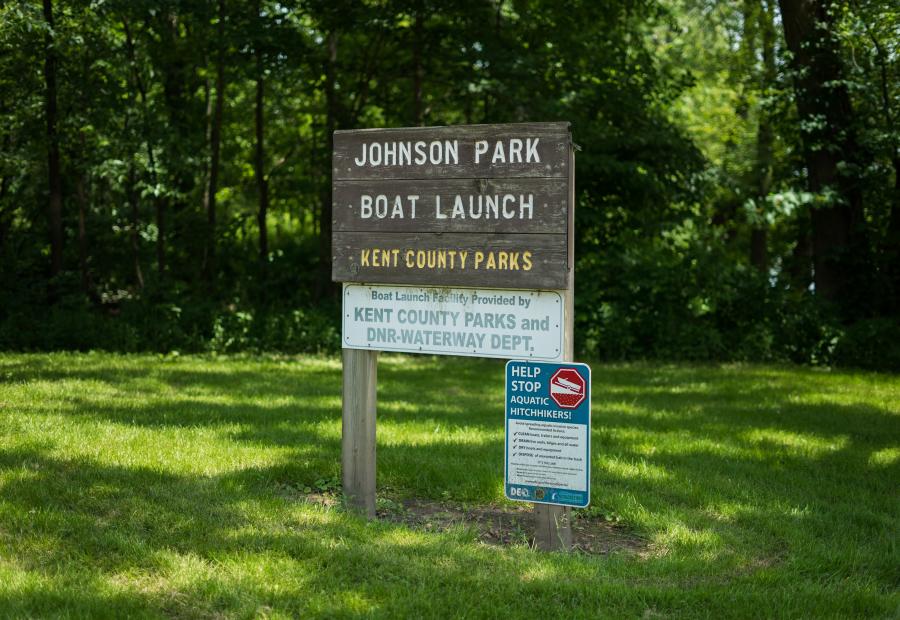 Johnson Park offers two boat launches off of the Grand River.
Photo by Experience Grand Rapids
Already Have a Canoe?
Reed's Lake
Reed's Lake in East Grand Rapids offers a quiet and calm place to paddle. At 265 acres, there's no shortage of shoreline to explore. The entire lake is lined with some of the most beautiful homes in the area, making this a unique way to enjoy the neighborhood.
The lake offers one public boat launch, located at John Collins Park, which is an ideal start point for your canoeing trip.
Once you return to the boat launch after your adventure, be sure to stop by the historic Rose's on Reed's Lake right next door to enjoy Mediterranean, Italian, and American cuisine.
Johnson Park
Johnson Park, located close to Millenium Park, has two public boat launches. The park follows the Grand River for one-and-a-half miles, and offers beautiful wooded views as you paddle. Not only can you canoe along the Grand River, but you can also bike, play disc golf, or run on the trails that wind through Johnson Park's 257 acres.
Additional Kent County public boat launches that make for perfect starting points for your canoeing adventure include: 
Outdoor excursions in and around Grand Rapids are limitless. For more information on local trails, bike paths, running events, public fishing and boating areas, public beaches and more, visit the Experience Grand Rapids Outdoor Recreation Page.