The term "dive bar" has evolved in meaning over the years. What once meant an uncertain destination for many now points to an off the radar, unpretentious spot that serves great drinks and is full of local character.
If you're looking for a lesser-known option that's not as mainstream, Grand Rapids has many hidden gems for the curious dive bar connoisseur. 
My friends are adventurous bar hoppers and are always on the lookout for a new spot to check out. We came up with the following list of dive bars in neighborhood hot spots that serve up all sorts of fresh local flavor and stiff drinks to boot, so you'll have your bases covered for a fun night out.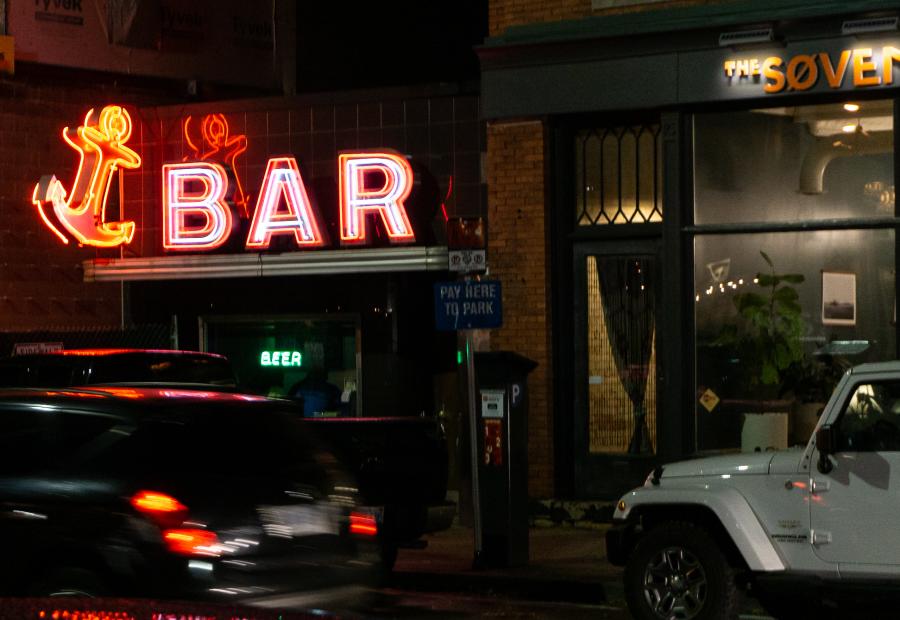 A staple on Bridge Street on the West Side of Grand Rapids, Anchor Bar is clearly visible with its retro neon sign.
Photo by Brian Craig for Experience Grand Rapids
Anchor Bar
Anchor Bar is located among one of the fastest-growing areas in the city and is a staple along Bridge Street in Grand Rapids' West Side neighborhood. You can't miss it if you're walking down Bridge Street – you'll first see the red, retro neon sign out front with a giant anchor above the entrance. 
As new breweries and restaurants pop up left and right, The Anchor (as it's lovingly referred to by regulars) holds true to its roots and provides a traditional old school vibe. It is a go-to stop among locals looking for a more relaxed bar with unique maritime-themed décor and comfy booths for smaller groups. 
You'll find stiff drinks, a fun and lively staff, and free popcorn that's always ready to go. 
Pro tip: If you're hungry after a drink at The Anchor, walk next door to Fratelli's Pizza for fresh pizza by the slice, or try O'Tooles Public House directly across the street.
Birch Lodge
Birch Lodge is a popular Michigan Street bar that regulars call "The Birch." There you'll find a warm and cozy atmosphere with a woodgrain bar top and walls adorned with random knick-knacks that'll keep your eyes busy for hours. The Birch is a great spot to catch a game with friends as it has a variety of big-screen TVs and shows most major sporting events.
The food menu is impressive and offers some great burgers and bar food. Daily food and drink specials are abundant ($1.99 happy hour drink and food specials M-F from 3 to 6 p.m.), and there are too many to list. A few highlights include 20% off everything on Monday nights, free soup on Tuesdays, and "Perch at The Birch" (all you can eat) on Fridays. 
Pro tip: Sundays are wildly popular with "Church at The Birch." You'll find a free all you can eat taco bar with the purchase of a drink from 11 a.m. to 3 p.m.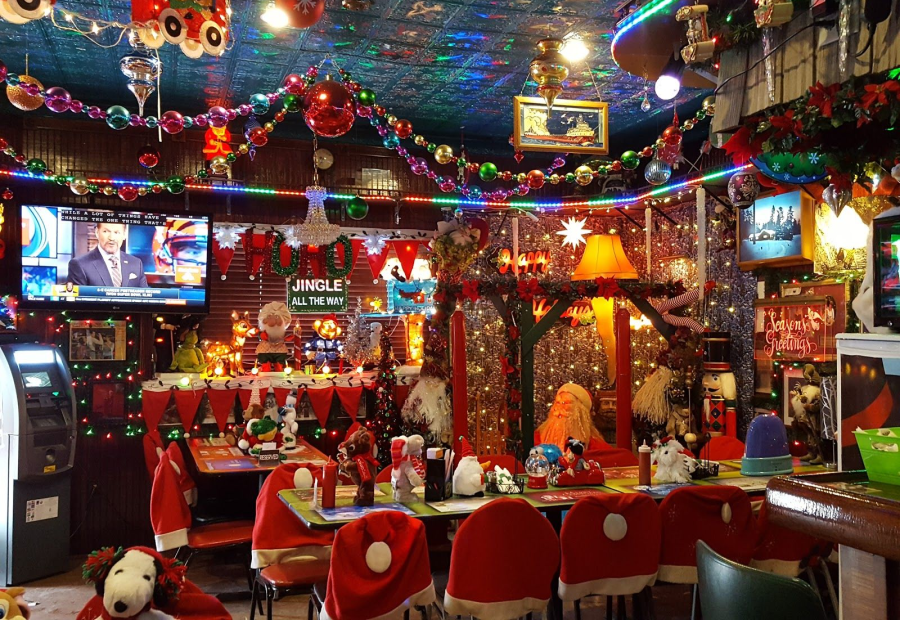 Broadway Bar is always a great dive bar stop, but reservations are strong encouraged during the holiday season.
Photo by Austin Graff (@austinkgraff on Instagram)
Broadway Bar 
The Broadway Bar is a great place just off Bridge Street to stop with friends. You'll find the bar decorated from top to bottom in Christmas decor in the colder months and other holiday decorations year-round. It's also home to the Broadway Burger (and other awesome food options) that are cooked up on the flat top grill right before your eyes behind the bar. 
The Broadway Bar is family-owned and operated. It is a definite must-stop during the holidays and all year long. 
Pro Tip: Call the bar to get your reservations in early for the holidays. Reservations to eat there are made months in advance approaching Christmas and into the New Year.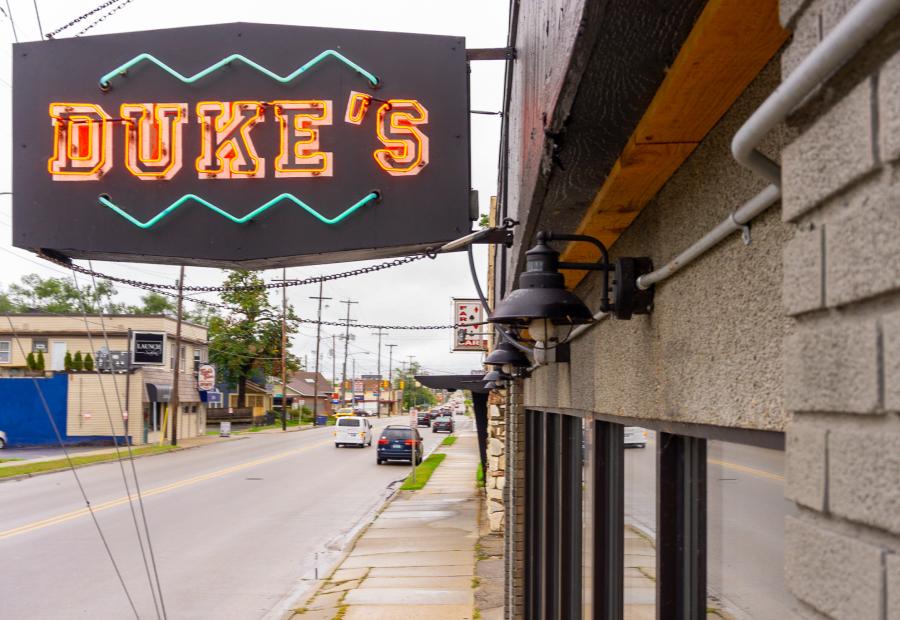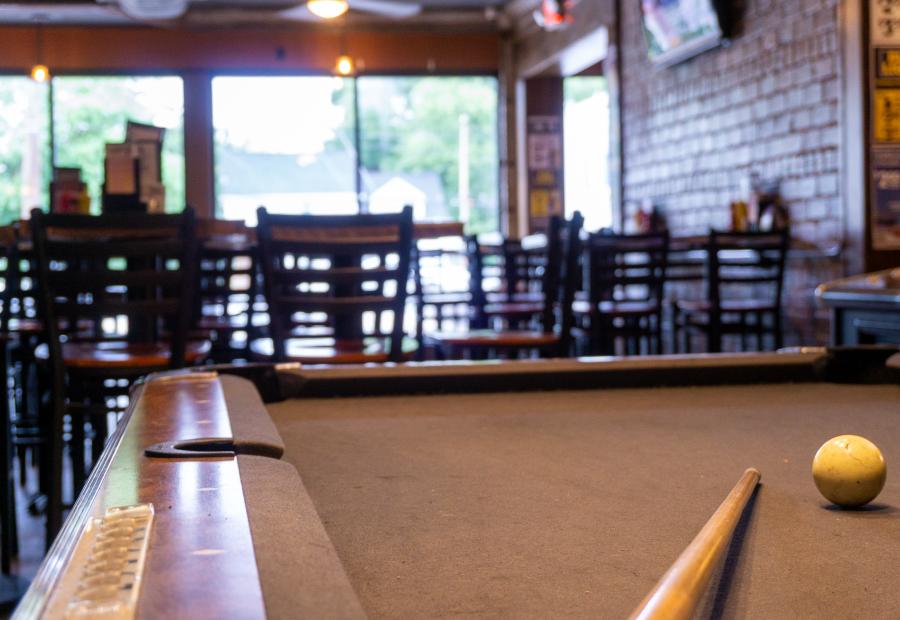 Duke's offers a pool table, 20 beers on tap, and plenty of weekly specials.
Photo by Brian Craig for Experience Grand Rapids
Duke's
A popular Michigan Street bar, Duke's is a great spot to meet for happy hour or a night out later in the evening on weekends. The bar has floor to ceiling windows along the front, a pool table, 20 beers on tap, and lots of munchies that can be ordered from the kitchen. 
At Duke's, regulars are met by friendly staff who remember their names and drinks of choice, and newcomers will be made to feel just as welcome. Duke's offers a variety of specials and puts out impressive bar food every night of the week. Monday–Friday happy hour includes $2 drinks and free pretzels and dip upon request. Be sure to also check out domestic beer specials on weekdays - $1.50 Bush Beer on Tuesdays and $1.50 Miller High Life on Thursdays. 
Pro tip: Show up early if you're planning to catch a game as it gets busy during college football season.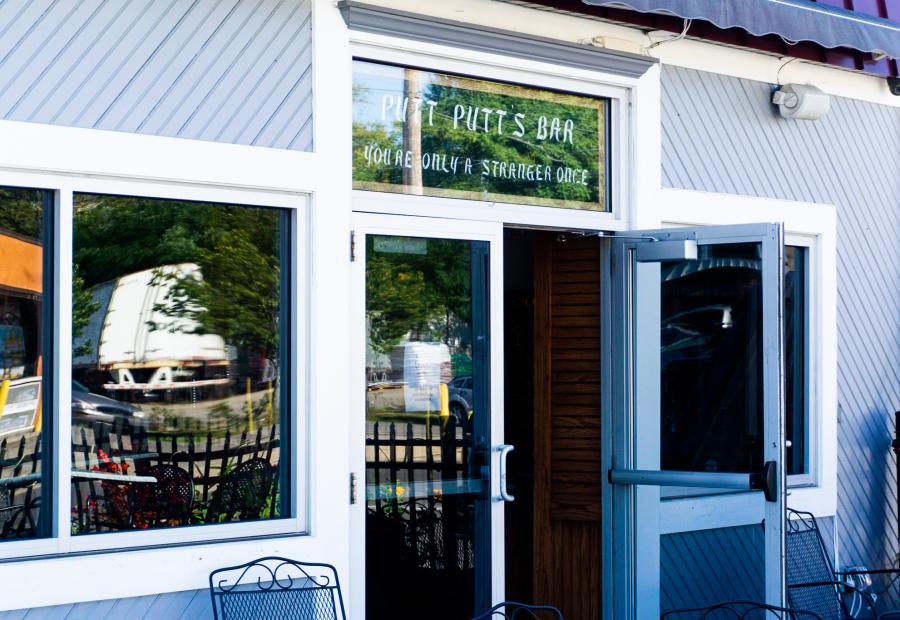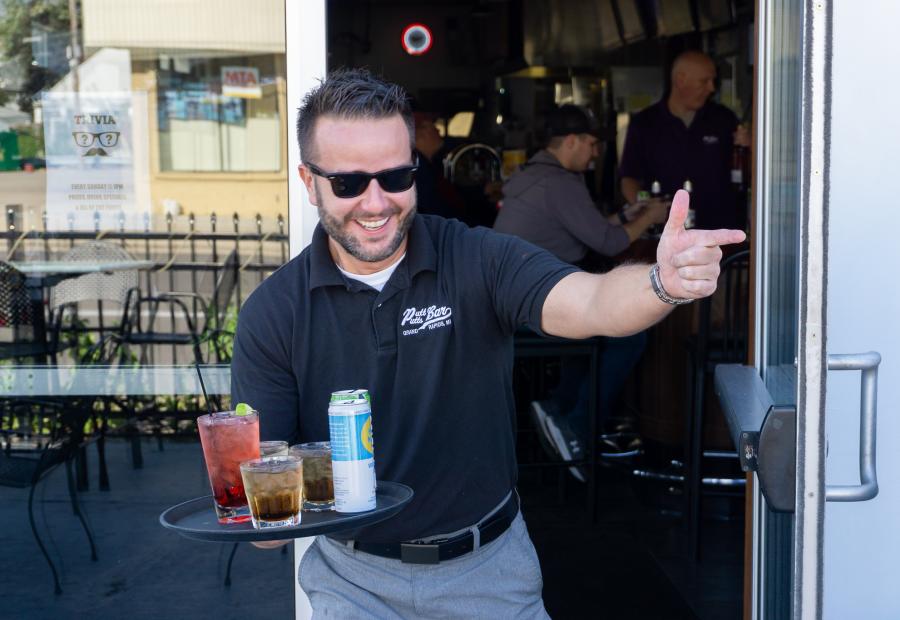 Putt Putt's has a reputation among locals for great bar food and a welcoming atmosphere.
Photo by Brian Craig for Experience Grand Rapids
Flamingo Lounge 
Also known as the "Dirty Bird," the Flamingo Lounge is a go-to spot among karaoke fans on weekends. You'll run into all walks of life at this eclectic bar where you can mix and mingle with a fun-loving crowd and enjoy a cold drink. 
The staff is friendly and packs a fun, outgoing attitude with newcomers. There is a food menu and free popcorn that's always hot and fresh. 
Pro tip: Ask for a tall glass if you're having a cocktail.
Pickwick Tavern
The Pickwick Tavern is one of the oldest bars in Grand Rapids and is in the Uptown neighborhood. It's a great place to grab a beer with friends and take a stroll down memory lane. Much of the interior has not changed in years, and it feels like you're taking a step back in time the minute you walk through the door. 
Regulars congregate for happy hour and watch Jeopardy on most weeknights. Pickwick is a quieter setting that provides a great space to catch up, as well as reasonable drink prices. 
Pro tip: This bar is cash-only, but there is an ATM on site. And if you're in the mood for food, try one of the many other bars and restaurants within walking distance – Brewery Vivant, grove restaurant, Maru Sushi or The Green Well – to name a few.
Putt Putt's Bar
Putt Putt's, or "Putts" as it's affectionately referred to by regulars, is a popular West Side bar that feels like a family-run sports bar. Mirrored beer signs adorn the walls, and there are large tables for groups to gather.
It's often packed for major games and sporting events and is a nice spot to stop if you're hungry as they have a reputation for good bar food. There is a patio along the front of the bar to spend sunny afternoons and watch traffic or listen to your favorite jams on the jukebox. And popcorn is self-serve and always free here too.  
Pro tip: If you're looking to continue the fun elsewhere, Joey's Tavern across the street is also a great option for a local bar with indoor and outdoor seating and a solid food selection. 
Rocky's Bar & Grill
Rocky's is located in the North Monroe Area just north of downtown. It offers burgers and fried food options with a variety of draft beer on tap and a full bar. Happy hour specials every weekday with beer, wine, and liquor specials. 
The second floor has another bar and a dance floor that really amps up on weekend late nights with a DJ, live music, and dancing. Tuesdays are popular for open mic night, and other weeknights often feature pop-up performances by a variety of local talent. There's also a small, cozy patio out back.
Pro tip: If you're looking to check out the neighborhood, try Eastern Kille Distillery or Garage Bar & Grille – both are just a quick walk down the street and have nice selections of food and drinks.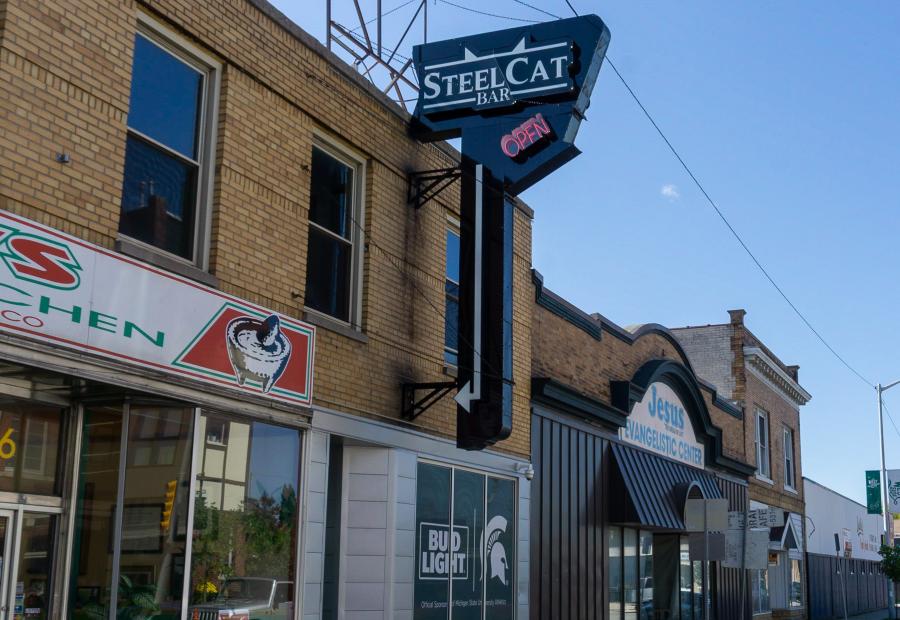 Steel Cat, located on Grand Rapids' West Side, has a unique ice-topped section at the bar to keep your drink frosty cold.
Photo by Brian Craig for Experience Grand Rapids
Steel Cat Bar
Steel Cat Bar's recent remodel may take it out of consideration as a dive bar by some, but it still has its unique (and original!) ice-topped bar that keeps your drinks frosty cold. For that reason – and for the toy dump trucks and front-end loaders to help you build up some ice around your glass, Steel Cat is staying on my list. It is conveniently located on the hustling and bustling West Side and. There are even toy dump trucks and front-end loaders on the ice rail if you feel the need to connect to your inner child. 
A few highlights not to miss include Service Industry Night on Mondays for 40% off, a live DJ on Tuesdays, and an impressive Bloody Mary bar on Saturdays and Sundays. 
Pro tip: Maggie's Kitchen, located next door, has some of the best authentic Mexican food in town. 
A few more of my favorites include:

Bob's Sports Bar, The Iron Well, Logan's Alley, Log Cabin Bar, Mulligan's Pub and Quinn and Tuite's Irish Pub.
And a few reader favorites from my friends and from comments on the original story include:
Our Tavern, The Point Bar, Fulton St. Pub & Grill, The Triangle Bar, Play Station Pub, The Elbow Room Bar & Grill, and Eastown Sports Bar.

Did we miss any others you would have added to the list? Drop a recommendation in the comments section.