Outdoor Dining in Any Season
Grand Rapidians love the outdoors ­ – so much so that local restaurants and breweries have devised ways for us (and our visitors) to dine al fresco throughout the year.
Soak up the summer sun on a lakeside deck. Ward off the fall chill at a beergarden fire pit. Watch the snow fall from inside a transparent dome. Enjoy the gradual spring warm-up on a patio equipped for both cool and warm weather. All while enjoying some of the best food and drink in the nation.
Starting with the Downtown area and moving outward into other neighborhoods and regions, the eateries listed below feature outdoor spaces that can accommodate guests in all four seasons. Many of them first winterized their patios, porches and decks to serve more guests when COVID-19 curbed indoor dining – and these spaces remain excellent options to maximize the health benefits of fresh air and social distancing.
Keep in mind that outdoor spaces may require advance reservations and that operating hours, menu items and ordering procedures are subject to change. Always check a restaurant's website or social media before you go. You can also search these outdoor locations on our Restaurants Page.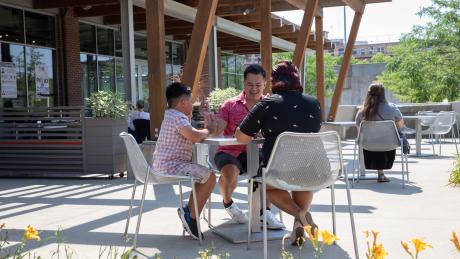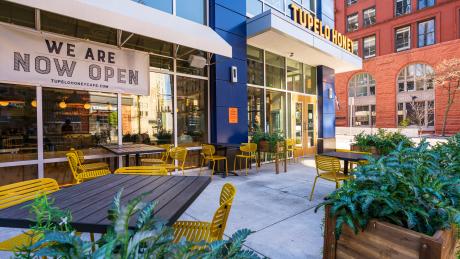 Spacious patios for all weather at Downtown Market Grand Rapids & Tupelo Honey!
Photo Credit: Experience Grand Rapids
---
Downtown
Michigan's longest-running LGBTQ+ bar has created a four-season outdoor space beside artist Joey Salamon's brightly colored "Rainbow Road" street mural outside the front door.
The historic Rowe building is the backdrop for this popular brewery's outdoor space, which fronts Michigan Street at the intersection of Monroe Avenue.
Enjoy a diverse selection of upscale American pub food and 20+ beers on tap right outside the front door of this Monroe Center mainstay.
Cheerful cantina on Monroe Center offers fresh-made enchiladas, margaritas and other Mexican faves on a spacious outdoor patio.
This cross-cultural brewery in the Downtown Refreshment Area offers multiple outdoor seating options, right outside the front door and at the riverside Welcome Center across the street. 
The city's longest-running bar and restaurant (opened in 1927!) has added a partial enclosure above its outdoor patio to make outdoor dining more comfortable in every season.
This pop-up bar at the corner of Monroe Ave. and Pearl St. sells adult beverages that you can enjoy on-site or carry around with you in the Downtown Refreshment Area.
Grab a meal or a snack at any of the Market's 20+ restaurants and gourmet vendors, and enjoy it at an outdoor table as you watch customers stream in and out of the food emporium.
Indulge in premium craft spirits and cocktails at this Monroe North distillery, which has extended its outdoor seating area to accommodate patrons on both sunny days and cool evenings.
The organic, from-scratch breakfast and lunch selections at this North Monroe restaurant taste equally delicious indoors and out.
Treat yourself to authentic Irish hospitality, food and drink in the partially covered dining area outside this enduring downtown eatery.
The outdoor beer garden at the city's largest brewery is open year-round (and heated as necessary), so there's always room for another afficionado of great beer.
The covered patio outside this North Monroe destination is the perfect place to enjoy cold beer, strong drinks and fresh-made food – in any weather.
Explore GRBC'S award-winning beers and a newly reimagined food menu – the chopped steak melts are delish – on outdoor tables along Ionia Avenue.
The outdoor patio at this laid-back lounge is a great place to meet family and friends for food and drinks.
The original HopCat, once named America's Best Brewpub, serves a wide selection of local and global beers at tables right outside the front door. Treat yourself to the Cosmik Fries!
Wine and charcuterie, cocktails and small plates, beer and panini, all available at outdoor tables fronting busy Monroe Center (great for people-watching!).
You need a secret code to get into this year-round balcony bar with great views of downtown GR. (Sign up at the IDC website to get it – just don't tell anyone we told you.)
Enjoy waterfront dining alongside the Grand River at this laid-back French lounge at the JW Marriott ­– the outdoor bar keeps the drinks flowing!
Dine like a VIP on the spacious riverside patio of the celebrity chef's city-center restaurant. First-come, first-serve seating!
Award-winning Mexican restaurant in the Downtown Refreshment Areas welcomes guests to a spacious, partially enclosed patio.
Grab an outdoor table and ready your taste buds for organic espresso and coffee, organic teas, real fruit smoothies and healthy sandwiches with a Central American flair.
This new American tavern at the Studio Park entertainment complex offers outdoor seating with a view of a piazza that hosts live concerts, movies and more.
Outdoor tables provide a cozy spot to enjoy distinctive cheese and charcuterie plates, locally sourced dinner entrées and an exceptional wine list. 
Treat yourself to USDA Prime steaks, succulent seafood, handcrafted cocktails and more, in an elegant outdoor setting overlooking Monroe Avenue.  
The home of America's Best Burger (per GQ Magazine) and other elevated bar foods has supplemented its popular patio with even more streetside seating. 
Choose from a menu of American favorites infused with southwestern flavors, plus artisan cocktails, and enjoy al fresco – morning, noon or night.
The outdoor patio at this upscale coffee, tea and pastry café is heated when needed (the sidewalks are heated too!) and breezily refreshing when not.
This Hyatt Place Hotel restaurant serves seasonal, scratch-made Southern food and libations on the patio outside its front door.
The spacious patio outside this pizzeria and sports lounge is ideal for people-watching while dining.
Longtime downtown gathering spot offers a front-door patio for outdoor dining and serves food until 2 am.
Heritage Hill
This coffee shop  specializes in high-quality beverages, sandwiches and baked goods – ideal fare for al fresco dining.
Medical Mile
The enclosed patio at this neighborhood pub is equipped with a hospital-grade HEPA filter to circulate fresh air around the space.
The sidewalk patio at this Italian ristorante is a great place to enjoy authentic rustic Italian cuisine, signature cocktails and a smartly curated wine list.
The eclectic New American menu at this casual restaurant and pub can be enjoyed in any weather on its stylish and comfortable outdoor patio.
North Quarter
Enjoy global pub food, an extensive selection of beers and a unique menu of wines and handcrafted cocktails on a walled patio.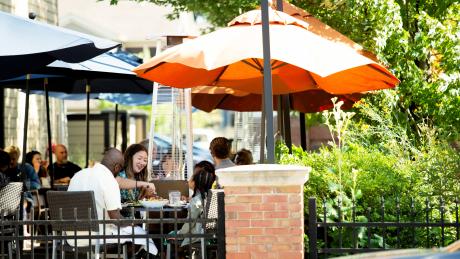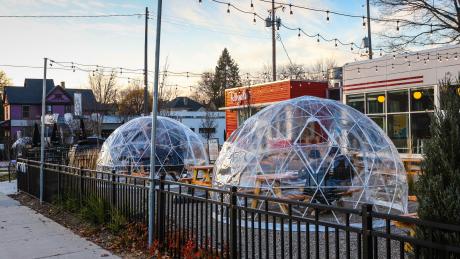 Enjoy patio dining no matter what season or temperature! An open patio at The Green Well or a private dome at Royals GR.
Photo Credit: Experience Grand Rapids
---
Uptown
You can enjoy Michigan farmhouse ales and creative food dishes in the heated beer garden outside the worlds' first LEED-certified microbrewery.
This renovated 1920s neighborhood service station offers ample outdoor seating for guests to enjoy its authentic Mexican fare.
This rustic-industrial brewpub invites you to bring your own food or have it delivered to the fireplace-equipped patio to pair with your Elk pints. There's a small snack menu, too.
The ever-popular patio at this creative, eclectic restaurant has been equipped for comfortable dining in every season.
Great beer, great pizza and a great dog-friendly patio on which to enjoy them – no wonder this brewpub is an Eastown neighborhood favorite.
Iced drinks in warm weather, hot beverages when a chill sets in … Madcap has you covered with outdoor seating and climate-appropriate drinks for every season.
"Coffee always tastes better outside" is the philosophy at this community-based coffee shop – and the proprietors have created a lovely four-season garden space to prove it!
Classic American diner offers scrumptious breakfast and brunch staples plus sandwiches, burgers, hot dogs, salads, shakes and more, all to enjoy indoors or out.
Experience an evolutionary approach to brewing wild beer, wine, hard seltzer and cider on the patio outside this Wealthy Street favorite.
It's always a beautiful day on the patio at this destination pub, which serves seasonal food and drinks sourced from the best local, regional and global suppliers.
Experience a cultural clash of modern European cuisines on the spacious patio at this family-owned restaurant, which also offers abundant beer, wine and cocktail selections.
East Grand Rapids
Located in the Gaslight Village shopping district of East Grand Rapids, Jose offers a unique fusion of Mexican and Polish cuisine, plus a full bar with Michigan beers on tap.
Enjoy a beautiful view of Reeds Lake along with delectable food and drink on the heated patio of this historic East Grand Rapids eatery.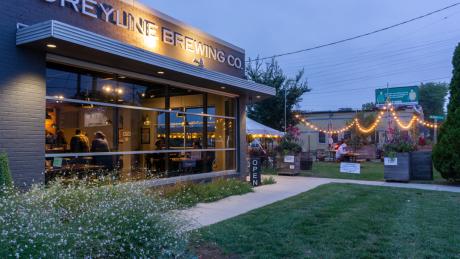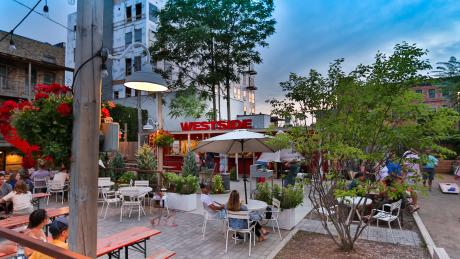 Enjoy a pint outdoors this spring in the fresh air at Greyline Brewing Co. or at The Søvengård.
Photo Credit: Experience Grand Rapids
---
West Side
Outdoor patio tables are available on a first-come, first-serve basis at this Bridge Street Entertainment District destination for ramen, sushi rolls and other Asian-inspired dishes.
Arktos serves its handcrafted meads, or "honey wines," on its Bridge Street patio alongside beer, coffee, slushees and other refreshing drinks.
Right in the heart of the Bridge Street entertainment district, Condado serves its signature build-your-own tacos, nachos and bowls on a spacious back patio.
Head over to the Standale business district for award-winning craft beer and awesome from-scratch food on the front patio.
Savor a modern twist on classic Sicilian cuisine – pizza, pasta, sandwiches and more – on the parking lot patio of this Bridge Street eatery.
Take advantage of the landscaped outdoor setting at this Alpine Avenue brewery to enjoy fresh, small-batch ales al fresco. Bring your own food or order in from local restaurants.
This brewery is in the Downtown Refreshment Area, so you can purchase beers and walk up and down the district. Or just park yourself in front of the open-windowed terrace. 
The outdoor patio and beer garden is a great place to experience the friendly neighborhood appeal of this classic pub with gourmet grub. Live music and karaoke outdoors, too!  
This artisan ale and fun food destination offers outdoor seating for guests to keep an eye on the hustle and bustle of Bridge Street.
Bridge Street crowd-pleaser offers 200+ different whiskies and bourbons, plus beer, wine, cocktails and delectable comfort food, all available on its spacious outdoor patio.
Dig in to an outrageously topped gourmet burger on the streetside patio at this neighborhood pub in the Bridge Street Entertainment District.
In business since 1905, THB offers its trademark "everyone's a regular" service and extensive food and drink selection on a backyard patio & bier garden.
Vintage baseball-themed microbrewery/pizza place serves outdoor guests in "The Outfield" during warm weather and the "Base Camp" (complete with campfires) when it turns cold.
The semi-enclosed garden area at this Bridge Street brewery is a cozy year-round spot to enjoy craft beer, artisan spirits, handcrafted cocktails, wine, cider and seasonal food selections.
Enjoy a delectable assortment of fresh vegan and gluten-free baked goods plus coffee and other craft drinks, on an outdoor patio around the corner from John Ball Zoo.
A spectacular four-season outdoor biergarten is a perfect setting for an extensive menu of hyper-local, seasonal and responsibly sourced food and drink.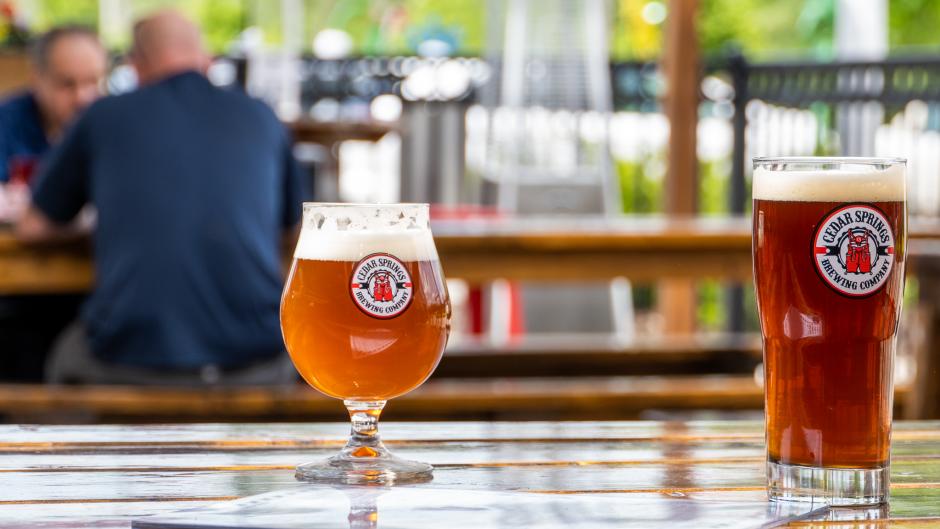 Eat, drink and be merry at Cedar Springs Brewing Company.
Photo Credit: Experience Grand Rapids
---
Northeast
Boasting "the most craft beverage choices in West Michigan," this grain & fruit-to-glass microdistillery offers outdoor games along with its outdoor seating.
There's something scrumptious for everyone on the menu here – and a beautifully landscaped lakeside patio on which to enjoy your selections.
You'll love the food and the view on the four-season lakeside deck of this renovated 1910 beach house near Rockford. 
Sparta brewery offers a covered patio with retractable walls to block the elements and let you focus on the great beer, wine, cocktails and comfort food.
This Alpine-area favorite added heaters to its outdoor deck so it can continue to deliver the fun atmosphere and great service it's known for, even in cold weather.
Ski resort just 20 minutes downtown GR is equipped with a roomy deck for year-round food & drink service, whether or not you ski or hit the zip lines.
Brauhaus/restaurant serves German-influenced, freshly crafted beer and food in its outdoor biergarten.
Dine on the outdoor patio of this neighborhood pub, which offers a large and eclectic comfort-food menu utilizing many Michigan-made products.
Serving Rockford since 1935 with "world-famous" chili dogs, hot dogs, burgers, fried dill pickles, fresh salads and more – the kind of food that tastes great outdoors!
Enjoy handcrafted brews and fresh-made food on the brewery patio – you can practically hear the crack of the baseball bat at nearby LMCU ballpark!
An expansive selection of craft beer and an eclectic variety of food, flavors and scratch dishes are available on the outdoor patio of this restaurant just off I-196 at the East Beltline exit.
Relax on the outdoor patio with Michigan beers and marvelous food – you must try the Cosmik Fries!
Head to the Pux patio to enjoy a creative selection of lip-smacking ciders made with fresh Michigan apples farmed just 20 miles away at the six-generation Shaefer Orchard.
This Creston neighborhood favorite serves shareables, salads, sandwiches, burgers, cocktails and more on its spacious outdoor patio.
Grab an outdoor table, peruse the menu and place your order inside at the bar ­­– they'll bring the beer, snacks, appetizers and entrées to your table.
This rollicking joint keeps the chill summer vibe going all year 'round on its outdoor lakeside patio, complete with palm trees and tiki torches.
Kick back with a delicious meal and great beverage (there are 22 beers on tap) on the outdoor patio at this friendly neighborhood destination.
Sip coffees and other beverages at outdoor tables and chairs, then head inside to browse the store's extensive selection of bicycles and camping gear.
The nature-centric biergarten at this Rockford brewery won second place in an MLive reader poll on Grand Rapids' best outdoor dining destinations.
Choice steaks, fresh fish and wild game are among the culinary delights available on the outdoor patio at this Rockford restaurant.
Enjoy hard ciders, apple wines and a handcrafted menu featuring local products in an outdoor space maximized for your comfort in every season.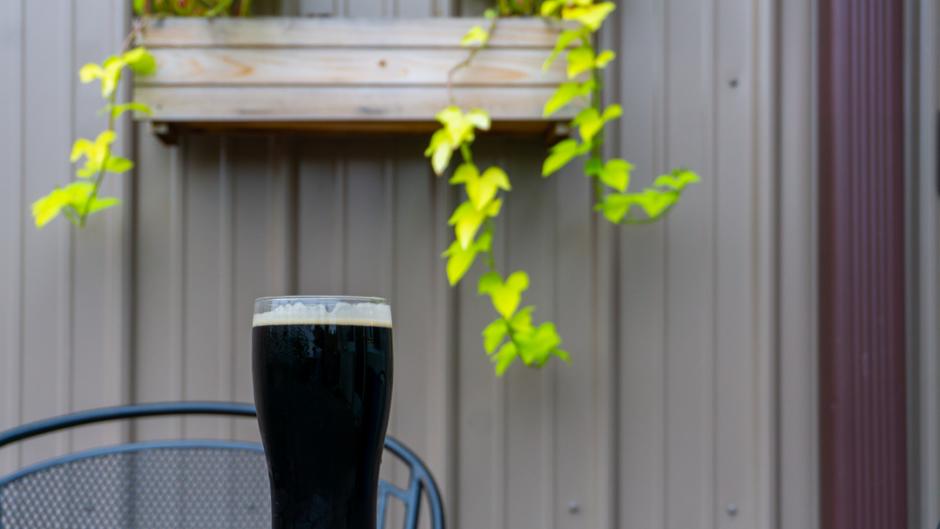 Cheers to patio weather and being outside at Perrin Brewing Co.
Photo Credit: Experience Grand Rapids
---
Northwest
A spacious, shielded-from-the-elements patio provides a perfect showcase for the authentic regional Italian specialties whipped up by local celebrity chef Jenna Arcidiacono and her crew.
The front patio at this small-batch artisan brewery in Walker hosts a regular succession of food trucks in addition to guests craving fresh, high-quality craft beers.
Get a table on the roomy patio at this popular hangout near  Grand Valley State University to peruse the expansive menu and order a decadent drink.
This microbrewery 10 minutes north of downtown Grand Rapids offers 18-25 beers on tap and a delectable assortment of pub grub on its outdoor deck.
This fruit farm-based brewery, winery and cidery offers ample outdoor seating for fresh-air drinking and dining (outdoor concerts, too).
The front patio offers a view of bustling downtown Standale as well as a cozy spot for enjoying great food and cocktails.
Allendale microbrewery has expanded its patio to serve even more outdoor guests with handcrafted beer, cider and seltzer.
Order pizza and pasta on the patio at this fast-casual Italian restaurant. Lots of other Italian and American favorites, too.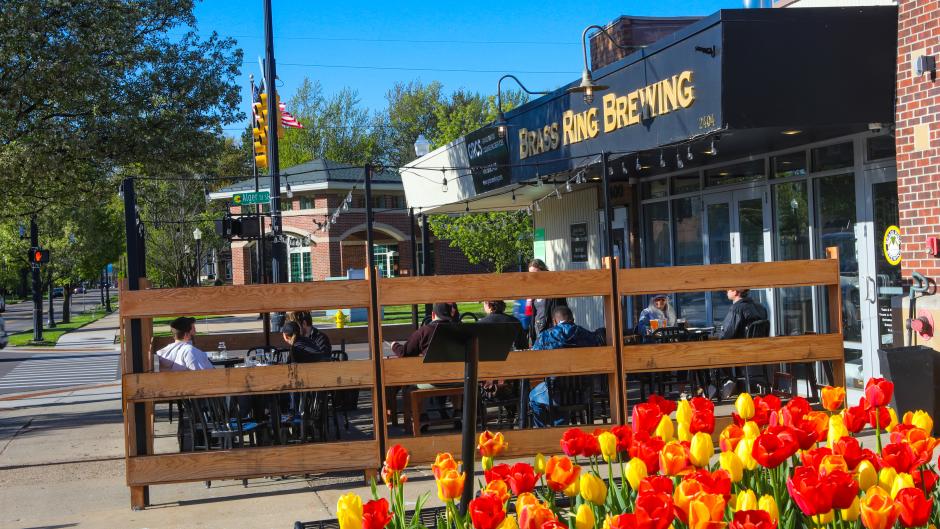 Enjoy the warmer weather in downtown Alger Heights at Brass Ring Brewing.
Photo Credit: Experience Grand Rapids
---
Southeast
Patio umbrellas in the summer, beer shanties in the winter … the third-place winner in an MLive reader poll of GR's best outdoor dining destinations is comfy in any weather.
Explore new and unique flavor combinations in beer, food and spirits on the patio of this modern-American craft brewery and distillery, just off 28th Street in Kentwood.
Savor the flavor of comforting entrées and handcrafted drinks on the award-winning patio of this rustic-chic restaurant.
Ada brewery offers 20 or so beers on tap and a smart selection of pub food (including a kid's menu), all available on the outdoor patio.
This "open-air bar and grille for open-minded people" offers a colorfully decorated outdoor patio along with great burgers and brunch items.
Enjoy sushi, soup, salads and sunshine in the relaxing new outdoor space at this independent grocery and garden retailer with full-service deli.
This brewery shares facilities and outdoor seating with Cascade Winery, so guests can enjoy craft beer, craft cider, pizza, sandwiches and more, all outdoors.
Take a seat on the outdoor patio at this delicious American eatery to get your fill of craveable family cuisine and craft beverages.
The wraparound covered porch at this Ada dining destination is a great place to partake of handmade pastries and desserts, housemade salads and soups, and exceptional coffee drinks.
House-made craft beer, spirits and wine share the menu with homemade pizza and American classics, available in the taproom and on the outdoor patio.
Order pizza and pasta on the patio at this fast-casual Italian restaurant. Lots of other Italian and American favorites, too.
Southwest
The sunny, dog-friendly patio at this Byron Center gathering spot welcomes guests with a taste for ice-cold beer, creative cocktails and delicious comfort food.
The secluded, tree-lined outdoor patio at this Hudsonville destination is a relaxing place to kick back with a luscious handcrafted cider. You can bring your own food!
The sunny, open patio at this Grandville microbrewery and restaurant is a favorite for indulging in house-made beer and cider, homemade pizza and more.
The outdoor seating area at this Hudsonville microbrewery, winery and restaurant is outfitted to keep you comfy in all kinds of weather.
The outdoor patio at this Wyoming brewery is much like the beer and food menu – unpretentious, comfortable and eminently enjoyable.
If we missed your favorite four-season dining destination, let us know in the comments and we'll add it to the list!
Updated June 30, 2021
Never miss a post!
Subscribe to the Insider Experience blog.