Summer in Grand Rapids is glorious: beautiful temperatures, sunny skies, and lots of restaurants with patios that beg you to eat outside. With Grand Rapids' growing food scene and so many restaurants embracing locally-sourced food, there's no shortage of outdoor seating where you can enjoy an innovative and delicious meal while you embrace Michigan's beautiful summer weather.
We recently polled locals on Experience Grand Rapids social media pages to find out which decks and patios people like best. Get ready to feast on everything from authentic Mexican fare to tantalizing Italian cuisine at these fan favorites recommended by our Facebook and Instagram followers.
The Kitchen by Wolfgang Puck patio
Photo Credit: The Kitchen by Wolfgang Puck
---
The Kitchen by Wolfgang Puck
What locals say: "Elegant dining for evening or day right on the river in GR." – Erica Marie Cydzik
The patio tables at this upscale but casual restaurant at the Amway Grand Plaza, Curio Collection by Hilton offer seriously picturesque views for diners. Situated along the scenic Grand River, The Kitchen is a lovely place to enjoy the serenity of the river while you eat downtown. Kick back on a summer evening, order up one of its tasty cocktails, and enjoy a meal from its wide range of menu items. The crab cakes and gourmet pizzas are especially good!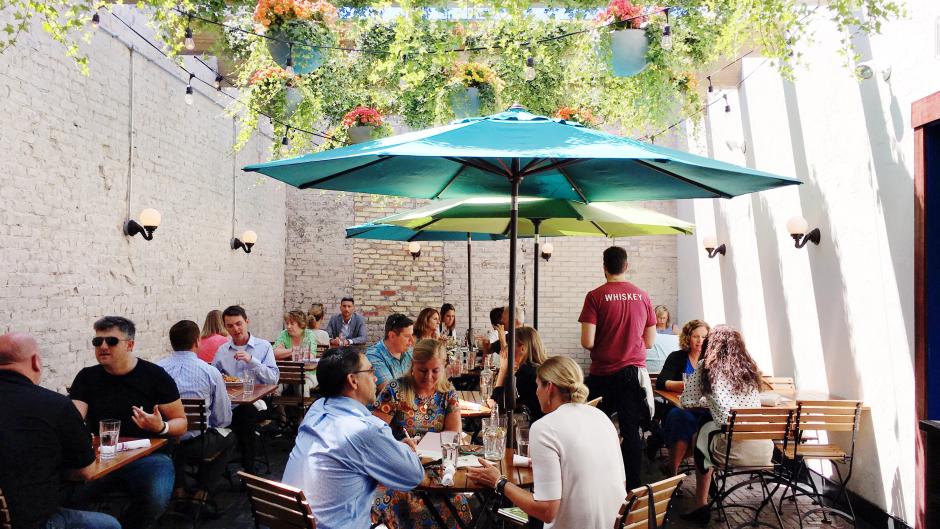 Butcher's Union patio
Photo Credit: Butcher's Union
---
Butcher's Union
In the West Side neighborhood of Grand Rapids, you'll find Butcher's Union – a trendy new restaurant whose bar features more than 100 kinds of whiskey and spirits. But don't just go for the drinks. Butcher's Union's tagline is "Meat & Whiskey," and appetizers like the delicious peppercorn bacon will make you want to try everything on the menu. Consider it a bonus to enjoy the outdoor patio while sampling the outstanding fare!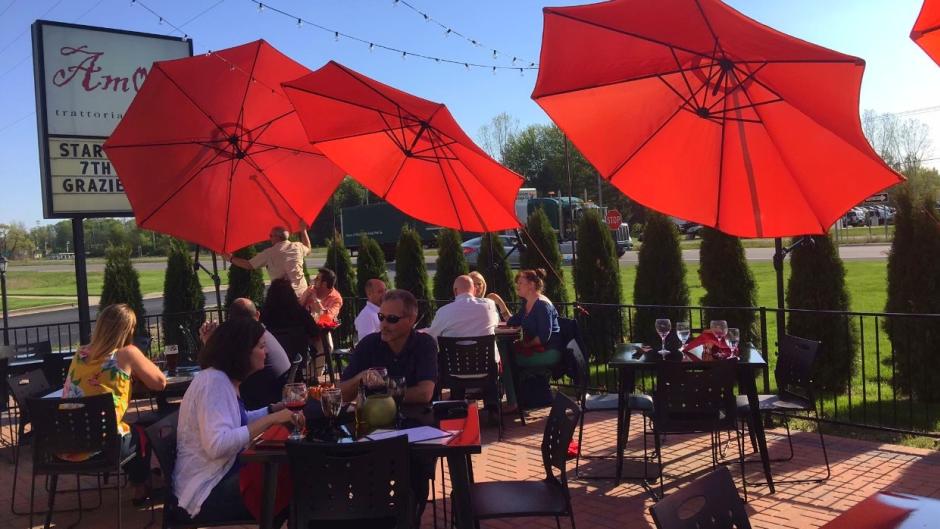 Amore Trattoria Italiana patio
Photo Credit: Amore Trattoria Italiana
---
Amore Trattoria Italiana
What locals say: "Amore has a brand new amazing deck to go with Chef Jenna's amazing food." – Alisha Mary
Award-winning chef, Jenna Arcidiacono, serves authentic, traditional Italian cuisine. She changes her menu seasonally to use as many locally-sourced ingredients as possible, which means you can find new menu items throughout the year. This summer, Amore added a new patio, where you can sip on a glass of Italian wine and savor its mouthwatering dishes like hand-rolled gnocchi or involtini (thinly breaded eggplant stuffed with four cheese and baked with tomato sauce and mozzarella). Cap off your meal with a classic Italian dessert, and you'll think you've been transported to Italy (or heaven)!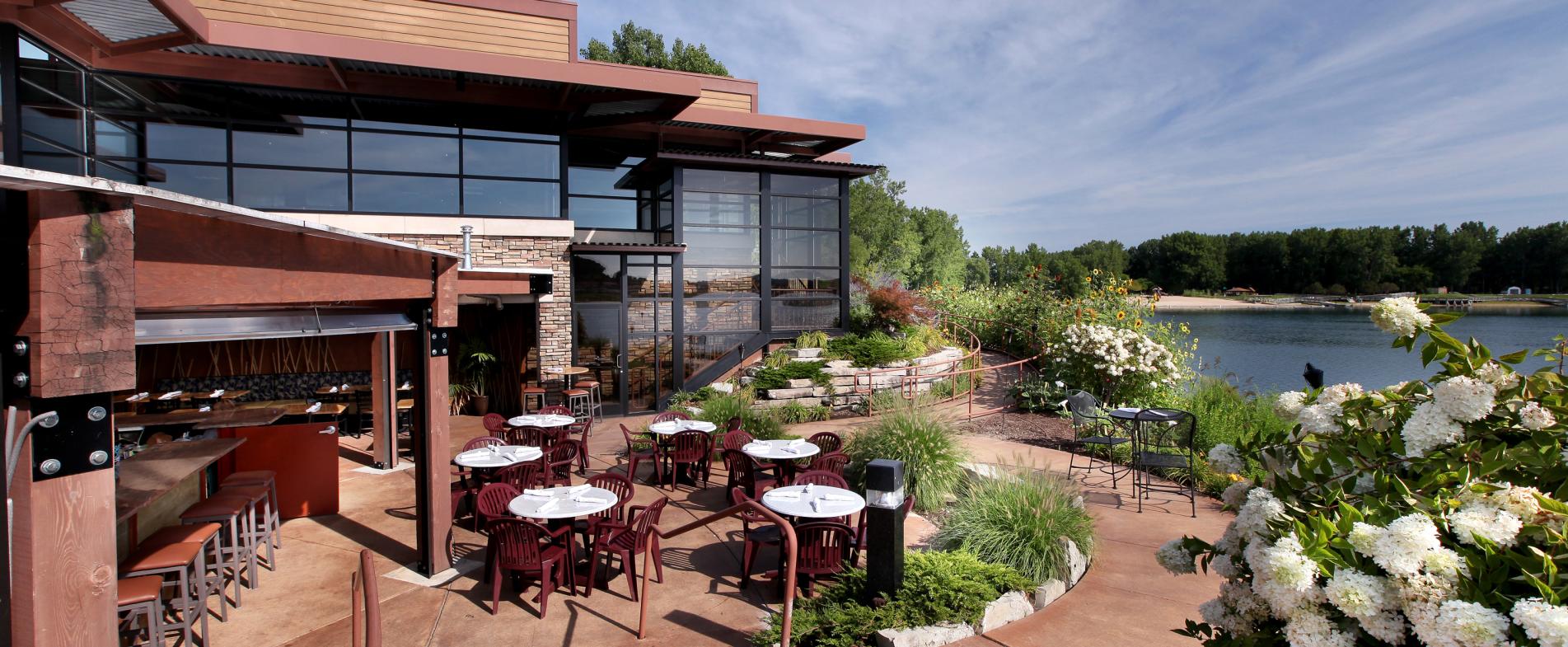 Blue Water Grille patio
Photo Credit: The Gilmore Collection
Blue Water Grill
What locals say: "Blue Water Grill! My aunt lives on that lake and it's beautiful. It's man-made with no gas-powered boats and very clean." – Seanna VanTil
At Blue Water Grill, located on the north side of Grand Rapids, the outdoor decks are a peaceful haven overlooking Versluis Lake. Focused on serving delicious and healthy fare, Blue Water Grill features produce grown in its own lakeside garden or at other West Michigan farms. You'll find plenty of healthy choices on the menu including a beet and goat cheese salad and mahi-mahi tacos - one of my personal favorites!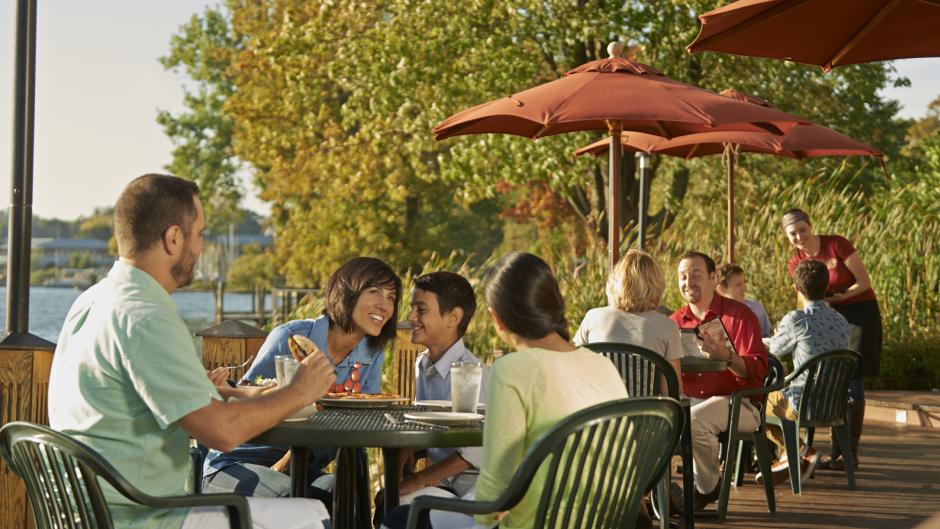 Roses on Reeds Lake patio
Photo Credit: Experience Grand Rapids
---
Rose's on Reeds Lake
What locals say: "Rose's in East Grand Rapids is an oasis in the middle of the city." – Lauren Johnson
With a deck that overlooks beautiful Reeds Lake, Rose's in East Grand Rapids is an annual summertime favorite for outdoor eating. Its menu offers something for everyone from a delicious grilled mahi-mahi sandwich to its sesame seared yellowfin tuna to pizza that just about everyone loves. If the weather's a little dicey, Rose's also has a three-season covered porch that still gives you the feeling of eating outside without any weather worries!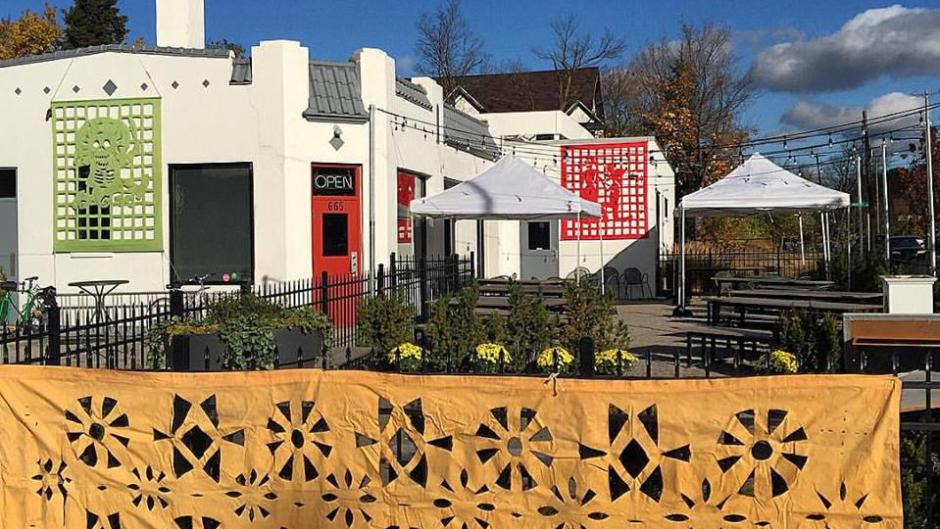 Donkey Taqueria patio
Photo Credit: Donkey Taqueria
---
Donkey Taquería
What locals say: "Donkey Taquería's outside space is fun and communal." – Lauren Johnson
If Mexican fare like an assortment of tacos, homemade guacamole, and churros is what you're after, check out Donkey Taquería. This Wealthy Street neighborhood hot spot is located in a former service station from the 1920s, allowing the restaurant to open its large garage-style doors once the weather warms up. In addition to scrumptious food, Donkey also carries over 130 varieties of tequila, as well as beer and other spirits, that you can enjoy on the patio.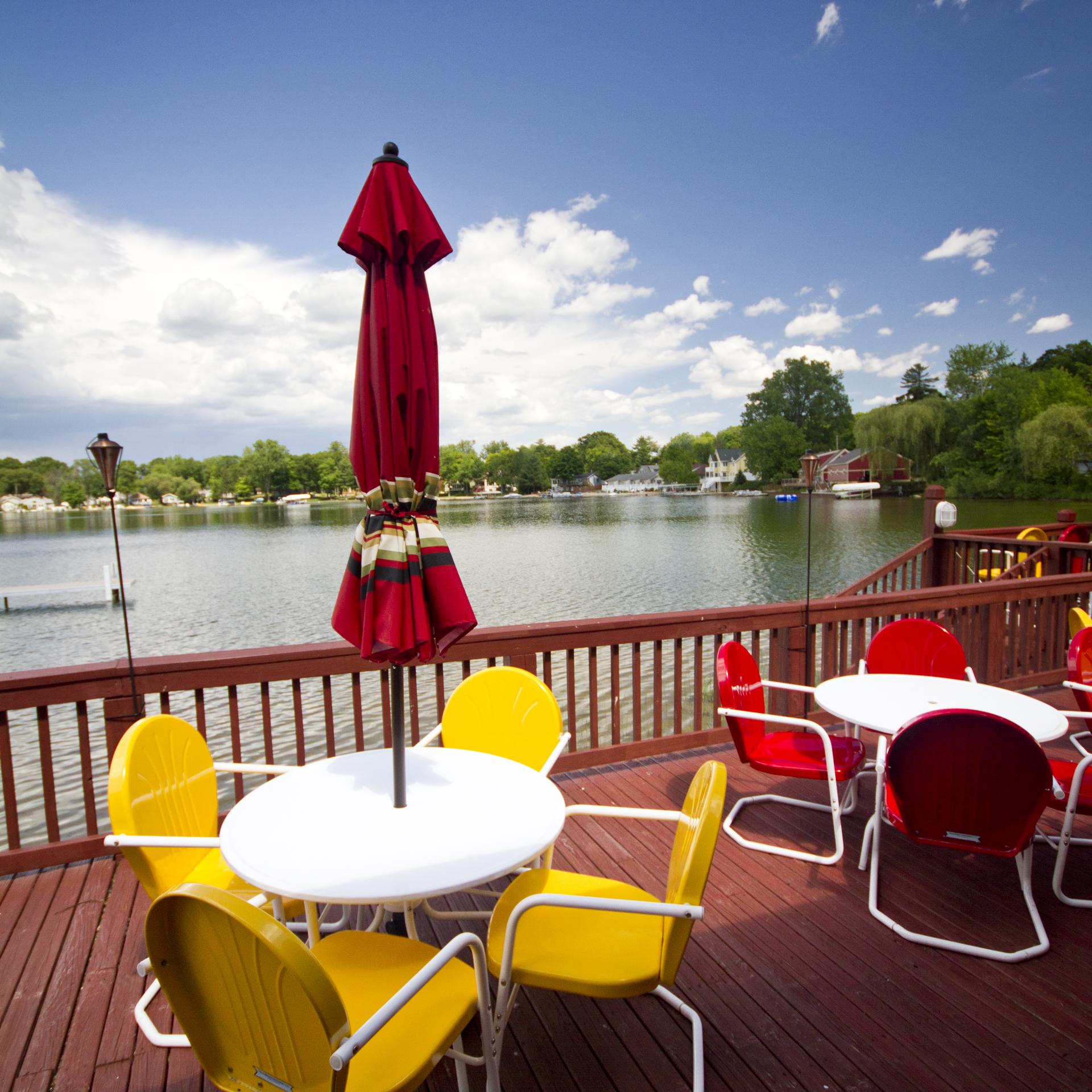 This gorgeous deck at Bostwick Lake Inn received tons of votes in our social media poll!
Photo Credit: Gilmore Collection
The Score
What locals say: "When you're there, you feel like you're on vacation in a tropical paradise." – Angela Hodges
With tables in the sand, palm trees, a view of the water, and volleyball courts, The Score is a sports bar that offers a remarkably beach-like outdoor setting right on Northland Drive. The vibe is fun and the food is good – it makes everything fresh and smokes its barbecue on-site. The Score also has over 100 craft beers on tap as well as beach resort cocktails like piña coladas and hurricanes. It's a fantastic place to enjoy outdoor eating when you wish you could be at the beach.
Bostwick Lake Inn
Bostwick Lake Inn has a comfortable, large deck nestled on the shores of Bostwick Lake, just outside of Rockford. The Inn has a lodge-like feel that pays homage to its history as a boathouse, tavern, and restaurant. Its deck is a divine place to relax and enjoy the view and a meal from the scrumptious summer brunch. If you go for dinner, don't miss the truffle fries!
The following restaurants are also worth noting as local favorites:
Make plans to visit more than one – it's the perfect time to enjoy a meal on an awesome outdoor patio and try something new!
Don't ever miss a post!
Sign-up for the Insider Experience Blog