It's wintertime here in the Mitten state which means there are new activities to experience in the Grand Rapids area. As someone that grew up in California, I'm still utterly fascinated that there are different activities based on the season. With that perspective, I had a lot of fun pulling together a variety of indoor and outdoor activities that you and the whole family can enjoy this winter.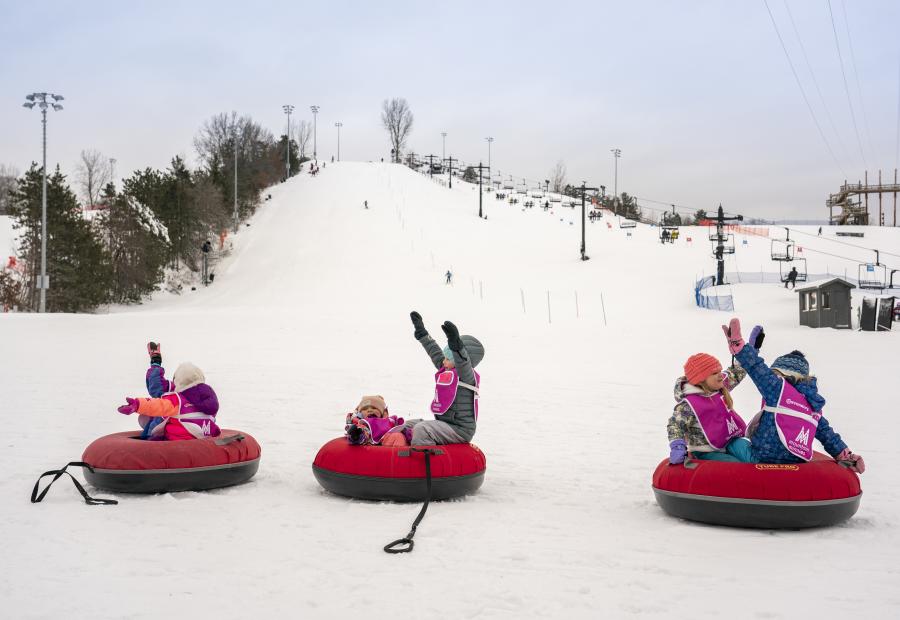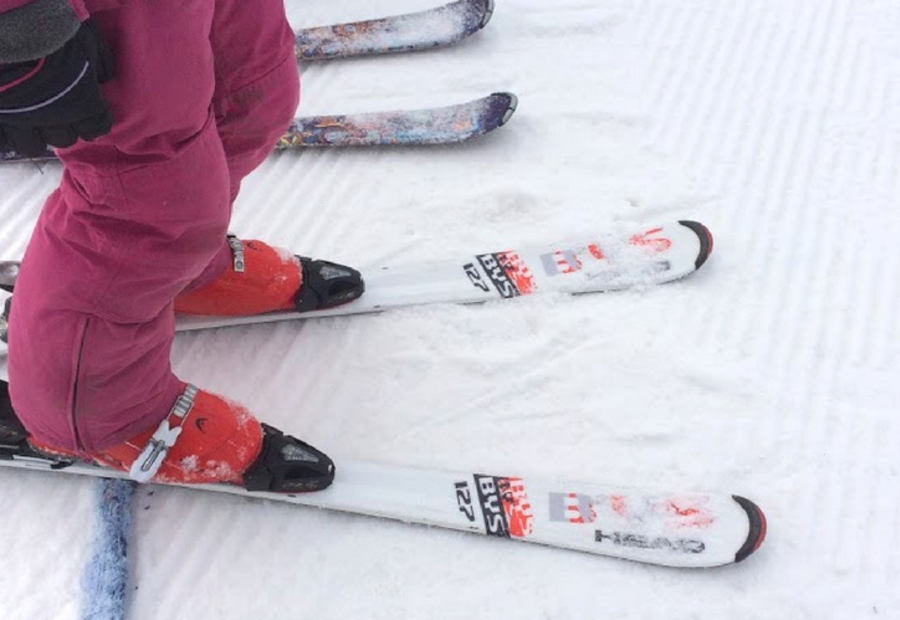 Cannonsburg Ski Resort offers a variety of outdoor activities to enjoy during the winter, including downhill skiing and snowboarding, cross country skiing, and tubing.
Photo by Experience Grand Rapids
Tubing at Cannonsburg Ski Area
When: Right Now
If it's been years since the last time you went tubing, you're in luck because this winter activity is kind of a big deal at Cannonsburg Ski Area. Located in Belmont, just 16 miles northeast of downtown Grand Rapids, the Cannonsburg Ski Area has a tubing hill that's so big it's actually considered the largest tubing facility in the state. The "Snowcoaster", as it's affectionately called, is more than just a big hill though. It's a beloved winter destination that features tubing lanes and a "magic carpet" conveyor belt that will bring both you and your tube back to the top of the hill.
A tubing pass is $20 per person on weekdays and $25 per person on the weekend and holidays. Passes are good for two hours worth of fun. For more information, or to purchase a ticket, visit their website.
Not interested in tubing? You're in luck! The Cannonsburg Ski Area also offers regular winter sports such as skiing and snowboarding. The trails are also open for fat biking, cross-country skiing, or snowshoeing.
Ice Skating at Rosa Parks
When: Now through February 26
Located right in the heart of downtown Grand Rapids is a beautiful gem called Rosa Parks Circle. During the warmer months, it serves as an outside multi-purpose event venue, but in the winter it transforms into the Rosa Parks Circle Ice Rink. The ice rink is open every day of the week from morning until evening. If you go in the evening, you'll love all of the twinkle lights strung around the trees surrounding the rink!
Admission to the rink is very friendly on the wallet. Adults are $4 while kids 17 and under are $2. There are free skate rentals with each admission too! Skates are available first come, first served, or you may bring your own skates if you like.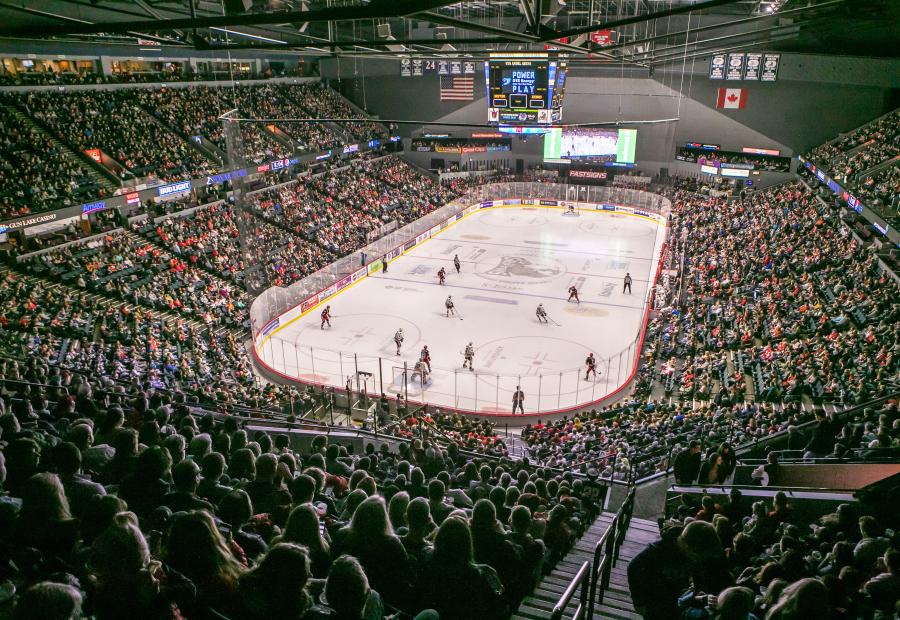 Inside a Griffins Hockey game at Van Andel Arena, 2018.
Photo by Sam Iannamico / Grand Rapids Griffins
Cheer on the Grand Rapids Griffins
When: Their season goes on now through the end of April. Here is their 2022-2023 schedule.
If you enjoy hockey, head on over to the Van Andel Arena for a Grand Rapids Griffins game. The Griffins are the American Hockey League affiliate of the Detroit Red Wings and while they may technically be a minor league hockey team, there is nothing minor about them.
While the games are fun in their own right,  every other week or so the league loves to put on special promotions that includes giveaways, fun themes, deals on food, and more. Here's a list of the upcoming promo nights.
January 21 - Grateful Dead Tribute Night
February 11 - Princess Night
February 25 - Hispanic Heritage Night
March 4 - Star Wars Night
March 10 - 11th Annual Purple Community Game
March 11 - Margaritaville Night
March 19 - Jake Engel Memorial Dog Game
April 14- Fan Appreciation Night
Tickets range from $17 - $50  and can be purchased at Van Andel Arena or online.
Disney On Ice
When: February 2 - 5, 2023
It's time to party, Disney style, at the Van Andel Arena in early February. That's because Mickey and friends are bringing Disney on Ice to Grand Rapids. When I attended last year, I counted more than 50 iconic Disney characters, singing, dancing, and skating their way through familiar Disney stories. I honestly don't know what was more fun; watching the show or watching my 2 and 4-year-old daughters absolutely loving their favorite Disney characters come to life.
We got to watch Timon and Pumba share their "no worries" motto, sang along with Anna and Elsa, and clapped along to all the Disney princesses showing off their dance moves. The magical performance also featured a light show, falling snowflakes, and fire!
Tickets for Disney on Ice range anywhere from $15 to $120. The shows are nightly at 7:00 pm, February 2 - 5 with a few mid-morning and matinee performances on February 4 and 5.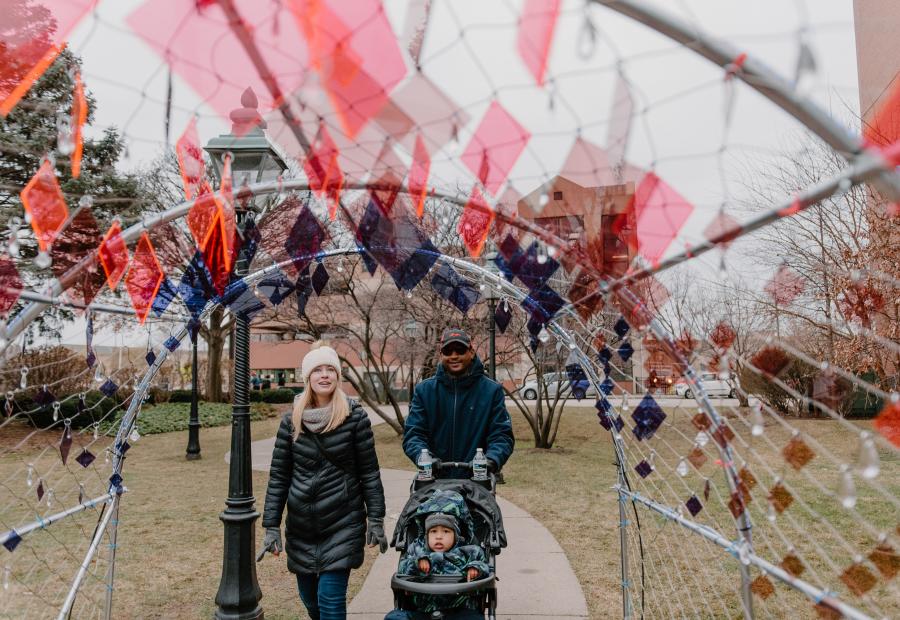 World of Winter features an ever-changing lineup of events and art installations. Passage of Shadow and Light by Laura Kloosterman.
World of Winter
When: Now through March 5, 2023
The World of Winter, now dubbed the largest winter festival in the Midwest, is a two-month long festival that spans across the whole city of Grand Rapids. There are over 100 free events that showcase amazing outdoor interactive art installations and unique events like concerts, scavenger hunts, tours, food trucks, and more. With so many different and unique opportunities, there's literally something for everyone in the family to enjoy.
One of the many fun events you can experience during the World of Winter is the Silent Disco on February 4. All guests at the disco wear wireless headphones and tune into the music channel of their choice, resulting in a giant silent dance party. There's also the Great Lakes Snow Snake Competition on February 5. Snow Snake is a sport invented by Native Americans over 500 years ago. To play, you create a snow snake out of wood and then see who can throw in the furthest down trough made in the snow.
For a full list of events and offerings, visit the World of Winter website.
Grand Rapids Boat Show
When: February 15 - 19, 2023
Now in its 78th year, the Grand Rapids Boat Show is the perfect way to start summer dreaming. This year's boat show, at DeVos Place Convention Center, is the largest one yet, covering five acres of space and showcasing hundreds of boats from top manufacturers like MasterCraft, Stingray, Yamaha, Cobalt, and more.
Regardless if you plan on buying a boat, it's a fun event to attend. I go yearly as a way to get out of the house and do some window shopping by climbing aboard some of the season's newest and highly anticipated boats. Afterwards, I always grab some food at the Key West Crab Shack and then go watch Twiggy the Waterskiing Squirrel with my kids.
Tickets to the Grand Rapids Boat Show are $12 for adults, $5 for kids ages 6-14, and free for kids five years old and under. Tickets can be purchased online, or at the DeVos Place ticket window.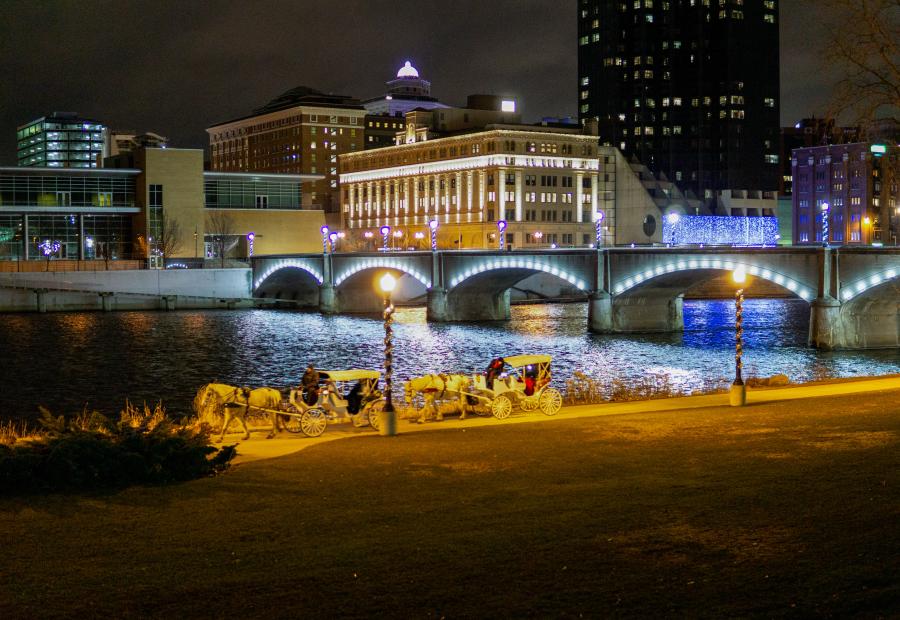 Take the fam on a carriage ride while touring the lights and sights of downtown Grand Rapids.
Photo by Russ Climie of Tiberius Images
Downtown Grand Rapids Carriage Ride
When: Friday and Saturday evenings
Have you ever wanted to ride in a horse-drawn carriage while you're bundled up and the snow softly falls around you? Well, that's entirely possible thanks to Classic Carriage. On Friday and Saturday evenings, Classic Carriage offers rides in their beautiful, white, Vis-a`-Vis carriage, which seats four adults. You can choose to have a guided tour, or just relax and chat with your group.
While the carriage can be found at the southwest corner of Pearl and Monroe, carriage services are also available to and from most downtown area hotels, restaurants, bars, and other attractions. You'll just have to call Classic Carriage to set that up. When catching the carriage at the corner of Pearl and Monroe, walk-ups are normally welcome, but reservations are highly recommended this time of year. Thirty-minute carriage rides are $60 and $90 for an hour.
Muskegon Luge Adventure Sports Park
When: Year-round
Outdoor winter enthusiasts will definitely want to stop at the Muskegon Luge Adventure Sports Park this winter. The sports park is just 50 minutes outside of Grand Rapids, making for an easy destination to travel to. As the name implies, one of the activities available at the park is the luge track. It is one of only four luge tracks in the US and was designed by three-time Olympian Frank Masley. The luge at the park is 850 feet long, has six different curves to it, and features speeds up to 30 miles per hour, making for an Olympic thrill for all lugers.
If you're into more traditional winter activities, the sports complex also offers cross-country skiing, snowshoeing, and ice skating. The ski trail features over 15 kilometers worth of beautifully groomed trails to explore while the snowshoe trail has just over eight kilometers. As for ice skating, there's the option of hitting the traditional rink that covers over two acres of space or gliding through the one-of-a-kind, quarter mile ice skating trail that winds through a white pine forest.
Depending on what winter activity you want to take on, prices will vary. Equipment rentals are also available.