Winter is here and yes, while it is cold outside, it's a season that ushers in a brand new bunch of fun, unique activities to the Grand Rapids area. As a former California resident, I never thought I'd say I love wintertime, but with all the awesome activities and events to do here in Grand Rapids, I actually do love spending time outdoors and in the snow. I've collected some of my favorite wintertime activities featuring family fun. You'll find suggestions on outdoor events, indoor performances, and opportunities for seasonal winter fun in America's high five.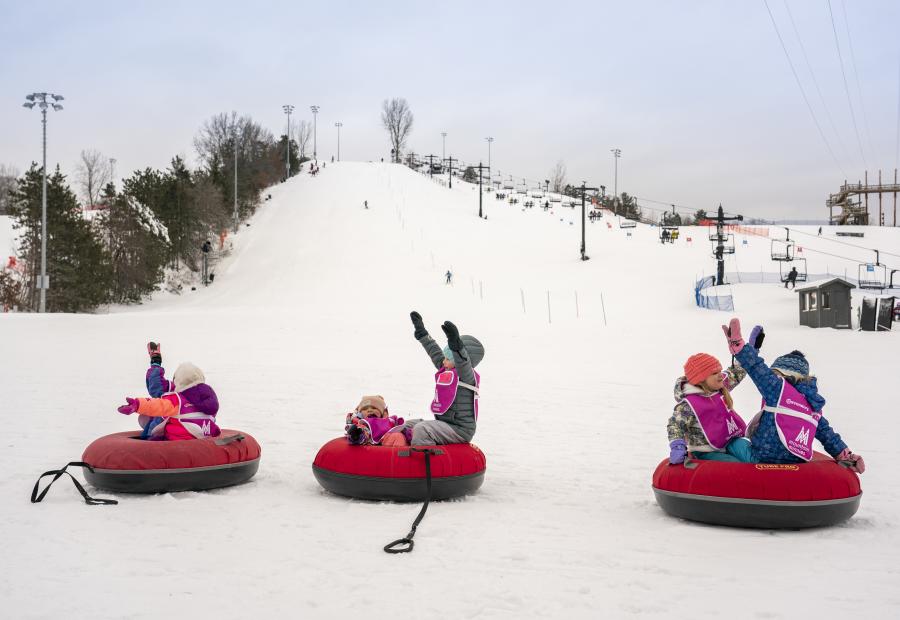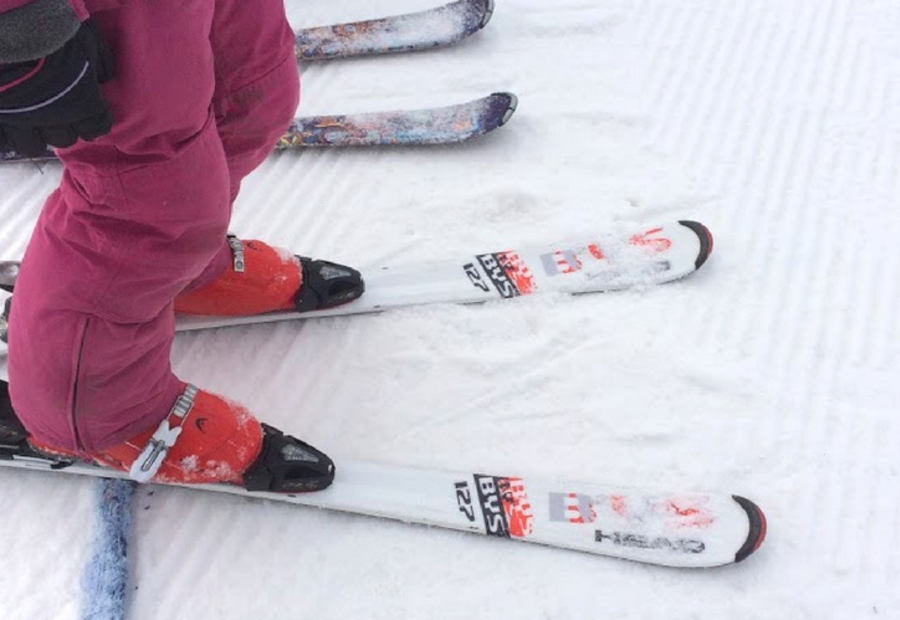 Cannonsburg Ski Resort offers a variety of outdoor activities to enjoy during the winter, including downhill skiing and snowboarding, cross country skiing, and tubing.
Photo by Experience Grand Rapids
Tubing at Cannonsburg Ski Area
When: Cannonburg's winter season starts January 8. 
Tubing isn't just for kids, making it a great activity for the whole fam. You can let loose on the slopes of Cannonsburg Ski Area in Belmont, located 16 miles northeast of downtown Grand Rapids. Cannonsburg's tubing hill, dubbed the "Snowcoaster," is the largest tubing facility in the state! It also has a "magic carpet" conveyor belt that will bring both you and your tube back to the top of the hill as quickly as possible to ensure you get maximum laps.
A tubing pass is $18 per person on weekdays and $23 per person on the weekend and holidays. Passes are good for two hours worth of fun. For more information, or to purchase a ticket, visit their website.
Also, if tubing isn't your forte, Cannonsburg also offers regular winter sports such as skiing and snowboarding. The trails are also open for fat biking, cross country skiing, or snowshoeing.
Winter Weekends at Wildwood
When: Select Saturdays through March
Just 20 miles northeast of Grand Rapids is Alto where Wildwood Family Farms embrace all things winter this time of year. On select Saturdays throughout the winter, the family owned farm hosts something called Winter Weekends at Wildwood. The free, all day event features food trucks, a beer garden with fire pits to sit around, a hot cocoa bar, coffee, and live music.
Want to get a little adventurous? You're invited to build a snow fort, throw snowballs, or bring some cross country skis to explore the property. This laid-back, family friendly event is a fun and unique way to enjoy the winter weather on a farm.
Dates for Winter Weekends at Wildwood include January 22, February 5 and 19, and March 5.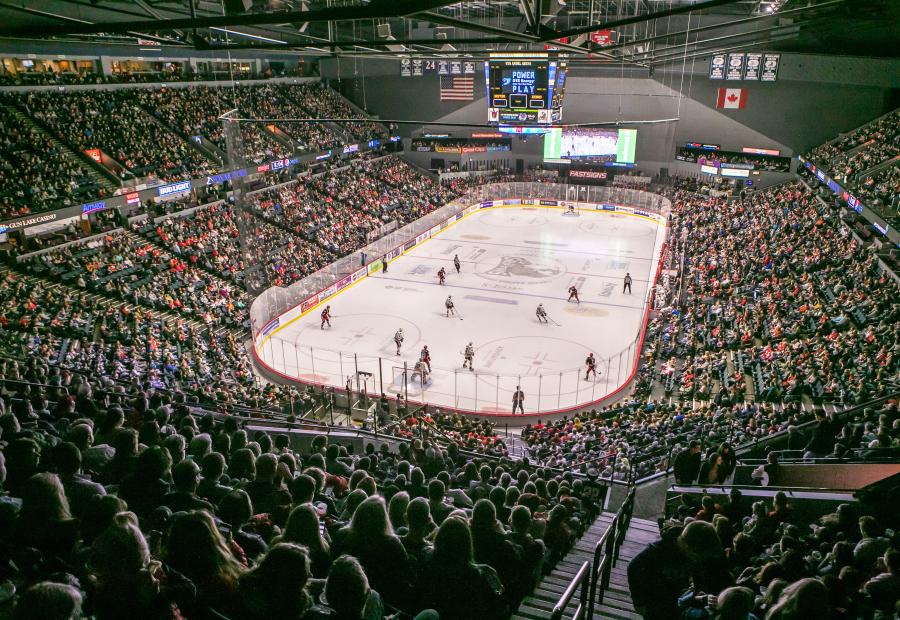 Inside a Griffins Hockey game at Van Andel Arena, 2018.
Photo by Sam Iannamico / Grand Rapids Griffins
Cheer on the Grand Rapids Griffins
When: Their season goes on now through end of April. Here is their 2021-2022 Schedule
If you enjoy hockey, cheer on the Grand Rapids Griffins at Van Andel Arena. The Griffins are the American Hockey League affiliate of the Detroit Red Wings and while they may technically be a minor league hockey team, there is nothing minor about them.
The games are just pure fun on their own, but every other week or so the league loves to put on special promotions that includes giveaways, fun themes, deals on food, and more. Here's a list of the upcoming promo nights.
January 22 - Mighty Griff's Night
February 5 - Princess Night
February 19 - 90's Night
February 26 - Hockey without Barriers/Sensory Friendly Game
March 5 - Star Wars Night
March 18 - 10th Annual Purple Community Game
April 2 - Margaritaville Night
April 22 - Fan Appreciation Night
Tickets range from $14 to $37 and can be purchased at Van Andel Arena or online.
Disney On Ice
When: February 10 - 13, 2022
Mickey and friends are making a stop in Grand Rapids at the Van Andel Arena for Disney on Ice! The show is a fun-filled adventure for the whole family. Not only will Mickey, Minnie, Donald, and Pluto be there, but characters from other popular Disney films will be in attendance.
Watch as Maui and Moana take on a tropical adventure, hang out with Buzz Lightyear and Woody from Toy Story, and sing along with Anna and Elsa. All the Disney princesses will be there too. And while the show is called Disney on Ice, characters will be taking flight all around you as well. This magical performance will entertain everyone, no matter who your favorite Disney character is.
Tickets for Disney on Ice range anywhere from $15 to $95. The shows are nightly at 7:00 pm on February 10, 11, and 12, with a few mid-morning and matinee performances on February 12 and 13.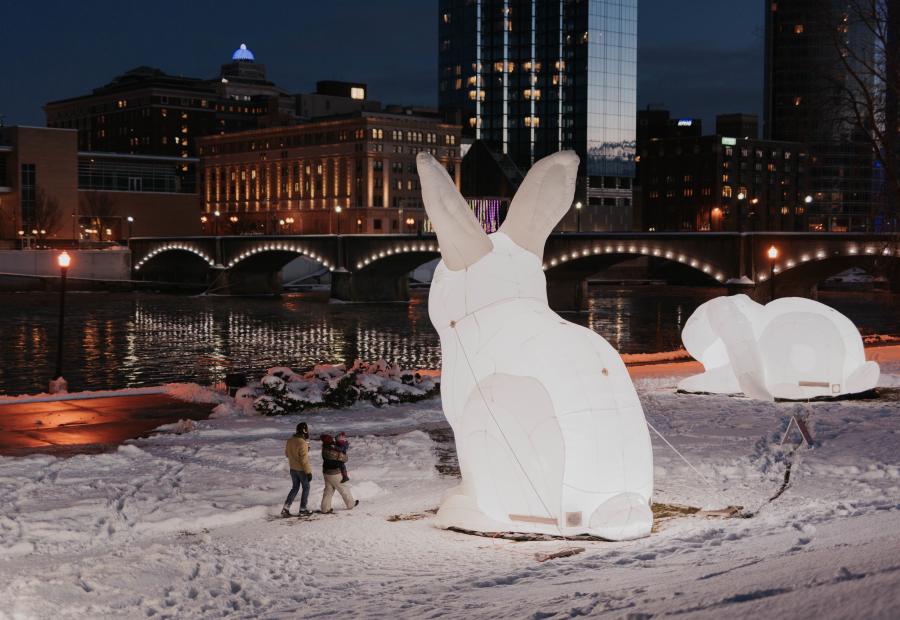 World of Winter features an ever-changing lineup of events and art installations. Intrude by Parer Studio.
World of Winter
When: Now through March 6, 2022
The World of Winter is a city-wide festival, showcasing amazing outdoor interactive art installations and unique events like concerts, scavenger hunts, and more. Everything the World of Winter has to offer is geared for people of all ages and is also free to attend.
You will not want to miss the art available during the festival since the majority of the installations are from artists around the world! Submergence, for example, is a walk-through experience created by a group in the United Kingdom. The installation uses thousands of individual points of suspended light, which will be hung on the Gillette Bridge downtown. The Light Maze is another light-based art piece, designed by an artist in Germany. The maze is a fun and immersive experience best experienced at night.
For a full list of art pieces and events, visit the World of Winter website.
Grand Rapids Boat Show
When: February 16 - 20, 2022
Now in it's 77th year, the Grand Rapids Boat Show is the perfect way to start planning and dreaming about warm weather ahead. The boat show is at DeVos Place Convention Center and showcases hundreds of boats from top manufacturers like MasterCraft, Stingray, Yamaha, Cobalt, and more.
The boat show is for everyone, regardless if you plan on buying a watercraft or not. I attend the boat show yearly as a way to get out of the house, and have the opportunity to climb aboard some of the season's newest and highly anticipated boats. A person can dream, right?
There's more than just looking at boats when it comes to the Grand Rapids Boat Show. After grabbing some grub at the Key West Crab Shack, you can literally suit up and take a dive in the Great Lakes Dive Locker or watch Twiggy the Waterskiing Squirrel.
Tickets to the Grand Rapids Boat Show are $12 for adults, $5 for kids ages 6-14, and free for kids 5 years old and under. Tickets can be purchased online, or at the DeVos Place ticket window.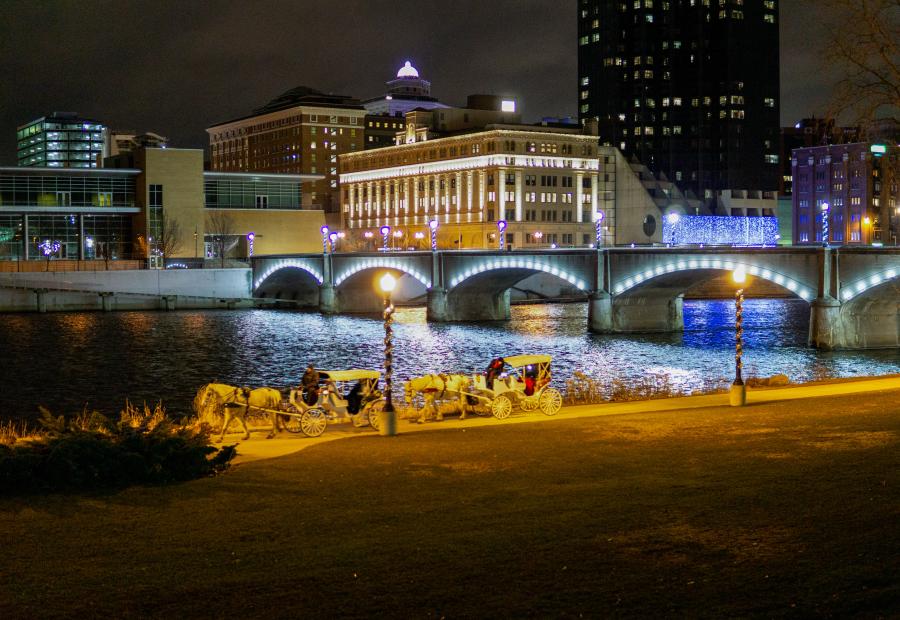 Take the fam on a carriage ride while touring the lights and sights of downtown Grand Rapids.
Photo by Russ Climie of Tiberius Images
Downtown Grand Rapids Carriage Ride
When: Friday and Saturday evenings
Starting at 7 PM on Friday or Saturday evenings you can take a horse-drawn carriage ride throughout downtown Grand Rapids thanks to Classic Carriage.
While you're being driven around town, you can choose to have a guided tour, or just relax and chat with friends and/or family in your group. If it snows during your carriage ride, no worries! The carriage has a convertible canopy and side curtains so you can watch the softly falling snow while shielded from the elements. You're invited to bring a blanket to add to the coziness of it all.
Carriage services are also available to and from most downtown area hotels, restaurants, bars, and other attractions.
The beautiful four-person carriage and its horses can be found at the southwest corner of Pearl and Monroe, in front of PNC bank. Walk-ups are normally welcome, but reservations are recommended. Thirty minute carriage rides are $60 and $90 for an hour.
Muskegon Luge Adventure Sports Park
When: Year-round
Located 50 minutes outside of Grand Rapids, the Muskegon Luge Adventure Sports Park is an exciting destination for those of you that don't mind outdoor winter fun. As the name implies, one of the activities available at the park is the luge track. The track is one of only four luge tracks in the US and was designed by three-time Olympian Frank Masley. Featuring speeds of up to 30 miles per hour, and six different curves, a ride on the track is sure to be a once-in-a-lifetime experience.
If a ride on the luge isn't exactly your speed, other winter activity options include cross country skiing. Regardless if you've never gone skiing before, or your own old pro, there are over 15 kilometers of trails spread out over five different trail systems for all level skiers. There's also over two acres of ice to skate on or several loops of snowshoe trail systems. And don't worry, if you don't own skates, skis, or snowshoes, the Muskegon Luge Adventure Sports Park offers equipment rentals for all three of those sports.
Depending on what winter activity you want to take on, prices will vary. Luge tickets must be purchased separately since a ride on the track involves some orientation time.