Utopia or reality?
A few years back, Dr. Norman Beauchamp looked to the future of biomedical research and healthcare – and posited what sounded like a health science utopia.
He talked about an environment where researchers from multiple hospitals, universities and private institutions collaborated rather than competed to attract the investment and talent needed to improve patient care.
He described a place where, together, clinicians, researchers, educators and entrepreneurs used big data to analyze disease, diagnose it earlier and treat it more effectively – where, for instance, data analytics would lead to the discovery that a drug used to treat sleeping sickness can also effectively treat neuroblastoma in children, and a drug used to treat scleroderma also decreases melanoma's ability to metastasize by 90 percent. 
Even then, Beauchamp's vision was no utopian fantasy. It existed, its impact on human health was growing and it was spurring life-saving discoveries – in Grand Rapids, where "doing the most good" is the driving force behind every decision.
What was true them is even more true today, as MSU has collaborated with other local, national and international life sciences companies to transform health care locally and across the globe.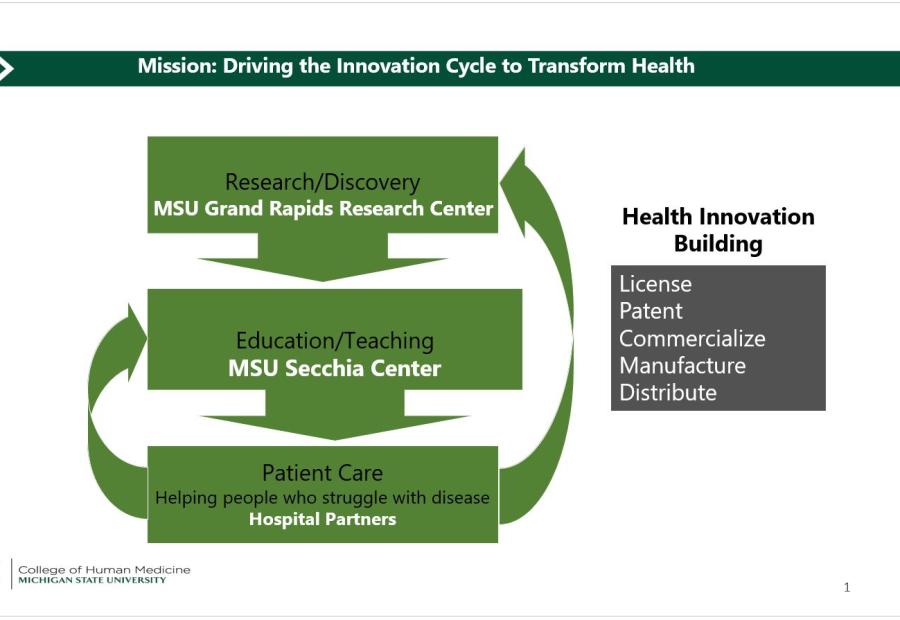 The 'Cycle of Innovation' involves multiple facets of the health process such as patient care, education and research.
Photo by Michigan State University College of Human Medicine
Building the infrastructure for innovation
Norman J. Beauchamp Jr., MD, MHS, is Michigan State University's executive vice president for health services. Prior to that, he served as dean of the MSU College of Human Medicine, headquartered in Grand Rapids, and associate provost and assistant vice president for health affairs at MSU.
Beauchamp also headed up the MSU Grand Rapids Research Center when it opened in 2017. This 163,000 square-foot facility housed nearly 175 research faculty and staff – 28 principal investigators and their teams at the outset, with future capacity for 44 teams – working on research into Alzheimer's and Parkinson's diseases, women's health issues, autism, pediatric cancers, inflammation, transplantation and genetics.  
Through a public-private partnership with Health Innovation Partners, MSU designed and constructed the Doug Meijer Medical Innovation Building adjacent to the Research Center. Opened in early 2022, this 210,000-square foot building encourages public-private partnerships in medical science by facilitating relationships across tenants. It is now one of four buildings occupying MSU's Grand Rapids Innovation Park, which anchors the west end of the city's Medical Mile.
A quarter century of investment
The 1996 founding of the Van Andel Institute, a private biomedical research and science education institution, is seen as the catalyst for billions of dollars of investment in life science infrastructure along the Medical Mile over the past quarter century.
Since that time, this downtown district has attracted the MSU College of Human Medicine, Grand Valley State University's health sciences campus, Grand Rapids Community College's science center, Ferris State University College of Pharmacy, a women's health center, an orthopaedic surgical center and numerous clinical office developments.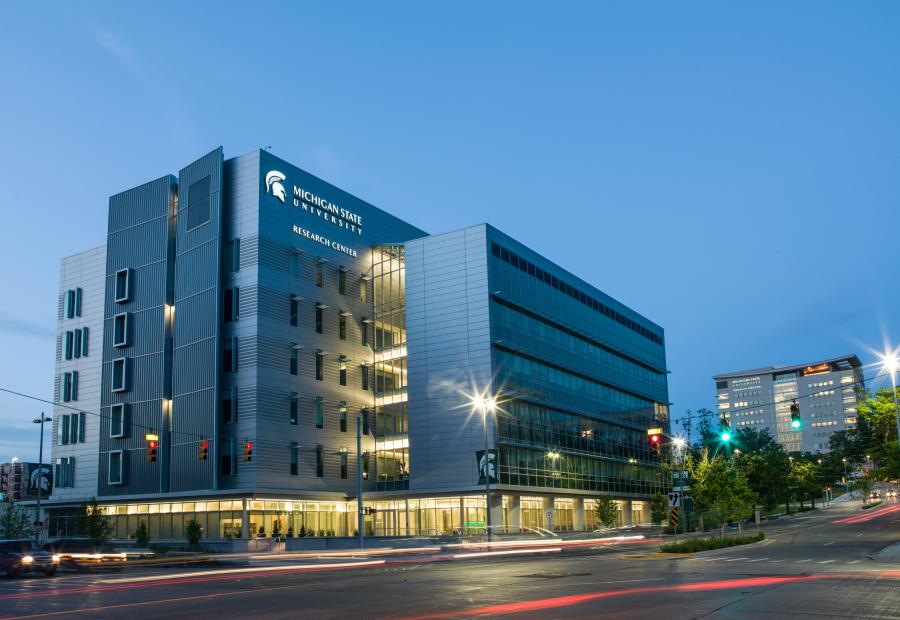 Michigan State University College of Human Medicine in Grand Rapids, Michigan.
Photo by Michigan State University College of Human Medicine
Using data to drive innovation
The catalytic effect helped drive the opening of the Medical Innovation Building, in which MSU added a bioinformatics core to support discovery and help bring effective treatments to market.
Beauchamp explained the value of the bioinformatics core like this: "If we can do a better job aggregating patient data – bringing together information about the environments patients live in, their current health, treatments that have worked or failed in the past, even their genomics – then connect that data to people who can use it for innovation and discovery, we can not only improve care, but we can make it more accessible and more affordable."
He cited this example. "If you're an entrepreneur and you've invented a new device that allows a person to measure their blood sugar at home, you'll need to prove its efficacy before you can bring it to market. If that device can collect information about a patient's blood glucose, exercise, diet, hospitalizations, etc., and feed it to the cloud, data scientists can analyze it and determine real-time effects of your device. If that data shows that people who use your device have fewer hospitalizations, miss fewer days of work, have fewer interventions and are healthier, you can prove efficacy and decrease the time – and costs – associated with bringing your product to market."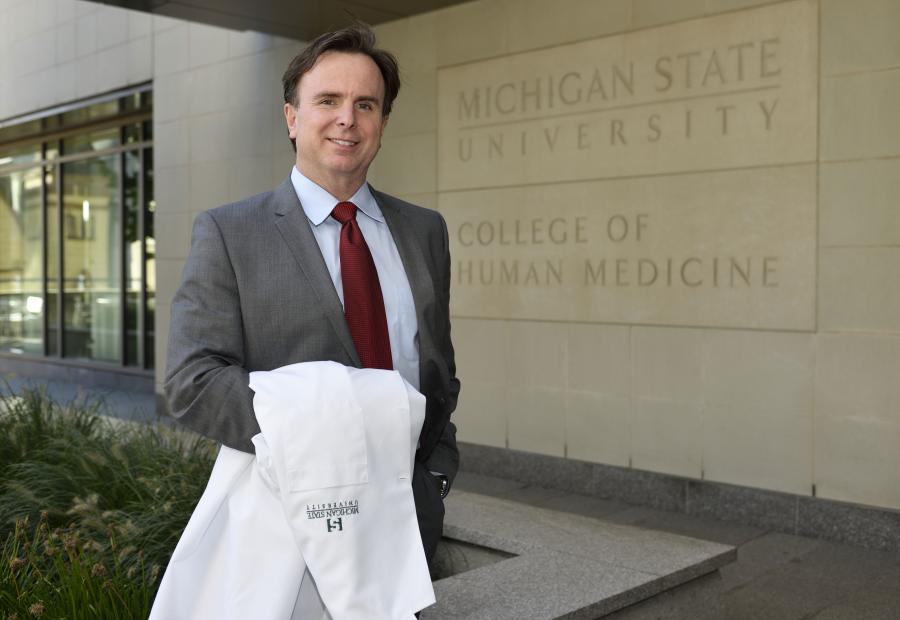 Norman J. Beauchamp Jr, MD, MHS, became dean of the Michigan State University College of Human Medicine in October 2016, and Michigan State University associate provost and assistant vice president for health affairs, February 2018.
Photo by Michigan State University College of Human Medicine
The plan was to collaborate with other Grand Rapids-area research, economic development and community partners to recruit biomedical entrepreneurs, start-ups, Original Equipment Manufacturers (OEMs) and investors to the innovation center, then connect them to clinical operations, medical education and research through the bioinformatics core which provides bioinformatics analysis to support research activities.
The effort continues to pay dividends, attracting such companies as Perrigo, a leading pharmaceutical and consumer self-care product manufacturer, which relocated its national headquarters to the Medical Mile in 2022; and BAMF Health, which opened the world's most advanced dual-cyclotron radiopharmacy in the Doug Meijer Medical Innovation Building in 2022.
These innovators are now part of an ecosystem that leverages collaboration and big data to drive discovery, improve patient outcomes, enhance access to care, lower costs and speed cures.
"If you're the place where people can go from idea to implementation faster and the likelihood of getting their products to market is higher, you become an awesome place for innovators," said Beauchamp.
Utopia? No, Grand Rapids.