When the owner of an intelligently curated craft beer bottle shop has the opportunity to expand with an adjoining taproom, curiosity alone should make the short drive to northeast Grand Rapids worth sampling what's on tap and behind the bar. Roger Plowman, whom the local craft beverage community has vetted as a trusted and knowledgeable good guy in the scene, opened Riverside Lounge in April 2017 as a perfect complement to Riverside Liquors, which has been well established since 2011. Henry Smith, Riverside Lounge's bar manager, connected the dots and encourages guests to "try before you buy."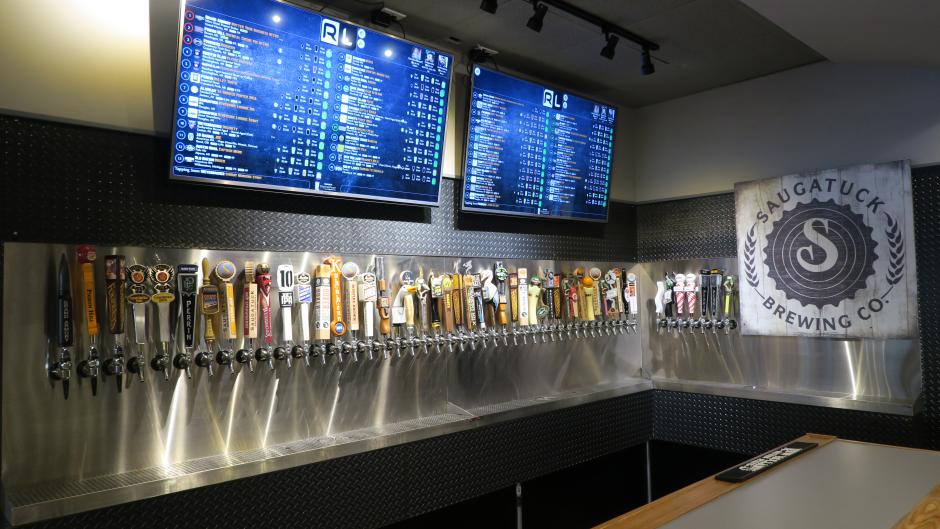 Riverside Lounge draft
Photo Credit: Jason Ley
---
On Draft
Of the 50 beers on draft, three are on nitro. Because of the sheer abundance of "so much great beer from our state," Smith currently allocates about 80% of the tap handles to Michigan beer. The balance will be a fair representation of craft beer nationwide. For those who prefer mainstream macro lagers, the Lounge doesn't offer them.
For a unique experience before you even arrive, download Digital Pour. It's an intuitive app, synced to the Lounge's draft inventory. Guests can see what's on tap, each beer's price, and how much is left in the keg (yeah, seriously) — in real time. There are two flat screen TVs above the tap handles that display Digital Pour's content: what's currently on draft, what's on deck, and a live Untappd feed that streams the three most recent check-ins by users in the bar.
Crowlers are available to-go, except for anything on nitro or high-profile/low-allocation premium drafts.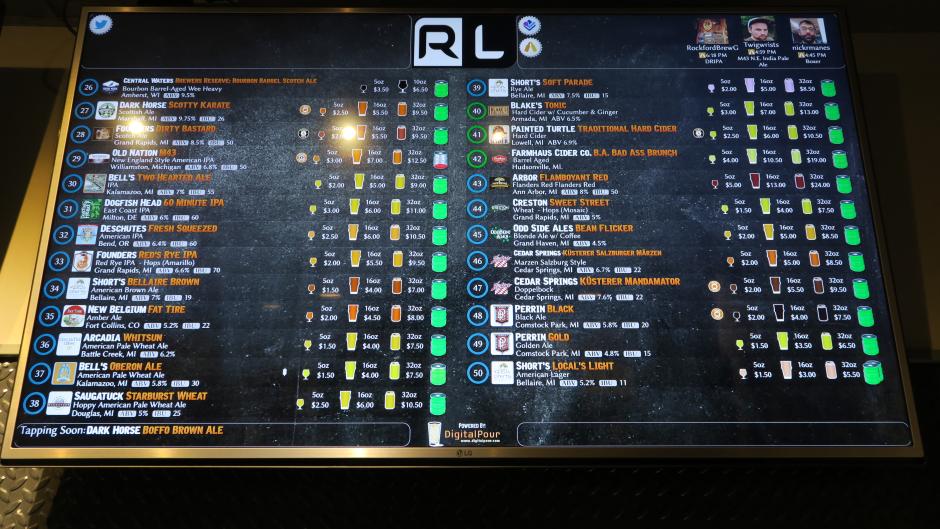 Riverside Lounge draft list
Photo Credit: Jason Ley
---
In Bottles and Cans
The Lounge offers a short list of bottles and cans like Perrin Gold or Short's Local Light for lovers of old classics. And for "your old man's old man," Smith stocks the old Detroit favorite, Stroh's Bohemian-style Pilsner, as well as throwbacks to vintage pop-top cans of pilsner and hefeweizen from Nebraska Brewing Company.
Otherwise, get a taste of anything you like at the Lounge, and swing through Riverside Liquors on your way out to pick up a six-pack from its shelves stocked with over 500 different brands.
Kegs
Currently, the Lounge doesn't need to sell to-go kegs because it is conveniently connected to Riverside Liquors. If a guest is interested, it's an easy conversation to start with Smith, often behind the bar at the Lounge, or Plowman, who floats between both locations. Smith says, "That's the beauty of being under the same ownership. We have the ability to meet our guests' needs whether they're sitting at the bar or browsing next door."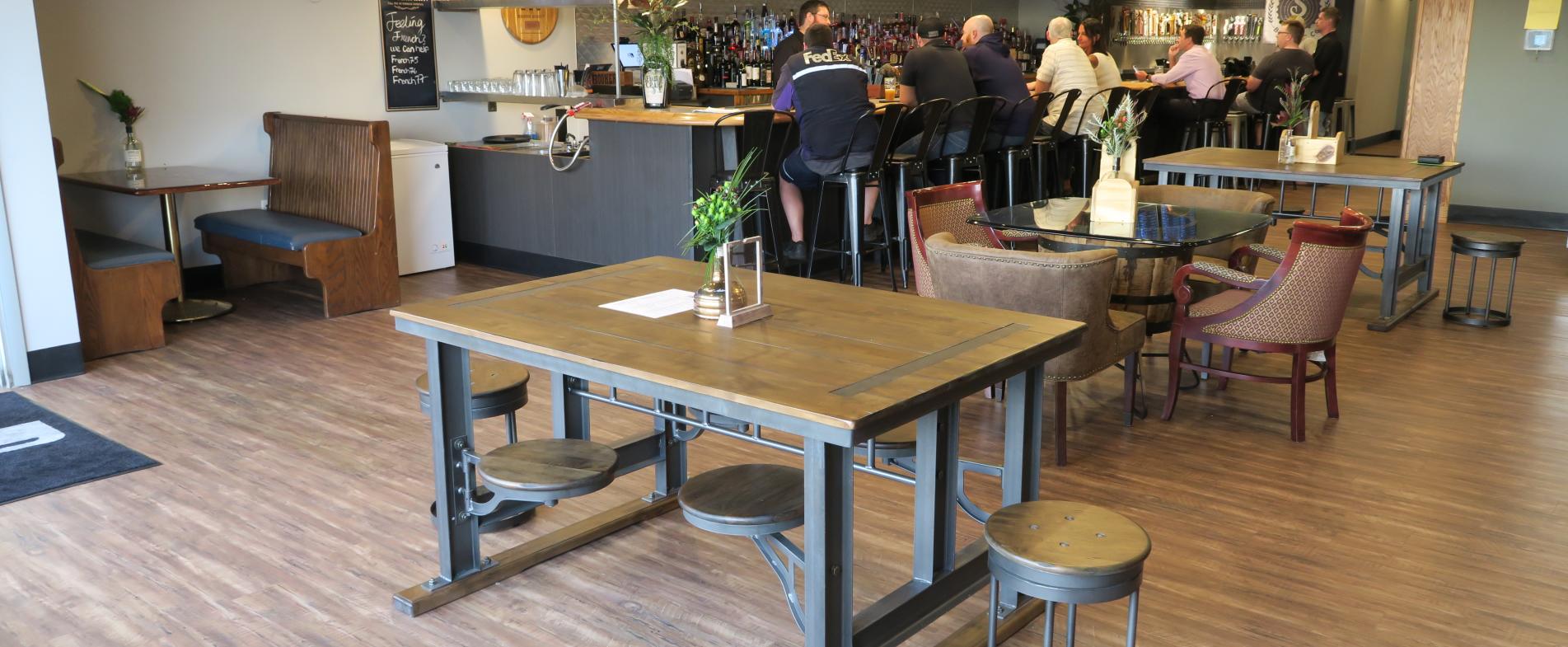 Riverside Lounge
Photo Credit: Jason Ley
Full Bar
Plowman's second love is bourbon, and the Lounge's dual focus on brown spirits is apparent with 100+ bourbons and whiskeys behind the bar. Expect its portfolio to extend into Bourbon and Scotch whiskeys as well.
What you won't find: novelty, shootable liquor, and cordials. Instead, its resident mixologist crafted a menu of eight to ten rotating signature cocktails, which aren't afraid to include atypical spirits such as cachaça and pisco. The Lounge also flavors its own vodka and rum, and hand-squeezes its own fresh fruit mixers daily. It also offers eight varietals of red wine and 10 of white.
For discerning mead fans, the Lounge sells individual pours from bottles of Schramm's Mead from Ferndale, Michigan.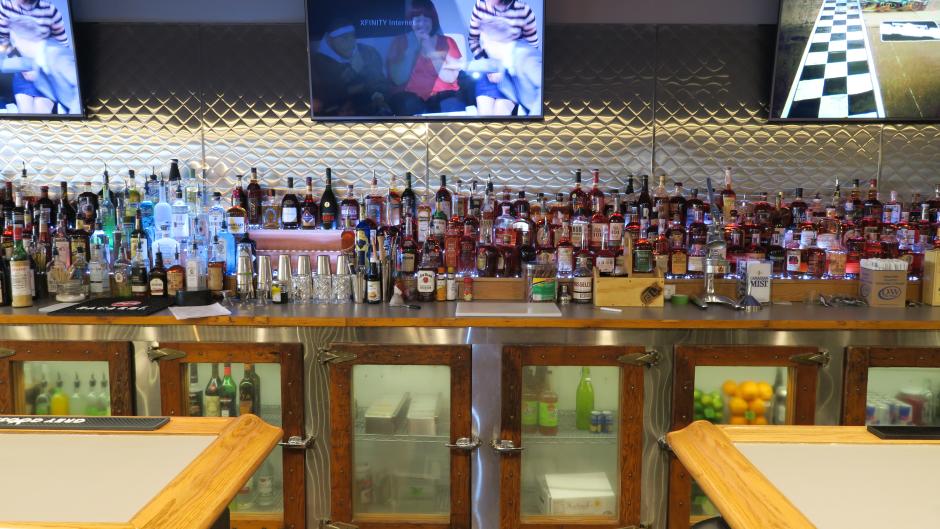 Riverside Lounge full bar
Photo Credit: Jason Ley
---
Beer Education
When Plowman and Smith are off the clock, it's not unusual to run into either of them at local breweries and pubs or at a fellow enthusiast's communal bottle share. They know their product, but will never intimidate. They empower their staff and guests to be curious and passionate.
Smith invites everyone to grab a seat at the bar. "For novices, we're not going to try sell someone on what we personally think is the best. We want to introduce them to a beer or spirit that they'll love. Everybody starts somewhere, and they're welcome to start here."
Food
The Lounge is very bring-your-own friendly. Guests may bring food in or have it delivered. A current local favorite is Flo's Pizzeria Ristorante.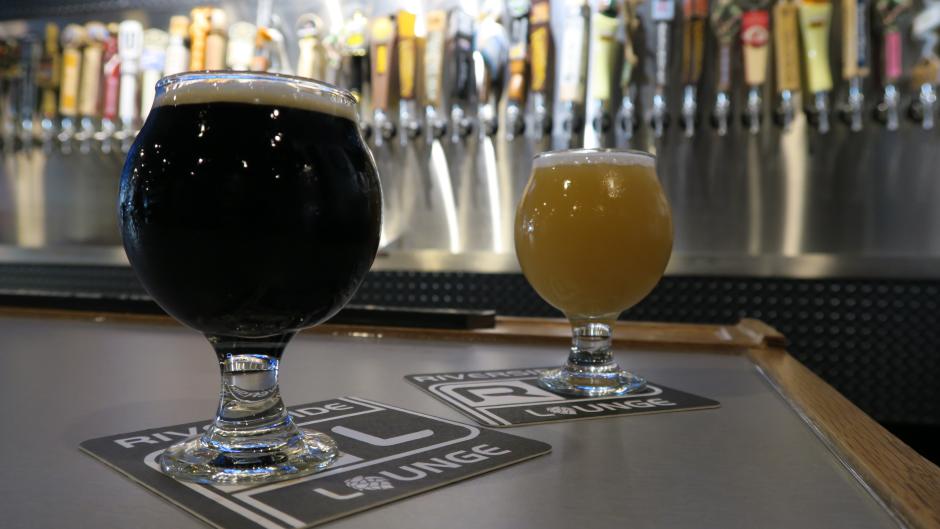 Riverside Lounge pours
Photo Credit: Jason Ley
---
Atmosphere and Amenities
Warm and inviting with a blend of rustic and modern decor, as if your cool uncle converted his living room into a modest man cave

Private rooms available (capacity for four and eight people), each with an HDMI-compatible TV, for business meetings, small engagements, or collaborating with friends over a beer or a shared bottle of bourbon

Free Wi-Fi

Distraction-free (no board games or loud music)

TVs often showing whatever the guests (politely) request

Kid-friendly: Yes, with adult supervision and consideration (see distraction-free mention above), high chairs not available

Parking: Lot on-site
Hours
Monday – Thursday: 3PM – 12AM
Friday – Sunday: 12PM – 12AM
Contact
5430 Northland Drive Grand Rapids, 49525
616-719-2263
Facebook: /riversidelounge2
Instagram: @riverside_lounge1
Don't miss a post!
Sign-up for the Insider Experience blog