Meeting planners are well aware of the cost advantages of midsized cities vs. first-tier meeting destinations. It's just that affordability often takes a back seat to the allure and amenities of larger metropolitan areas.
Grand Rapids, Michigan is upending that calculation by investing in meetings infrastructure and delivering unforgettable attendee experiences while maintaining its friendlier price tag. The city had begun to move into the first-class conversation before the pandemic – it was named one of America's top 25 convention destinations in 2020 – and it quickly recaptured its momentum as the country opened back up.
There are a number of factors behind Grand Rapids' rise, many of which address current and emerging event industry pressures. As planners seek to forge a path forward, it makes sense to consider a destination that has and continues to reinvent itself as first-class second-tier city.
The Gerald R. Ford International Airport is a 15-20 drive from downtown and flies direct to over 30 major markets.
Photo by Brian Kelly for Experience GR
Multiple transportation options
Even before the pandemic, 1 in 7 people said they wouldn't fly because of climate change (Ipsos/World Economic Forum, 2019). Post-pandemic airline struggles have likely broadened that reluctance.
Grand Rapids helps alleviate these concerns by offering multiple options for getting to and around the region. It's within a day's of drive of half the U.S. population and it's serviced by Amtrak. An award-winning bus service moves people efficiently around the city – for free in the downtown convention neighborhood – and there are many other options for public transportation.
Those who avoid flying due to the perceived hassle might reconsider when they learn about the Gerald R. Ford International Airport (GRR). The 2022 Service Quality Awards from Airports Council International recognized GRR in the following categories: best airport of 2-5 million passengers in North America, airport with the most dedicated staff in North America, easiest airport journey in North America and the cleanest airport in North America.
GRR is located just a 20-minute drive from our downtown convention neighborhood, another time- and money-saving benefit over most larger cities.
Sustainability efforts
The Ipsos statistic above demonstrates that sustainability is a real concern for many travelers. Planners and attendees can be assured that Grand Rapids is a sustainable choice for a meeting destination.
Named America's Greenest City by Fast Company Magazine and The Nation's Most Sustainable City by the U.S. Chamber of Commerce, Grand Rapids has long made earth-friendly policies a priority – and so have local hotels, transportation providers, cultural institutions and other businesses.
Our compact convention neighborhood – more than 200 restaurants, breweries hotels, shops, entertainment venues and hotels are located within a 10-minute walk – also helps minimize the carbon footprint of meetings and events.
Diverse hotel offerings
America's largest destinations offer abundant hotel choices but even the budget options can be tough on attendees. Our convention neighborhood is served by 14 hotels – including Hilton, Holiday Inn, Hyatt Place, Embassy Suites and JW Marriott brands – to offer a range of first-tier amenities and second-tier price points. Three hotels are connected to our convention center by climate-controlled skywalk, maximizing attendee convenience.
More than 80 additional hotels and B&Bs are located close by to meet the experience and economy expectations of any visitor.
Unique and nearby offsite spaces
Midsized cities may not be able to compete with larger cities in the sheer number of offsite spaces available for breakout sessions and conferences, but they can make up for it through proximity, affordability and charm.
We've identified 40+ businesses that offer unique meeting accommodations within a half-mile walk of our convention center – restaurants, breweries and such singular spaces as a presidential museum, performance hall, historic auditorium and escape room.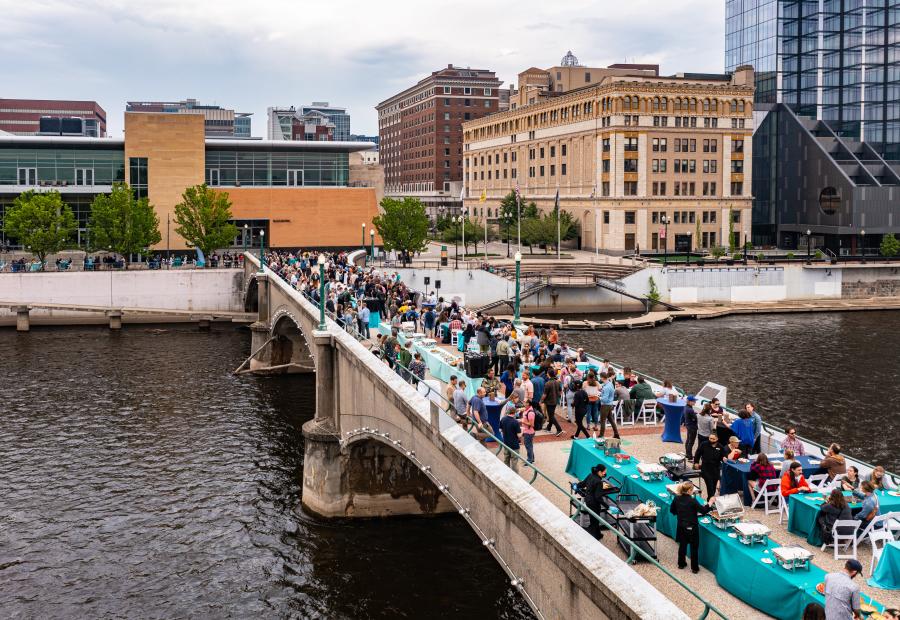 The Gillett Bridge, a pedestrian bridge just outside DeVos Place Convention Center, is a unique outdoor event location.
Photo by Credit: Experience Grand Rapids
Outdoor Venues
The cleanliness, convenience and safety of outdoor spaces is another plus in the Grand Rapids column. Our convention center overlooks the Grand River and two pedestrian bridges that can be used to stage events. A riverwalk on both sides of the Grand can be a refreshing change of scenery for strolling breakout sessions. Ah-Nab-Awen Park, a greenspace directly across the river from the convention center, is a serene space for impromptu connections. A plan to make the river even more people-friendly is in the works.
The entire convention neighborhood and most of the surrounding downtown is a Refreshment Area strategically furnished with outdoor seating for patrons of restaurants, breweries, bars and distilleries, and visitors can wander around the Area with drinks from participating businesses in hand.
Attendance-building opportunities
Midsized cities have to work harder to help planners build attendance and excitement. Grand Rapids has done it by building and showcasing distinctive brand "pillars"– including art, craft beverages, food and outdoor recreation.
We're the home of ArtPrize®, the world's largest art competition, Frederik Meijer Gardens & Sculpture Park, one of the world's top 30 most visited art museums, Grand Rapids Art Museum, the world's first LEED Gold Certified art museum, and a robust public art scene. We have firmly established Grand Rapids as Beer City USA, boasting 40+ craft breweries and multiple "best beer city" rankings as well as USA Today recognition as "America's Craft Beverage Capital."
Our dining scene is elevated by a world-class culinary school and a thriving family-farm community, which combined to make us a forerunner and premier practitioner of farm-to-table cuisine. Our outdoor recreation opportunities are plentiful and, unlike most larger cities, quickly and easily accessible from downtown and any other city location.
Planners can also rely on a fully staffed services team to help build attendance for Grand Rapids events, as well as to assist with planning and on-site services.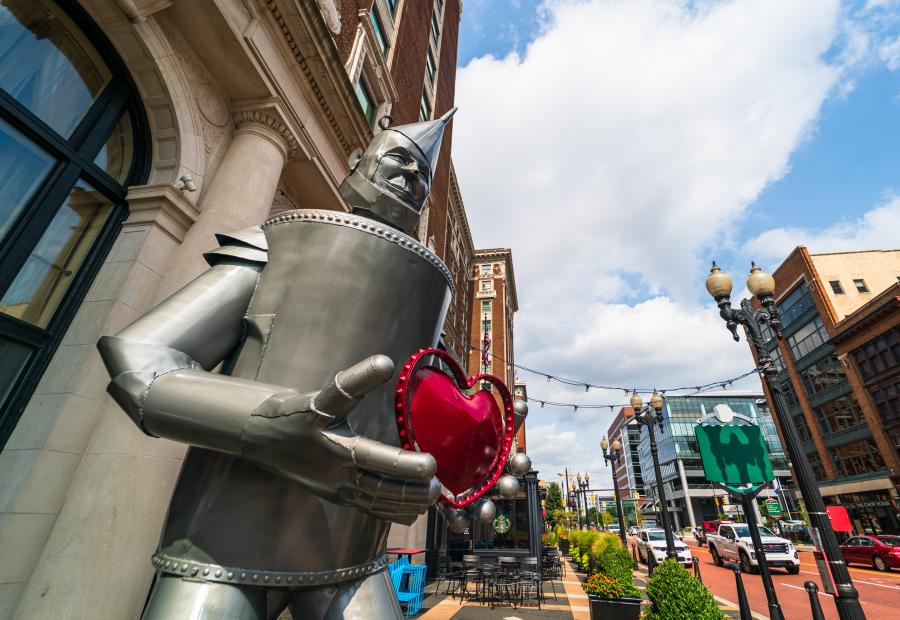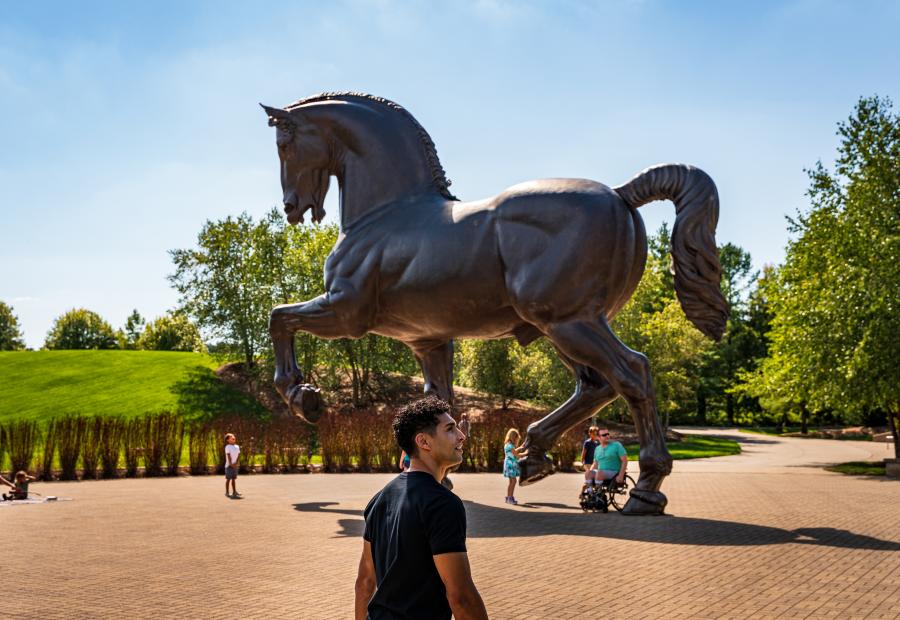 Events like ArtPrize 2.0 and updates to Fredrik Meijer Gardens & Sculpture Park have enhanced the visitor experience.
Photo by "Tin man" by Bill Secunda, ArtPrize 2021
Investing in the visitor experience
Recent and ongoing investments are making Grand Rapids even more attractive and amenable to meeting planners, attendees and their families.
For example: the Amway Grand Plaza, Curio Collection by Hilton, a AAA Four Diamond hotel in the heart of downtown, completed a $40 million renovation in 2021. Frederik Meijer Gardens & Sculpture Park, the area's leading visitor attraction, enhanced its offerings with new welcome, learning and transportation centers in 2022. The Gerald R. Ford International Airport is currently in the midst of a multi-million dollar expansion program that has further improved its best-in-class service experience.
There's also the recent renovation of Rosa Parks Circle, a downtown gathering space designed by renowned sculptor Maya Lin; the construction of Studio Park, a downtown entertainment complex with movie theaters, a music venue, restaurants and shops; the addition of new meeting spaces to downtown's Gerald R. Ford Presidential Museum; and much more.
Toward the future
Even with all the downtown development of the last decade  – which has included a $2+ billion investment in our Medical Mile life-sciences corridor – this midsized city still has room to grow in ways that benefit both residents and visitors.
Several upcoming projects will give planners even more offsite options – including a 12,000-seat downtown amphitheater alongside the river, an outdoor event and gathering space overlooking the river, and a $70 million expansion of the riverfront Grand Rapids Public Museum, complete with new meeting and outdoor spaces.
For additional insight into the possibilities and potential of hosting your meeting in Grand Rapids, visit the Meeting Minds blog page.