Spring is a delightful time to be in the woods, a period when wildflowers bloom brilliantly in Grand Rapids-area parks and woods. Hit it right and you may be dazzled by white and lavender hepatica blooming on sunny hillsides, or the brilliance of yellow marsh marigolds along creek banks and wetlands.
"John Ball Park has really amazing wildflowers," offers Kristin Tindall, a master naturalist at Blandford Nature Center, in Grand Rapids. "I've never seen more bloodroot in one place, and there are trout lilies."
"It's also really hard to beat Aman Park. Virginia bluebells grow there along with trilliums and green dragons, a flower related to the Jack-in-the pulpit."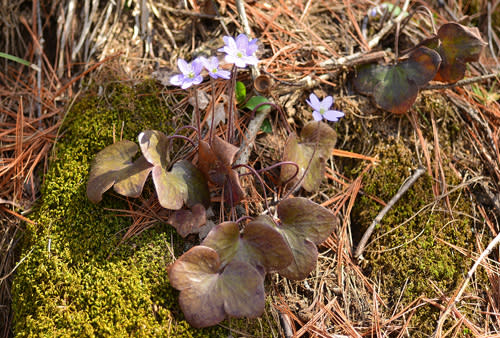 Hepaticas like these found at Aman Park grow abundantly on sunny hillsides. Photo by Howard Meyerson.
Aman Park, owned by the city of Grand Rapids, is located at 0-1895 Lake Michigan Drive Northwest, 15 minutes from downtown, about six miles west of the city. The well-marked trails there wander through rolling, forested hills and along creeks and streams where wild flowers are abundant.
Tindall said Blandford Nature Center, at 1715 Hillburn Ave. Northwest, is itself a great wildflower destination. Twenty species grow along its trails, from spring beauties, one of eastern North Americas most common perennials, to trout lilies, wood anemones, toothworts and swamp buttercups.
"The East Loop and West Loop are best for spring wildflowers." Tindall advises. "While we have a lot of variety, we don't have a lot of density because of deer on the property. But we have backpacks (for visitors) at the nature center with wildflower guides and brochure about spring wildflowers."
Another wildflower hotspot is the 2.7 mile Plaster Creek Trail at Ken-O-Sha Park. The trail begins at Ken-O-Sha School, 1353 Van Auken SE, in Grand Rapids. It follows Plaster Creek and is well-known for its spring blooms.
"It is absolutely gorgeous and one of the best areas for wildflowers," exclaims Jeanette Henderson, program manager for Bunker Interpretive Center at the Calvin College Ecosystem Preserve. "It has one the biggest remnant (populations) of Virginia Bluebells. Anything you can think of is there."
"It's a paved path, but you can get off the trail. They have ramps (a species of wild onion) and pawpaws (an edible fruit) and a huge patch, maybe 5,000 square feet, of Virginia bluebells."
Early spring wildflowers are typically short-lived. The best time to see them is April to early May, but for those willing to travel a bit further, there are beautiful displays in the forested sand dunes at P.J. Hoffmaster State Park, along Lake Michigan.
"Our flowers tend to last longer because Lake Michigan is so cold," notes Elizabeth Brockwell-Tillman, naturalist at the Gillette Sand Dune Nature Center there. "You can see trillium here into the first part of June. We've had Memorial Day campers remark that they cant believe they are seeing trillium."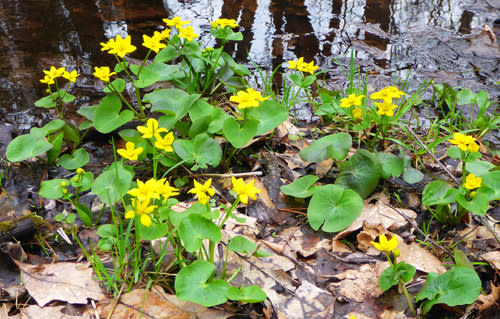 Look for marsh marigolds along streams, creeks and wetlands. Photo by Howard Meyerson
"We're seeing a comeback of some of the flowers, some really big pockets, since we started (hosting) fall deer hunts. Its been slow, but we have great trails and some great flowers. The hepatica is blooming now, but we have white trilliums, bellworts, and variety of violets. We have a ton of spring beauties and Dutchmans breeches on southern-facing slopes. People also see jack-in-the- pulpits. The deer dont like to eat those."
Looking to learn more about wildflowers? Ottawa County Parks offers guided wildflower walks. The next outing is scheduled from 1 p.m. to 2 p.m. May 5 at Grose Park, 22200 24th Ave, Casnovia. The 40-acre park overlooks Crockery Creek and is home to Dutchmans breeches, trillium, mayapples, blue cohosh, wild ginger, false rue anemone and a variety of other species.
"We have a number of parks with wildflowers," said Kristin Hintz, park naturalist for Ottawa County. "Hagar Park (8134 28th Ave, Jenison), is really known for wildflowers and is one of the best in the county. Even though its our most developed park with urban sprawl around it, it's a little island with wonderful spring ephemerals in the woods."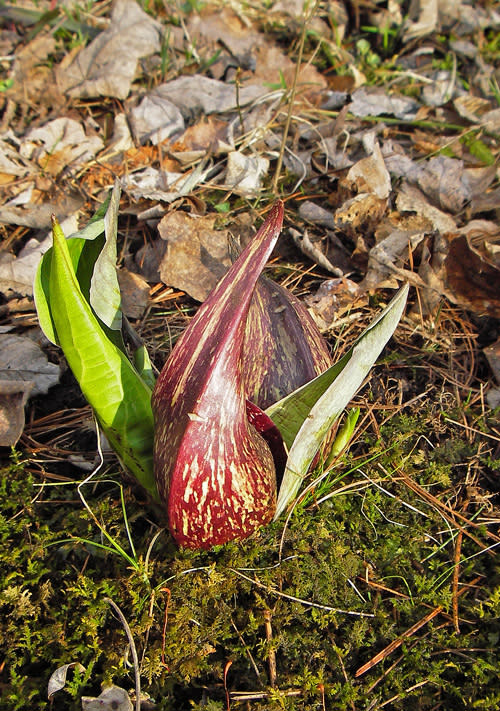 Skunk cabbage is another colorful flower found in moist areas in early spring. Photo by Howard Meyerson
"Later in summer, during July, August and September, Hemlock Crossing Park is good. Our native grassland prairies there are full of color with plants like butterfly weed, wild lupine, cardinal flowers and cone flowers. Its the same at the Upper Macatawa Natural Area and we have late spring and early summer flowers at Grand River Park."
For more information about guided nature walks and other nature outing in Ottawa County see: https://www.miottawa.org/EventRegistration/loadCalendar.action