Everything is truly sweeter in the summer. West Michigan's skies are filled with blue and the temperatures are warm yet comfortable. There isn't a moment to waste in summer, which means you need a plan. And I'm here to give you a head start on creating magical memories with your family. Whether you are local to West Michigan or visiting from out of town, here's my family's summer bucket list, designed with kids under four in mind.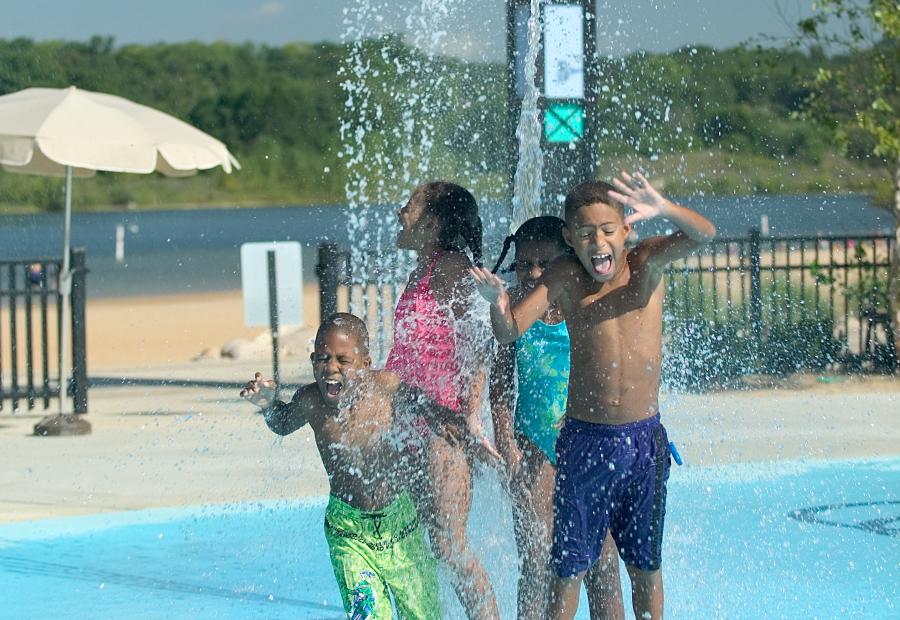 The splash pad at Millennium Park is a great way to cool off without having to travel all the way to Lake Michigan.
Photo by Experience Grand Rapids
Millennium Park
If you're looking for a way to experience a day at the beach without having to drive 30-45 minutes to Lake Michigan, then is the perfect addition to your list. It's just minutes away from downtown Grand Rapids. According to the Kent County Parks website, it's one of our nation's largest urban parks with parts in Grand Rapids, Walker, Grandville and Wyoming. Admission will give you access to the beach, which has plenty of space for families to spread out on blankets and chairs. Just near the beach is the splash pad. This colorful spot is perfect for families with children of all ages to cool off. It's the ideal place to spend a summer afternoon. There is also a concession stand to satisfy all your snack cravings.
Grand Rapids Public Museum
The Grand Rapids Public Museum is a great indoor spot to cool off while checking out fun and educational exhibits on a warm summer day. The opportunity to see a real-life dinosaur bone was my family's favorite part of our visit. Mastodon bones recently found in West Michigan are now on display at the museum in the new Ice Age exhibit. During our visit to the museum, we also took a ride on the 1928 Spillman Carousel. This beautiful piece of history was recently renovated and a staff member explained a bit of history before we boarded. We enjoyed riding the brightly painted horses up and down on the carousel. Carousel rides are free for all visitors with the purchase of a general admission ticket; however, tickets for the carousel must be reserved in advance.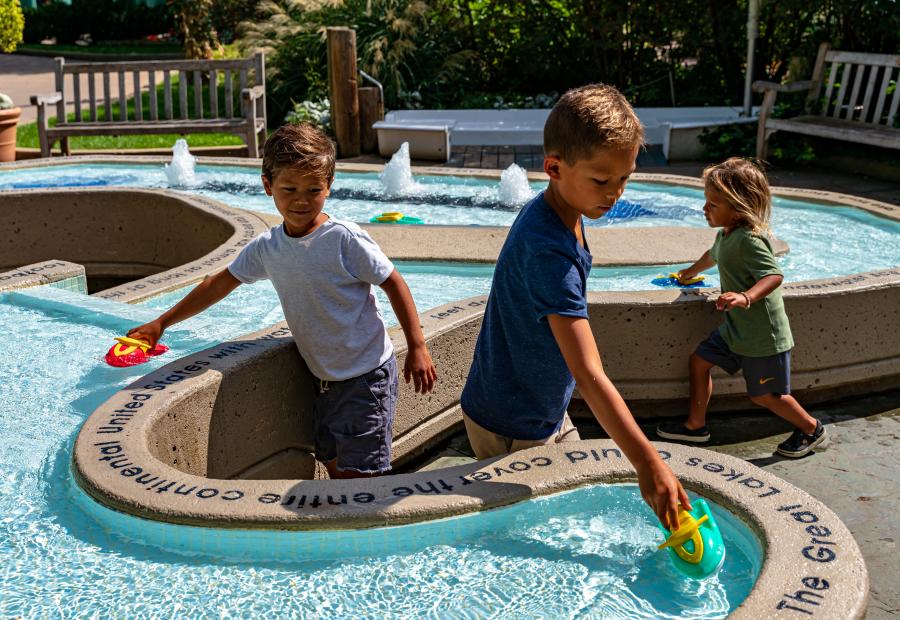 Interaction is encouraged at the Lena Meijer Children's Garden! The Great Lakes Garden, a mini-replica of the Great Lakes, is a great place for kids to play at in the warm summer weather.
Photo by Nick Irwin for Experience GR
Children's Garden at Frederik Meijer Gardens and Sculpture Park
There is always something new to see and explore at Frederik Meijer Gardens and Sculpture Park. Consider a visit to the Lena Meijer Children's Garden this summer. Children will enjoy the water features and splashing around. While you're visiting with your family, take advantage of the opportunity to take the kids' tram tour. These tours are offered on Mondays, Wednesdays, Fridays and Saturdays. Purchase your tram tickets at the Cook Transportation Center.
Grand Rapids Children's Museum
The Grand Rapids Children's Museum is a treasure year-round with new exhibits always opening. Plan a visit to see the Rapid River Farm. In this exhibit, children can pick apples, feed animals, grow plants and more. For families with young kids, the Children's Museum is a West Michigan must-visit spot.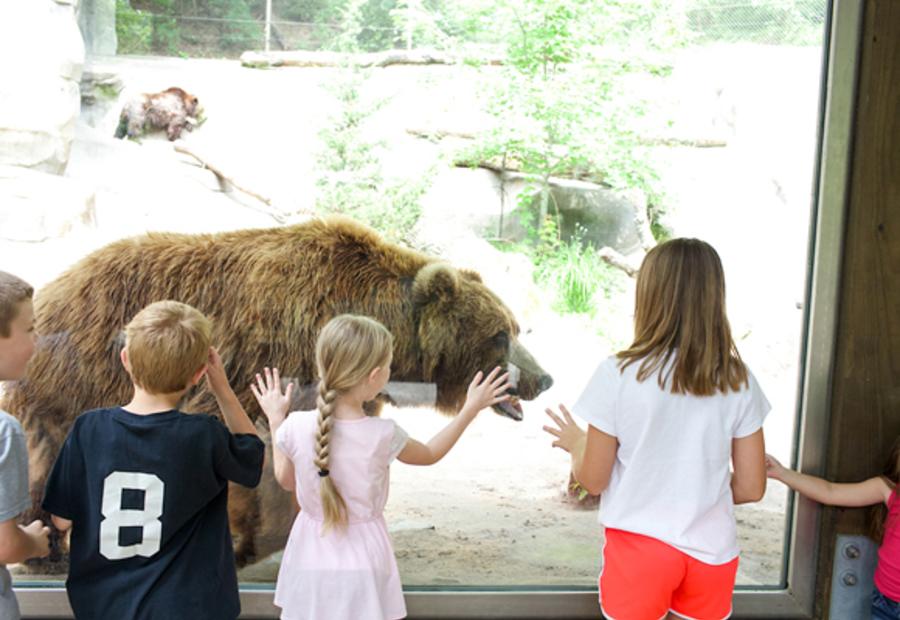 Located on the west side of Grand Rapids, John Ball Zoo is open to the public daily from 9am to 6pm.
Photo by Experience Grand Rapids
John Ball Zoo
John Ball Zoo deserves a place on your summer bucket list for the countless opportunities to engage with wildlife of all types, including tigers, bears, reptiles, and the newly opened pygmy hippo exhibit. Bring your walking shoes to take advantage of exploring the entire grounds. You can also purchase tickets to additional experiences including a ride on the funicular, a camel ride, or a chance to feed the budgies in the aviary. There are concession stands located throughout the grounds that sell food from pizza, breadsticks, pretzels, and more.
Blandford Nature Center
Blandford Nature Center is a must on my family's list, and I encourage you to add it to yours, too. It's a place where families and children can enjoy, explore, and learn in nature. It's also home to more than 40 rehabilitated wildlife ambassadors! There are programs for children and adults throughout the summer. Visit Blandford's website to scroll through the summer calendar and pick a program that excites you the most.
Unlike summer, there's no end to the memories to be made in the Grand Rapids area. I hope these ideas provide you with some inspiration. Happy bucket list creating!