If you're searching for some fun in the sun this summer season, you'll find it in the quaint city of Rockford, just 15 minutes from downtown Grand Rapids. From free live music and outdoor yoga to kayaking, carnival rides and eating oodles of ice cream, here are eight family-friendly activities to add to your list of summer adventures:
Start of Summer Celebration
It's not summer in Rockford without the city's annual Start of Summer Celebration, now in its 48th year. The second weekend of every June, the city invites thousands of visitors and residents to soak in the tranquility of Rockford while enjoying carnival rides, games, crafts, live local music, free children's activities, cheat-day food and a handful of adult beverage tents. This year's celebration runs from June 9-12, with fireworks at dusk on Saturday, June 11. The city is offering Rockford residents discounted tickets for Community Night on June 9, which can be purchased for $10 each on June 8 or 9 from 9 a.m.-5 p.m. at the City of Rockford offices. Regular tickets can be purchased at the event.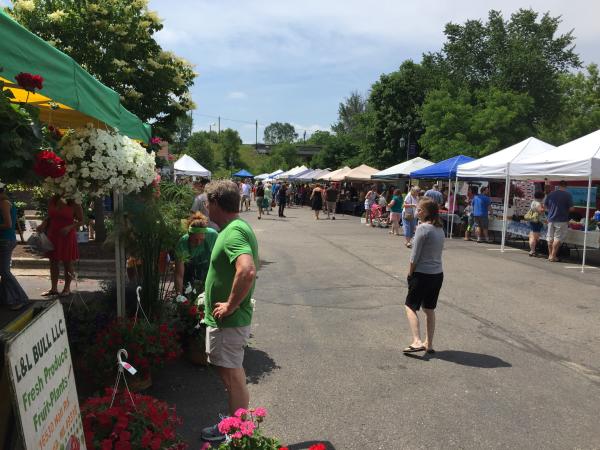 Nestled in the heart of Rockford's quaint downtown area, the Rockford Farm Market is open every Saturday from 8 a.m.-1 p.m. through October 29. The market was voted "America's Favorite Farmers Market" among 1,700 entrants in a 2011 nationwide popularity contest sponsored by the American Farmland Trust, and it's easy to see why. From meats, vegetables and floral arrangements to kettle corn and a plethora of cheeses, this weekly display of deliciousness boasts the freshest of abundances from around Michigan.
Free Concerts
Imagine enjoying a picnic dinner on a lush grassy lawn next to the calm waters of the Rogue River while being serenaded by some of West Michigan's most talented musicians. That dream can be a reality this summer thanks to free, open-air concerts taking place at Garden Club Park. The United Bank Rogue River Blues Series, featuring some of the best local blues musicians, takes place every Tuesday evening from 7-9 p.m. June 7-August 9. During Rockford's weekly Open Mic Night, musicians of all ages are encouraged to spotlight their musical talents (every Thursday evening June 9-August 11 from 6:30-8:30 p.m.). Rounding out the Rockford summer music scene is the fifth annual Praise in the Park concert series where musicians from local churches will share the gift of music every Sunday June 5-September 4 at 6 p.m.
Find your Zen at the Rockford Dam Overlook every Saturday morning throughout the summer with a one-hour yoga class sponsored by SheActive Boutique. Each week, a different instructor teaches the class and, while the sessions are free, there is a suggested donation of $5 that goes toward the charity of the instructor's choosing. Yoga at the Dam takes place from 9-10 a.m. through September 3, except August 20 in observance of Mitchell's Run, or in the event of rain. Namaste.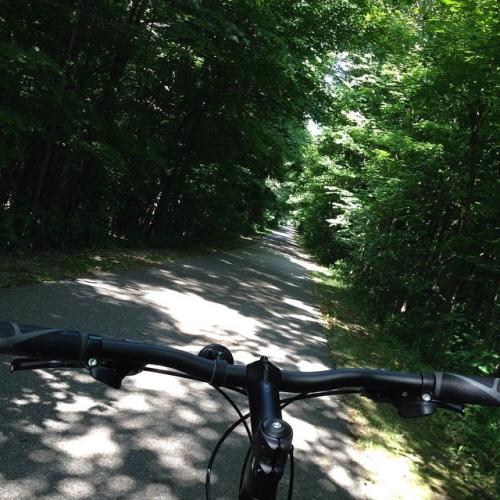 Perfect for biking, walking, running, jogging, skating and dog walking, the Fred Meijer White Pine Trail is the perfect avenue for exploring not only Rockford, but a large chunk of West Michigan as well. Spanning a distance of 93.5 miles, the White Pine Trail has convenient end points positioned in Cadillac and Riverside Park, which is located in Comstock Park. Whether planning a casual stroll, or a marathon bike trip traversing the entire trail, more information about the White Pine Trail and businesses along the path can be found on the Friends of the Fred Meijer White Pine Trail website.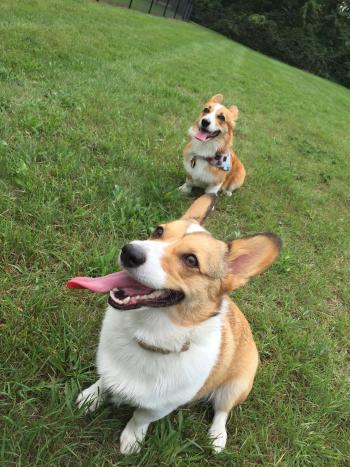 After being cooped up all winter long, our furry companions are also ready to stretch their paws and enjoy the sunshine. The Rockford Dog Park offers a free and open space for pups to enjoy some playtime. Located in Richardson-Sowerby Park, just south of downtown Rockford by way of the White Pine Trail, the Rockford Dog Park offers individual areas for both small and large dogs. There is also plenty of shade, water bowls, toys and bags for your dog's "business."
Rogue River Adventures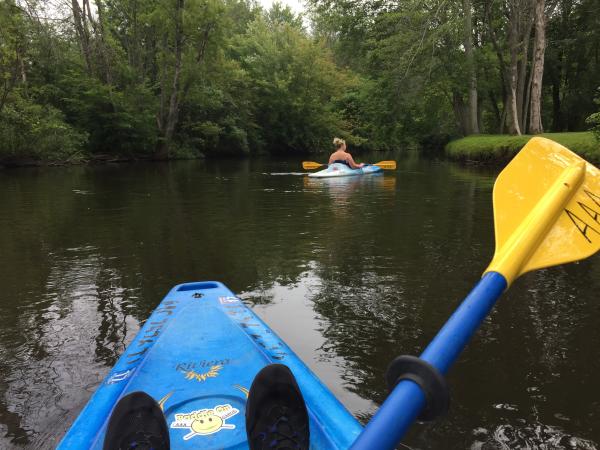 Whether you enjoy kayaking, canoeing, or casually floating, forsake your technological ties to the mainland this summer to be in touch with the beauty of nature on the scenic Rogue River. While there are multiple rental businesses along "the mighty Rogue," AAA Canoe Rental LLC is conveniently located just outside of downtown Rockford on Northland Drive. While the name boasts canoe rentals, AAA also offers tubes, and both open and closed kayaks.
Ice Cream
Burning calories on the Rogue River or White Pine Trail certainly justifies satisfying your sweet tooth at one, or all three, of the ice cream parlors in downtown Rockford. Since 2002, Custard By The Dam has specialized in serving frozen custard. The parlor currently offers more than 30 flavors, from classics like strawberry, cotton candy and blueberry to more exotic flavors like Piña colada, crème de menthe and German chocolate. Rocky's Dairy Depot, another Rockford summer tradition, is located only a few blocks from Custard and serves all of the ice creamy goodness that should be on a parlor's menu. If you're in the market for warm smiles, cold ice cream and friendly service, Rocky's should be your first stop. What do you get when you mix 18 flavors of frozen yogurt with more than 100 toppings? The answer is Rockford's newest dessert hotspot, The Pump House, which opened its doors in May. No matter which ice cream destination you choose, your belly will surely thank you.
Author: Matthew Makowski
Guest blogger Matthew Makowski is a PR and social media specialist at Grand Valley State University. Away from campus, he can typically be found with his nose in a comic book, enjoying downtown Rockford with his wife, or sipping a White Russian with his Pembroke Welsh Corgi, named The Dude (...or, His Dudeness, or Duder, or El Duderino if you're not into the whole brevity thing). Follow Matthew's adventures on Twitter @Matty_Mak.