If you're a beer lover visiting Grand Rapids with your young family, you're in luck! The region offers a host of kid-friendly brewery options. Here are some of our favorites:
FOUNDERS BREWING CO.
235 Grandville Ave SW, Grand Rapids MI
A darling of the Grand Rapids craft beer scene, Founders is a trend-setter when it comes to local and national beer. And if you visit with kids, you're going to love the laid-back atmosphere of the spacious tap room and outdoor patio. The deli serves up tasty sandwiches for grownups while kids go for the french bread pizza and chips and guacamole. Founders is a popular place, well-equipped for crowds with knowledgeable and friendly servers. You'll want to save a Founder's Brewery Tour for your next visit, though -  tours are for those 21+.
HARMONY BREWING COMPANY
Harmony Hall 401 Stocking Ave NW, Grand Rapids MI
Harmony Brewing- Eastown 1551 Lake Drive SE, Grand Rapids MI
Harmony Brewing Company is GREAT for children. One of my favorite things about Harmony is that they give the kids a little bowl of apple slices to munch on while you wait, along with books and board games. As for food and drink, the pizza is fantastic - just make sure you order enough! The root beer is brewed in house and is seriously some of the best I have tasted. Top-notch beer (get the Crossroads if you like an IPA) makes this spot one of our favorites. Do know that their locations are cozy and it's best to dine early if dining on a Friday or Saturday evening.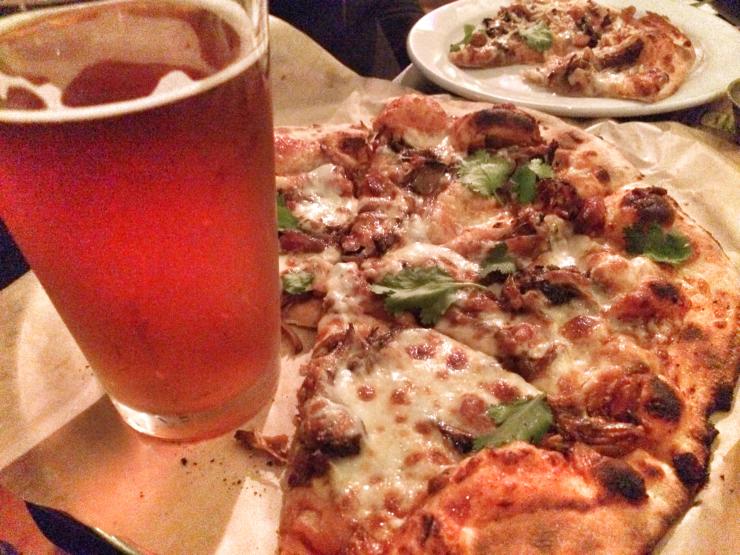 NEW HOLLAND BREWING
684 Commerce Court, Holland MI
New Holland Brewing is amazing for kids, especially in the summertime. Occasionally they will have kids' activities on their back patio. New Holland is currently building a new brewpub, distillery and restaurant on the west side of Grand Rapids that we anticipate will be just a good as their Holland location. New Holland brewing has enticing food options for the youngsters, with kids steak, whole grain mac n cheese and orange cream soda rounding out the menu. We love that many of their ingredients are locally sourced from small family farms in West Michigan.
MITTEN BREWING COMPANY
527 Leonard St NW Grand Rapids, MI
Mitten Brewing Company is another brew house that locals love. From vintage baseball-themed decor to great beer and delicious pizza, Mitten is a place your family will want to visit again and again. This west-side hangout is packed on Friday and Saturday evenings, so consider visiting on a Sunday afternoon or make it a lunch or early dinner.
CEDAR SPRINGS BREWING COMPANY
95 North Main St, Cedar Springs, MI
Cedar Springs Brewing Company is a new brewery located at the trailhead of the White Pine Trail. After a walk or bike ride on the trail, it's the perfect place to stop for a meal. If you like a hearty pretzel with your beer, you'll find it here. This craft brewing company follows a German theme that you'll see in the decor, beer and food.
OLD BOYS' BREWHOUSE
971 W Savidge St, Spring Lake MI
A visit to West Michigan is not complete without a trip to the lakeshore. When family and beer are in the mix, we recommend visiting Spring Lake's Old Boys' Brewhouse. Offering plenty of room and outdoor waterfront seating, this dog-themed brewery is fun for the kids. A children's menu and pleasant service round out a relaxing brewery experience for the whole family.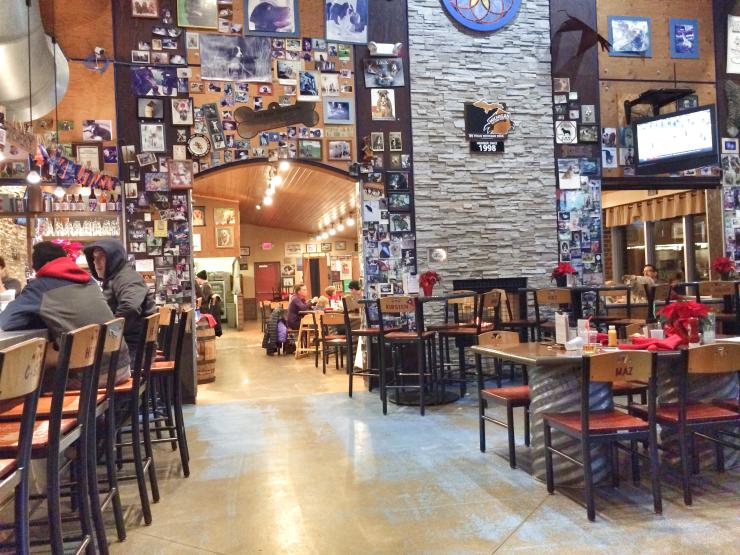 OSGOOD BREWING
4051 Chicago Drive SW, Grandville MI
Osgood Brewing in Grandville features a kids activity menu with grilled cheese, PB & Honey, or chicken nuggets. They're known to let kids eat free on Sundays...check their Facebook page for current promotions.