A visit to Grand Rapids with children doesn't mean the adults have to miss out on beer, one of the region's biggest draws. Most of the city's dozens of breweries more than welcome young guests and many more make an intentional effort to provide children with activities.
While beer is meant for those older than 21, the food and entertainment offered within taprooms can be enjoyed by all. Rather than taking a cue from the dive bar mentality, the craft beer industry largely follows the European brewery model of community gathering.
We reached out to Grand Rapids area breweries, and community and family friendliness are underlying themes of most of them, including the following spots around town.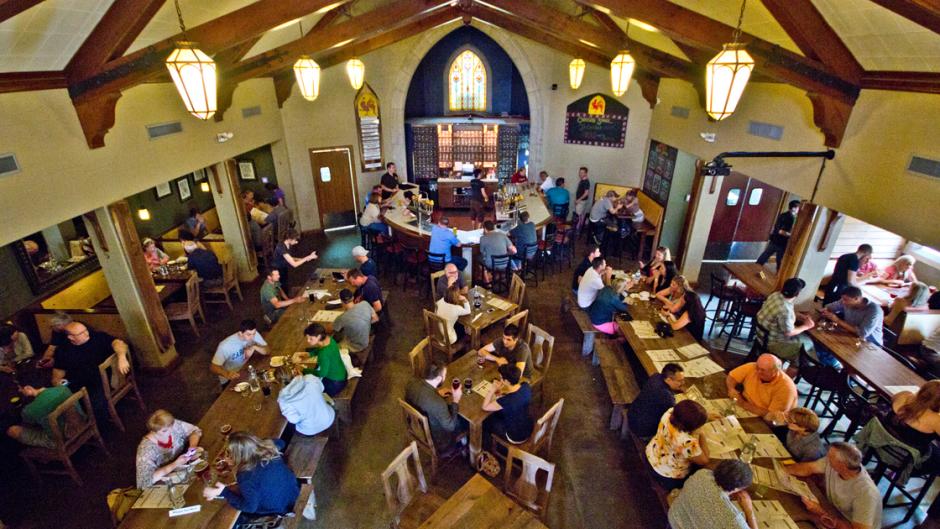 Brewery Vivant emphasizes community gathering of all ages in its taproom.
Photo Credit: Courtesy of Brewery Vivant
---
Brewery Vivant
The Cherry Street anchor is child-friendly because it's a true neighborhood hub. That's the way Brewery Vivant owners Kris and Jason Spaulding set out to make the European-inspired brewpub.
"One of the things we noticed when we were touring around Germany, Belgium, and France prior to opening Vivant was how the breweries in these towns served as community gathering spaces," Kris Spaulding said. "It was the culture there, a meeting space for anyone in the community. We really liked that authentic community feel and wanted to bring that back to Michigan."
The need to be a family-friendly business came nine days following the brewery's first day of operation when the couple had their first child. The Spaulding's two children are often around the brewery, further exemplifying the commitment to family.
Brewery Vivant's beer garden area has even developed a child's play area, while the "Kids Menu" offers menu items which mimic the adult menu in many ways. Kids meals sold at Brewery Vivant also contributes five sack suppers to the neighboring Congress Elementary through the local nonprofit, Kids' Food Basket.
"We believe that a great business exists because of the support of the local community," Spaulding said. "Therefore, a business should be an active extension of the community and should strive to find meaningful ways to give back."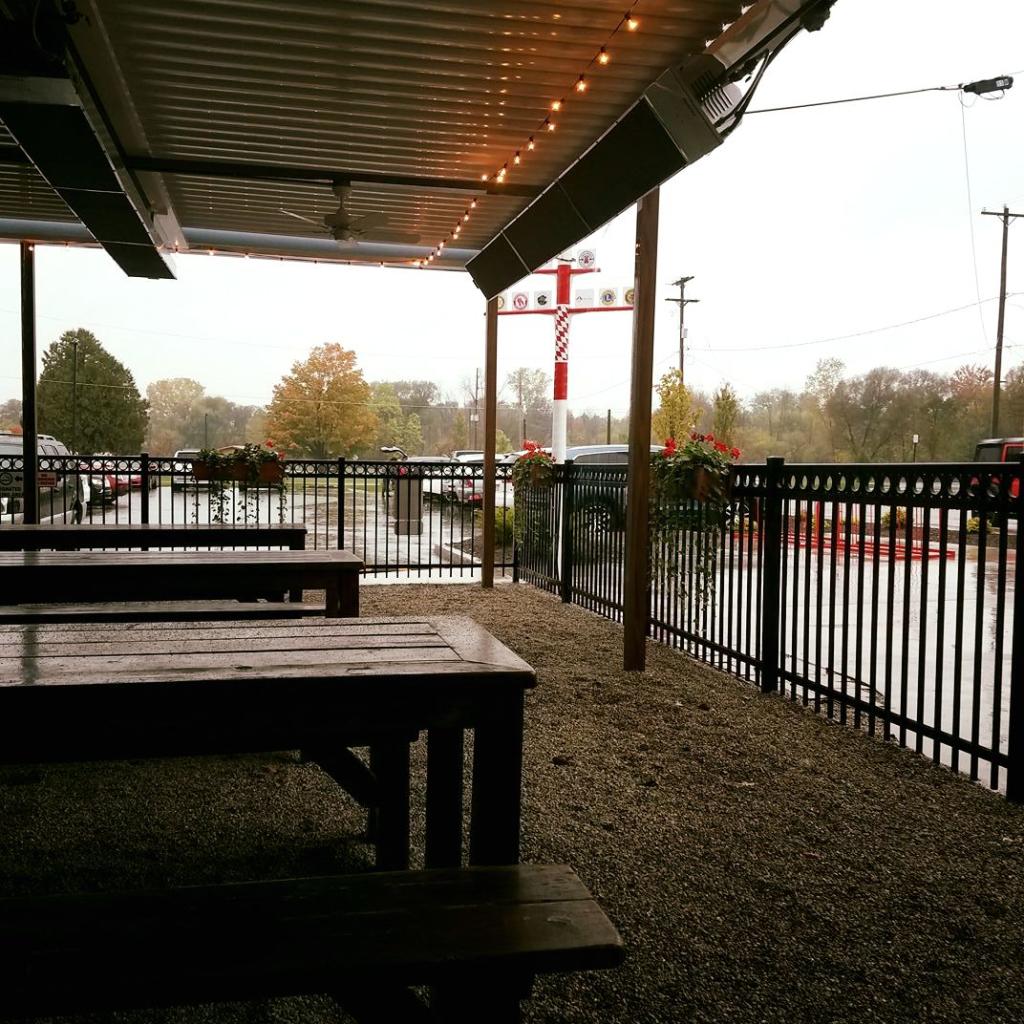 Rain or shine, Cedar Springs Brewing Co. is a great place for folks of all ages to gather!
Photo Credit: Cedar Springs Brewing Company
---
Cedar Springs Brewing Company
When David Ringler opened up his brewery just north of downtown, he recognized the community didn't have a true gathering place. His desire was to have the city come together following a Friday night high school football game.
Serving up a slate of traditional bar food and German-inspired food, along with modern craft beer and traditional German beers, Cedar Springs Brewing Company's European influence, like Brewery Vivant, also extends to its community-centricity. Along with coloring, children can pick through a few toys and sip on craft sodas.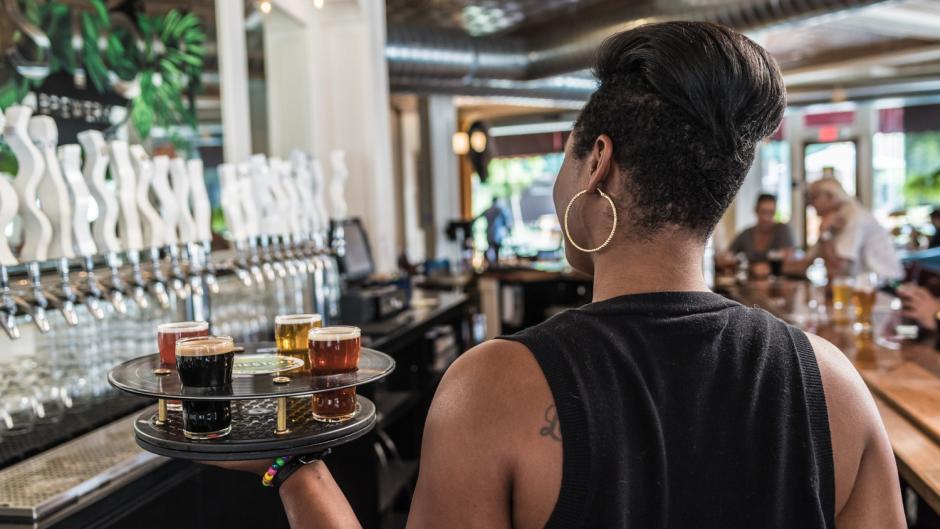 Creston Brewery welcomes people of all ages with a variety of menu options and amenities.
Photo Credit: Brian Kelly
---
Creston Brewery
Parents and children alike are likely to be creatively stimulated at Creston Brewery in the North Quarter of Grand Rapids. Founded in 2016 as a community hub for a diverse neighborhood, Creston Brewery provides a business full of art and live music.
For children, the taproom offers a toy basket, selection of games, floor-to-ceiling windows for constant community visuals, and ring-on-a-string game. The Mexican-themed menu makes its transition to a 'Kiddos" menu, including quesadillas, tacos, and nachos.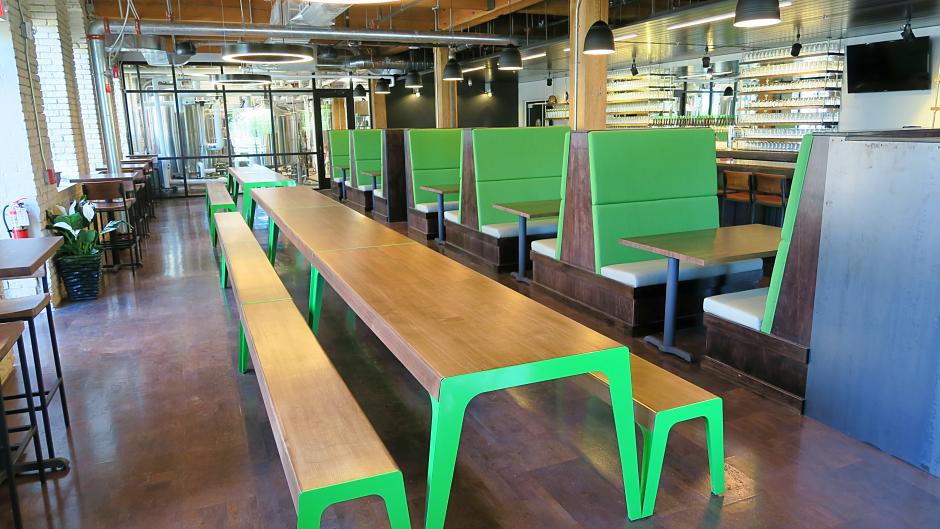 City Built Brewing has plenty of space for good beer, tasty food, and little ones to play.
Photo Credit: Jason Ley
---
City Built Brewery Company
In the North Monroe neighborhood just north of downtown, City Built Brewery makes an impressive offer of a children's area. With a corner of the taproom dedicated to the young ones, adults can keep an eye on the children without missing out on the eclectic beers and tasty Puerto Rican-inspired menu. With board games, a car mat, blackboards, an easel, and a box of toys, there are countless options for children to entertain themselves. The kids menu introduces some of the basics of the Puerto Rican-fueled menu, including adobo chicken, white rice and beans, and quesadillas.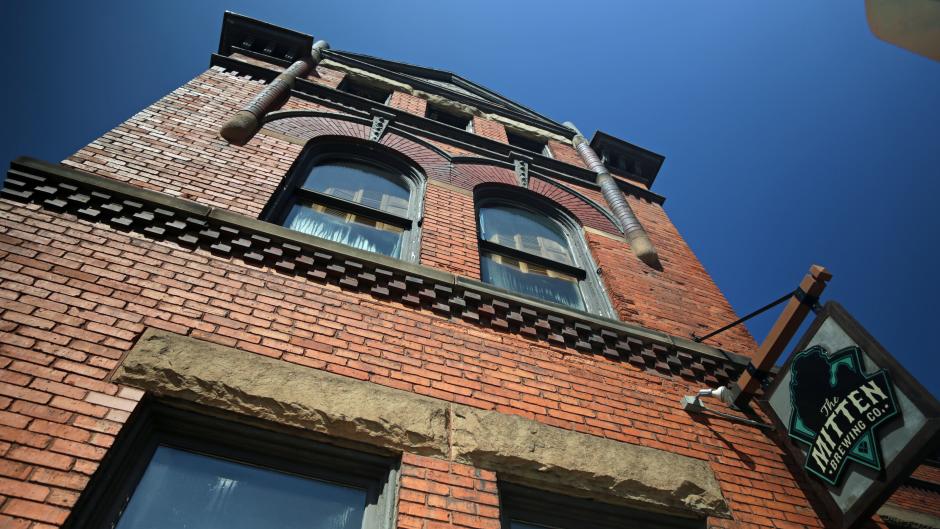 As a former firehouse, The Mitten delights with its decor and its pizza.
Photo Credit: Experience Grand Rapids
---
The Mitten Brewing Company
Despite both owners having young families, Chris Andrus and Max Trierweiler didn't intend to open the Mitten Brewing Company with a commitment to families. Instead, the community showed them that they wanted the child-friendly environment in the West Side. 
"Honestly, we're family friendly because that's what our customers showed us," Andrus said. "We didn't set out with that goal; we just wanted to be welcoming, and customers felt comfortable so we took it as a compliment."
The West Side brewery and pizzeria doesn't have a playground or a bucket of toys, but it's a calming and cozy place to bring a family for pizza, with no atmospheric pressure for children to behave perfectly. Plus it's located in a historic firehouse full of baseball memorabilia, so these features can help distract youthful wandering eyes. The brewery also features a kids menu and can provide crayons to also keep little ones entertained.
"We've rolled with the label and changed the menu around to accommodate," Andrus said. "It's a fun place for a family dinner. It's not like there's a bunch of toys, but it's a safe, relaxing, and cool place." 
Looking for more breweries to add to your Brewsader® Passport or for the best brew in your neighborhood? Start your search at the Beer City, USA page.
Don't miss a post!
Sign-up for the Insider Experience blog