Police chiefs from around the state of Michigan did something recently that most people haven't done in more than a year: They held a statewide conference – in person.
Yes, 210 members of the Michigan Association of Chiefs of Police (MACP) gathered in Grand Rapids in February for their 2021 Winter Professional Development conference hosted by the JW Marriott and the Amway Grand Plaza hotel and assisted by Experience Grand Rapids.
While state health department orders amid the coronavirus pandemic forbid most indoor gatherings larger than 10 people, exemptions exist for first responders, including training for law enforcement.
Attendees must still follow strict safety protocols. Attendance was limited to half the usual number and many steps were taken to ensure social distancing, mask use and capacity restrictions.
Three-way partnership
"It took all three entities to make this happen: Experience Grand Rapids, the hotels, and us," said retired Livonia Police Chief Bob Stevenson, executive director of the MACP. "It was a three-way partnership."
And, more than a month after the event, Stevenson said there were no reports of illness by association members or hotel staff.
"I checked with the Amway and the Marriott afterward and none of their staff reported being sick," he said. "It turned out to be a wonderful event, every bit as we hoped and probably better because of the way the hotels and the visitors bureau worked with us."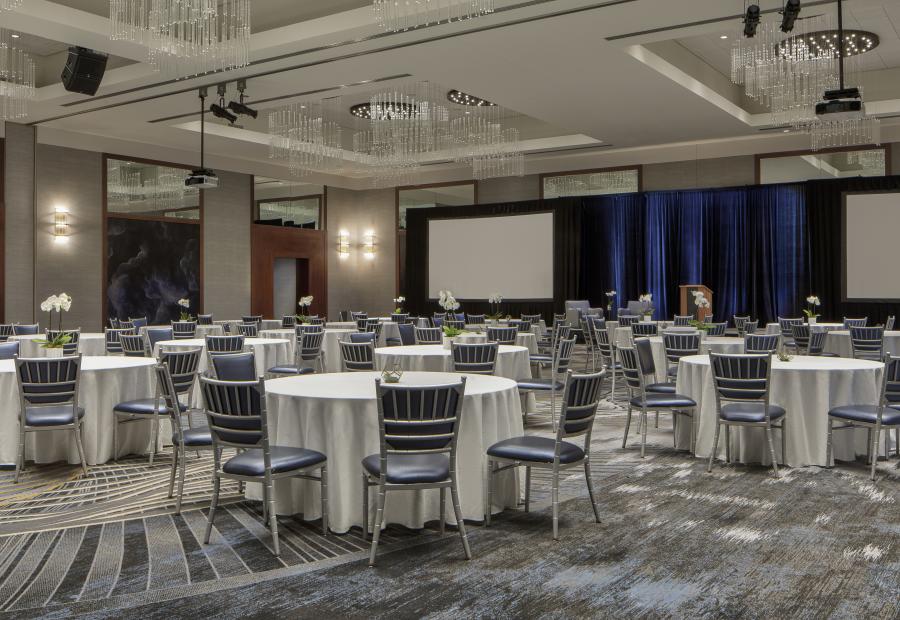 The JW Marriott Grand Rapids spaced out tables and chairs to make it easy for attendees to practice social distancing.
Photo by AHC Hospitality
Making adjustments
The last time the association met was also in Grand Rapids, Stevenson said, but that looked quite different from what just took place.
This year, instead of the 400+ members, attendance was limited to 210. And rather than meeting in a room to accommodate 210, they used the International Ballroom at the JW Marriott, which has a capacity of 1,100 to allow for social distancing.
"The hotels had their own protocols, and there was very stringent enforcement of them," he said. "They had hand sanitizer set up everywhere and required masks in all locations. They arranged to have keyless entry for the hotel rooms; you didn't even have to go to the front desk if you didn't want to."
The food challenge
After canceling the association's summer conference, Stevenson said they optimistically began working with Experience Grand Rapids several months ago to plan this one, with serious prep beginning about six weeks before the event.
It was stressful, he said, because restaurants didn't open up for limited indoor dining until Feb. 1 and the conference ran Feb. 10-12. Even then, restaurant capacity was capped at 25%. "If there's no place to eat, you can't have a conference," he said.
This is where the hotels and Experience Grand Rapids stepped up with solutions.
For breakfast, they typically have a buffet. This year, AHC Hospitality created vouchers to give to attendees that could be used at any restaurant in both hotels. "And we were only charged for what people used, not the whole voucher," Stevenson said.
The conference doesn't usually serve lunch, choosing instead to allow members to visit restaurants in the hotel or nearby. But with limited options, the hotel prepared boxed lunches, allowing attendees to remain in the venue and avoid any long waits.
For dinner, Experience Grand Rapids communicated with nearby restaurants to let them know the conference was in town. Some of them even extended their hours to accommodate the conference schedule, Stevenson said.
"We worked hand-in-hand with Experience Grand Rapids, especially in setting up and finding locations for people to eat," he said.
"They made restaurant guides with hours, what they serve, whether they had outside dining, whether you needed reservations – everything was A-1 and above and beyond what we could have expected."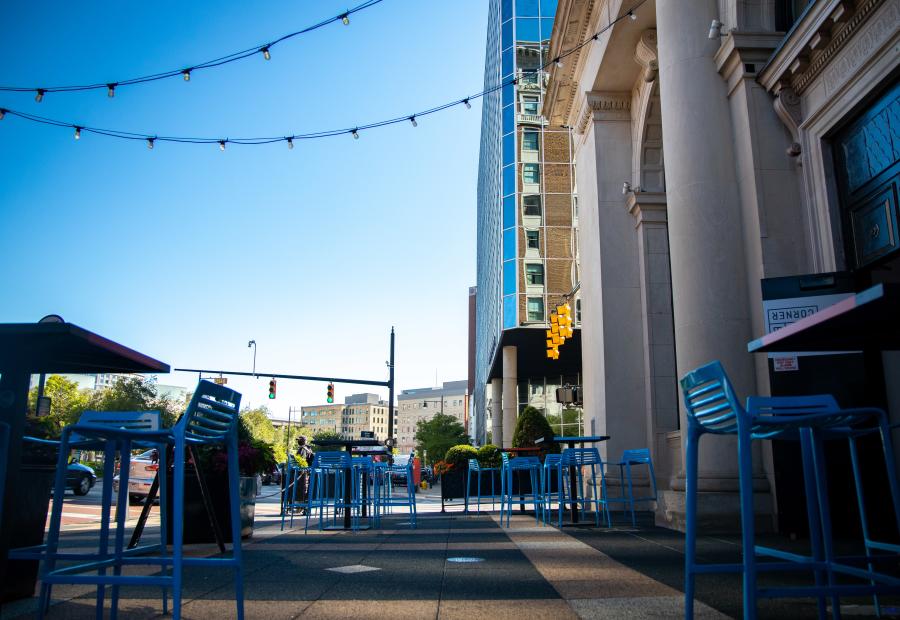 The Amway Grand Plaza made The Corner Bar available for conference attendees.
Photo by Photography: Nathaniel Steven Fischer, courtesy of AHC Hospitality.
Networking during a pandemic
Experience Grand Rapids also set up COVID-friendly networking events, a key part of the conference experience.
As a result of the pandemic, the Amway Grand Plaza last year opened The Corner Bar – a venue outside the hotel at Pearl Street and Monroe Avenue NW with heaters and fire pits that serves chili, hotdogs, pretzels and drink pouches.
"We stood on the streets of Grand Rapids in 20-degree weather," Stevenson said. "We told people to dress for the weather. It was a blast. Our people had fun enjoying the little huts, hot rocks and heaters."
Face-to-face training
Stevenson said they did look into a virtual event, but there was little interest by membership, it was cost prohibitive to do it the right way and the training was better suited to in-person interaction.
Topics included leading during a crisis, dealing with people who have disabilities such as autism, the importance of de-escalation and ensuring officers who need mental health services feel safe and comfortable accessing it.
"It was extremely important for our association that the chiefs have that essential training and that really needed to be face-to-face to have that interaction between the chief and the instructors," he said. "Everybody was thrilled to finally have an opportunity to have actual, human, face-to-face interaction."
Safety first
But safety was the top priority. Stevenson said it helped that members had a high COVID vaccination rate and that they are well-versed in safety protocols due to the nature of their jobs.
"We still put out a special mailing beforehand telling everybody what was expected of them and attached information from the (U.S. Centers for Disease Control)," he said.
And the conference freebie everyone received? A high quality gaiter with a built-in filter pocket. Trade show exhibitors also had plenty of hand sanitizer and branded masks to give-away.
"Everybody worked very well and very hard to pull this event off," he said. "I'm hoping that people took notice of the first big conference event that's taken place in about a year and saw that it can be done safely. Here's one successful road map."