Meeting planners know that accessibility is a key component to successful conferences, meetings and events. In addition to being within a day's drive of the half of the U.S. population, Grand Rapids', Gerald R. Ford International Airport (GIFA), has been intentional on matching convenience with a high level of service.
The airport offers nonstop flights to popular destinations, a variety of airlines, public transportation that comes to and from the airport, and opportunities to give back to the Grand Rapids community.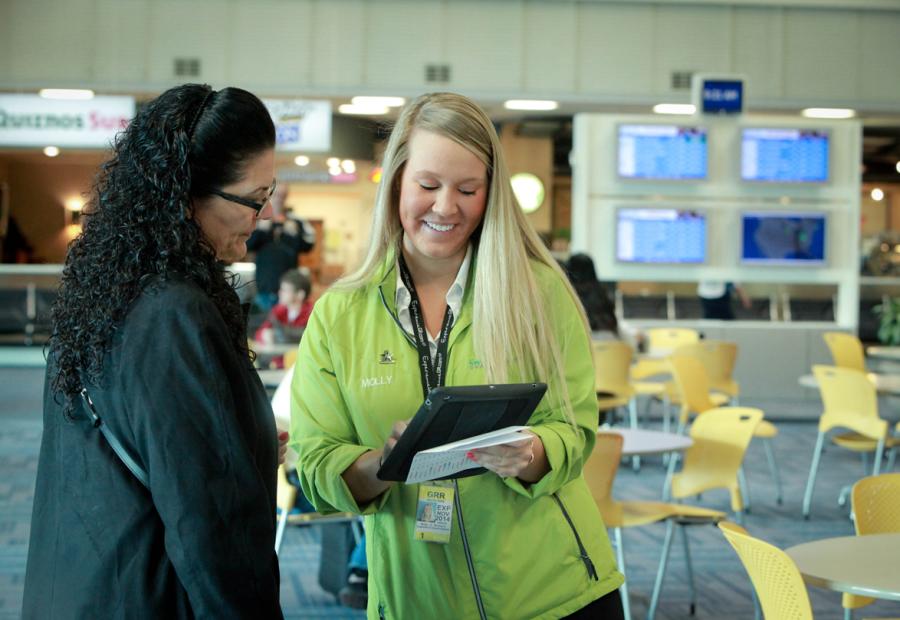 "Green coat" staff are available to help Gerald R. Ford International Airport travelers navigate the growing airport and Grand Rapids community.
Photo by Experience Grand Rapids
Passenger experience is key
The Gerald R. Ford International Airport, whose identifier is GRR, is recognized for its great service, clean environment, and customer service. In 2016, the airport was recognized as being the best airport for its size in the country by the Airports Council International. The airport continues to focus on passenger experience with features like its "green coat" customer service ambassadors. In addition to staffing the airport's welcome center, the green coat ambassadors can be found throughout the concourses in an effort to provide assistance to passengers when and where they need it.
Other airport amenities include complimentary WiFi, a newly-released mobile app, two kids play areas, nursing rooms, family restrooms, a therapy dog program known as Gentle Fur in Action, and a welcome center designated for military service men and women, veterans and their families
Improvements are also coming to the already award-winning airport including: $30-million reconstruction of the terminal apron, the area where aircrafts are parked, unloaded or loaded and re-fueled, which will take place over the next two years.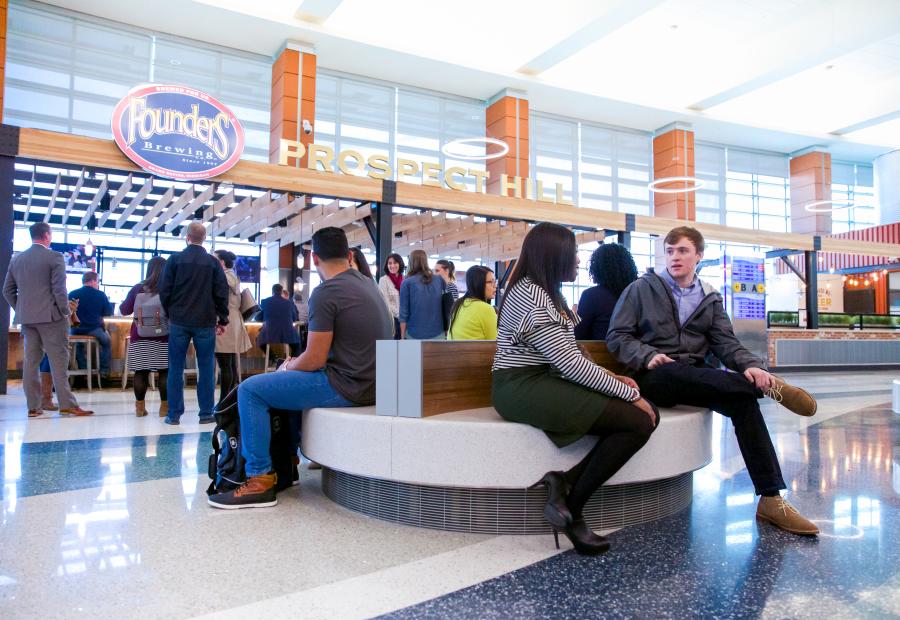 Located within GFIA is Prospect Hill, a full service restaurant that serves beer from Founders Brewing.
Photo by Experience Grand Rapids
Concourse improvements
A newly renovated concourse is also a way in which the airport has improved. The renovations were made to make the area more spacious, comfortable, and offer more pre-flight tastes and treats. In keeping with Grand Rapids' reputation for craft beer, the airport is home to Prospect Hill, which serves beer from Founders Brewing in addition to being a full-service restaurant. Along with Prospect Hill, you can find MI Tap Room, Starbucks and The Great American Bagel.
The airport continues to expand at a rapid pace, ranking them as the second-fastest growing airport in America, according to Airline Weekly. In 2018, GFIA set a record of flying 3.25 million passengers, which was a sixteen percent bump over the number of passengers who flew out in 2017. That was the sixth year in a row the Grand Rapids airport had reported a record-setting year and 2019 is on track for year seven.
With over 140 daily nonstop flights that travel to 30+ destinations and more than six airlines, the airport is being recognized for steady growth and its commitment to service.
"For GRReat Change"
When flying with Gerald R. Ford International Airport, you have the chance to make a difference and give back to the local West Michigan community.
In August 2018, GFIA announced that they would begin allowing travelers to donate their loose change before passing through security. The coin containers are in place at both the standard screening line and TSA Pre-Check Line.
The airport is working with Grand Rapids-based Lake Michigan Credit Union, who has agreed  to match all donations and donate all proceeds to Mel Trotter Ministries, a downtown Grand Rapids nonprofit that serves those experiencing hunger and homelessness.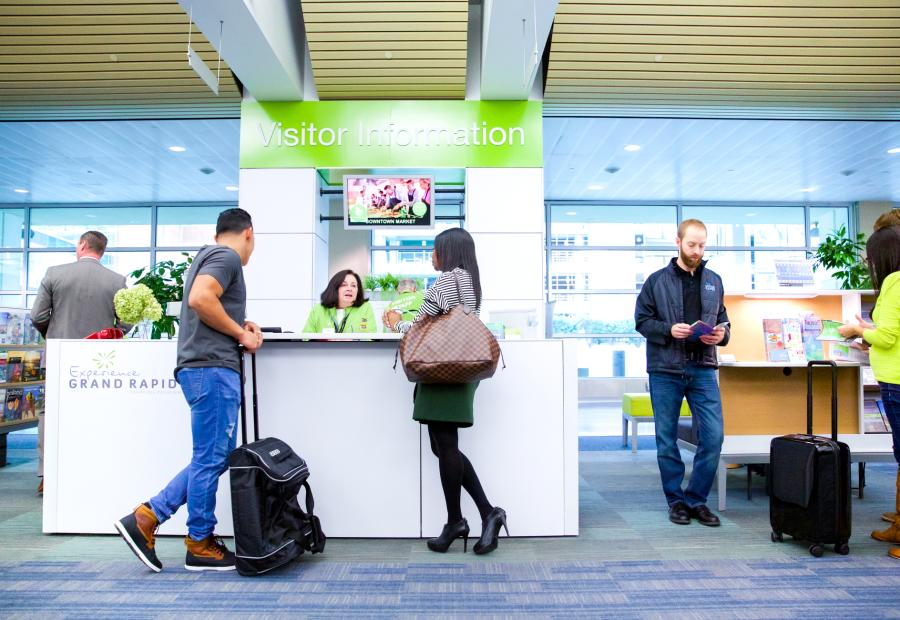 The friendly staff at GFIA are available to help guests take advantage of one of the many public transportation options offered to and from the airport.
Photo by Experience Grand Rapids
Transportation to and from the airport
Getting to and from Gerald R. Ford International Airport is a lot easier thanks to the continuously running public transportation and hotel shuttle services.
The Rapid bus system includes a stop at the airport on their Route 17 costing $1.75 with one transfer pass included. 
Select hotel and motels offer shuttle service and passenger pick-up, which are located in the commercial lane across from the main entrance near the terminals. As a bonus, GFIA employees are always on-site at the Visitor Information Desk to assist and provide further information.
The city of Grand Rapids also offers both Uber and Lyft transportation services, which are available via a mobile app download. Conference attendees can download the Uber and/or Lyft app on their mobile phone, and can easily request transportation services anywhere within Grand Rapids and West Michigan; it's that easy!
The GFIA website offers more transportation information.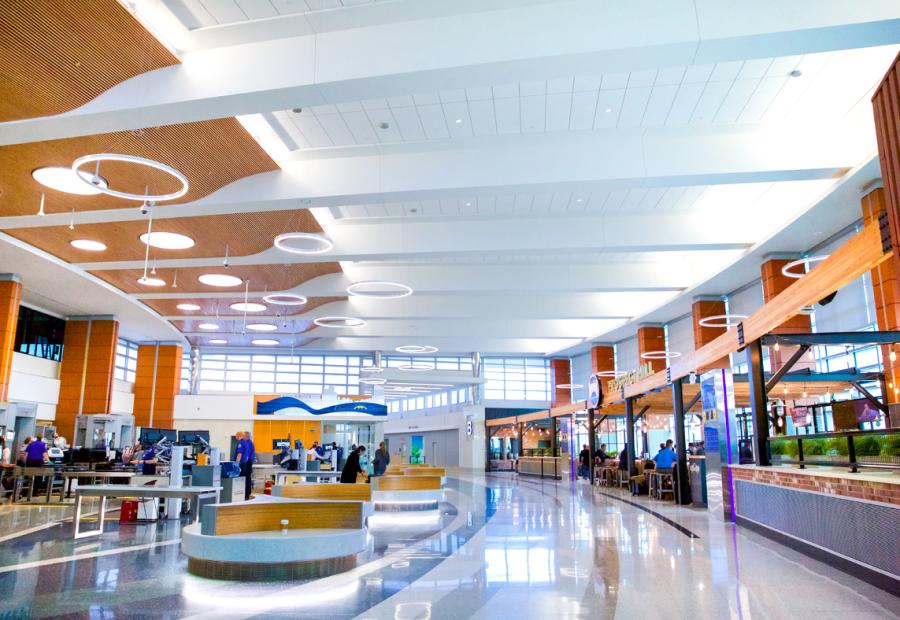 Fact: Gerald R. Ford International Airport has five meeting venues that can accommodate parties ranging from 8 to 50 guests!
Photo by Experience Grand Rapids
Host your meeting on-site
On top of all the great things the airport offers, you can even use it as an event venue. GFIA has five meeting rooms: International, Golden Eagle, Ford, Michigan and Kent. These conference/meeting rooms are available for rent by the public.
For more information or to reserve a room, call 616-233-6000.
For more information on getting to Grand Rapids, visit the Getting Here page. Additionally, don't forget to discover more reasons why Grand Rapids is a great place to host your next meeting or convention.
invalid widget [plugins_common_blog_subscription] []